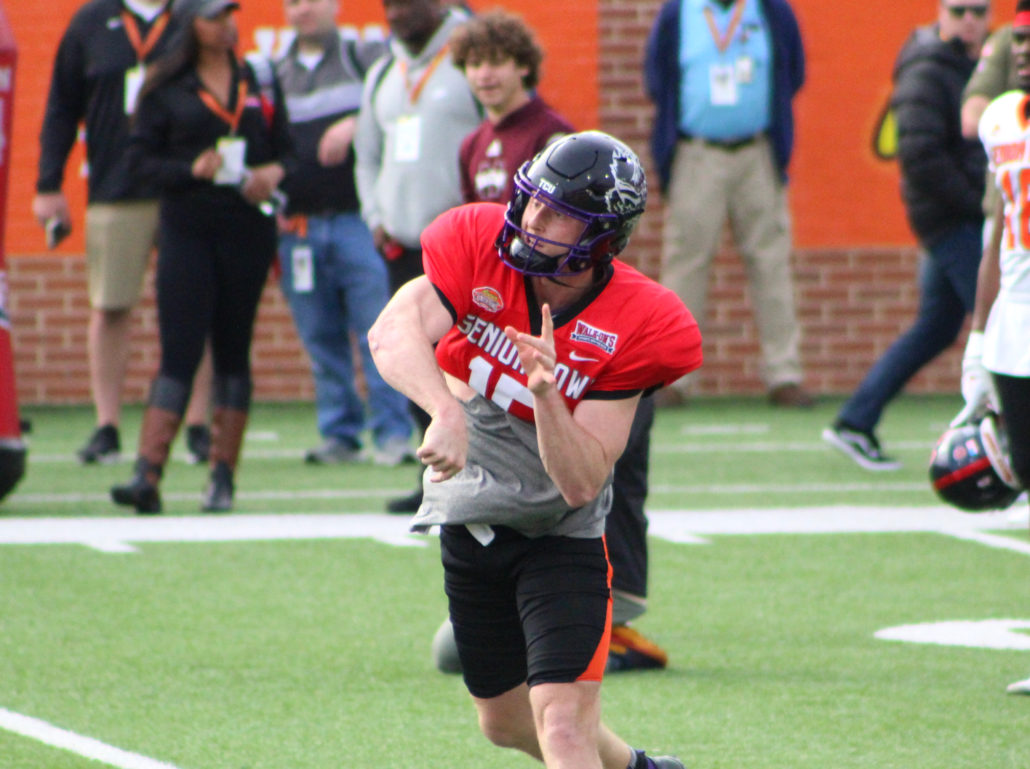 MOBILE, Ala. — There's no denying Max Duggan's 2022 campaign was a season that other quarterbacks dream of having.
After all, he was the Big 12's Offensive Player of the Year, took home the Johnny Unitas and Davey O'Brien trophies, and was one of four Heisman finalists. Most importantly, he led the Horned Frogs to postseason glory with their first-ever Playoff appearance. Not to mention Duggan helped TCU pull off an upset over Michigan in the semifinals.
As sweet as the victory was, Duggan and his teammates were throttled by Georgia on the biggest stage. And that's what everyone remembers, the worst bowl loss in history. It's no mystery the gunslinger struggled with the speed and physicality the Bulldogs had. However, he's determined to not let that performance leave a lasting impression on his legacy.
Which is why Duggan is battling hard with his peers throughout practice this week leading up to the Senior Bowl Saturday. And what better way for him to redeem himself than going up against the best of the best on the gridiron. Duggan gets to show off his skills to several NFL teams that will be watching his every move.
So it's like killing two birds with one stone for the quarterback, but he's not taking the spotlight for granted. Instead he's focused and on a mission to impress. Duggan will be one of the biggest names competing in the annual event. He's not hanging his head low, despite last month's humbling loss, and believes it made him a better overall player. It might be an understatement to say he has a chip on his shoulder down in Mobile because of it.
"We're not going to let that game dictate how we see ourselves and how this program is going to go, or take away from our season," Duggan said. "There was a lot to learn from it, like who we are, how to prepare for games and being in the spotlight."
Duggan stands six-foot-one, and weighed in at 204 pounds. Although his arm size, hand measurements and wingspan didn't jump out on paper to scouts, they can't measure his heart, passion and leadership. It's beneficial that the Iowa native showed the ability to quickly adjust to a new coach, philosophies and playbook. Duggan's lone season under Sonny Dykes was a smooth transition, so he hopes that'll carry over to the next level.
It's clear Dykes had a major impact on Duggan's production last season. And Duggan plans on applying everything Dykes taught him throughout the scrimmages.
"I think he (Dykes) is so innovative, allowed us to be ourselves and be confident and aggressive," he said. "That's the mindset he put into us as players and as a program, and it allowed us to be successful."
The Horned Frogs are being well represented at the Senior Bowl this year, with five players competing. And that should make Duggan more comfortable. Regardless, he's going to get the best effort from each defender on every snap because he's one of the event's headliners.
The former four-star prospect is expecting a learning curve, but few growing pains. With all of Duggan's experience, leadership and production, he's prepared for whatever task comes his way.