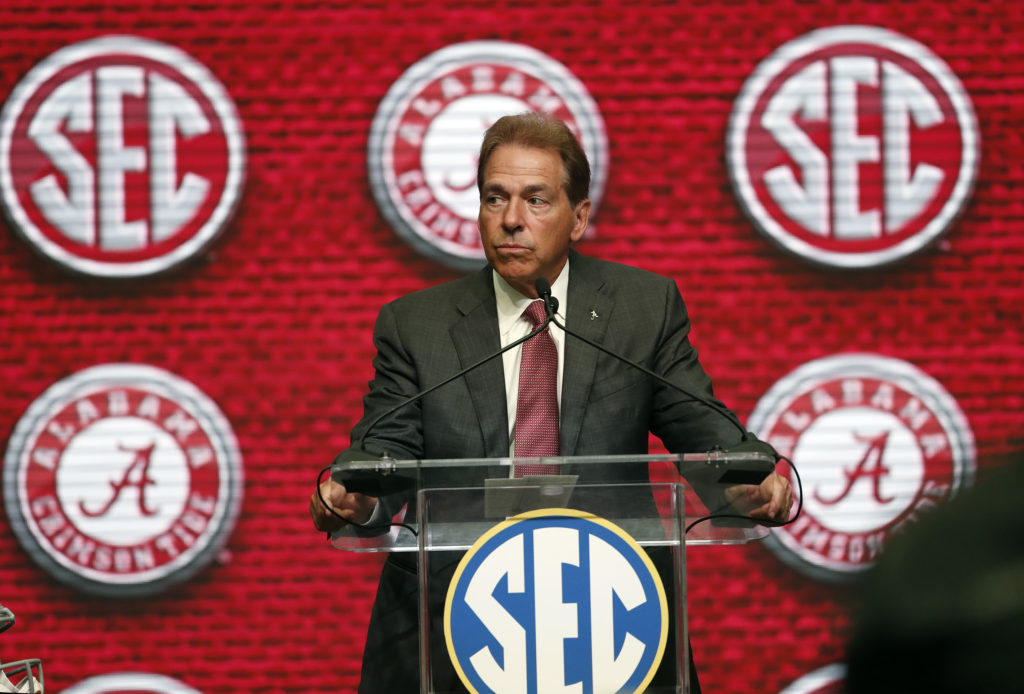 There's no denying Nick Saban's success and power in today's game of College Football.
Six National Titles, six SEC Championships and several No. 1 recruiting classes in 12 seasons at Alabama. He's the Bill Belichick of the sport and everyone wants a piece of Saban's glory. Alabama's brand is as strong as ever and the SEC has become a league littered with coaches who've worked under Saban.
South Carolina's Will Muschamp was Saban's Defensive Coordinator at LSU for two years and he also had a four-year tenure at Florida. Georgia's Kirby Smart was Saban's Defensive Coordinator for eight seasons with the Crimson Tide.
Jeremy Pruitt replaced Smart and served as Saban's Defensive Coordinator for two seasons before accepting the Tennessee job. Central Michigan's Jim McElwain was Saban's Offensive Coordinator for three seasons and had a three-year stint as Florida's Head Coach. Even Texas A&M's Jimbo Fisher was Saban's Offensive Coordinator at LSU for a few seasons.
Saban has so many ties around the sport, which makes him one of the most influential coaches of our generation. He continues to give coaches second chances after they lost their jobs at other FBS programs. Saban takes them underneath his wing, teach them core values and what it takes to be a successful coach in today's game. He releases them back into the wild equipped with new knowledge and a winning mentality.
Lane Kiffin was let go of his duties as USC's coach over the phone during a plane ride home after the fifth game of the 2013 season. Still, Saban welcomed him with open arms to the Alabama Football Program, despite Kiffin being a loose cannon with words and burning bridges nearly everywhere he has served. He's currently in his third season with Florida Atlantic.
Steve Sarkisian was also fired by USC during the middle of the 2015 season for apparently showing up to a booster event and team practices intoxicated. Saban later gave Sarkisian an opportunity as an analyst for the Crimson Tide and promoted him to Offensive Coordinator for the 2016 National Championship Game. Sarkisian has reunited with Saban after serving as the Atlanta Falcons Offensive Coordinator and will resume the same role with Alabama for the 2019 season.
Mike Locksley had a dreadful three-year tenure with New Mexico, finishing with a 2-26 record. However, three years under Saban's guidance at Alabama and Locksley is now the Head Coach of Maryland. D.J. Durkin was fired as Maryland's coach after the death of one of his players.
Saban was the first to give the embattled coach a second chance, despite receiving a ton of backlash for it. Although Durkin isn't doing any coaching with Alabama, he helps the team with consulting from a professional development standpoint.
Butch Jones even climbed on board as an analyst for the team after a five-year stint with Tennessee. Major Applewhite was recently axed by Houston after going 15-11 in two-plus seasons and Saban just rehired him at Alabama earlier this week as an analyst for the team.
It's mind-boggling that Alabama continues to flourish under Saban, despite the numerous changes with assistants throughout the years. The Crimson Tide seems to never miss a beat and continues right where they left off. Alabama went through seven different Head Coaches and two decades of mediocrity after Paul "Bear" Bryant's retirement before hiring Saban.
And to think then-Alabama Athletic Director Mal Moore lured Saban back into the Collegiate ranks with an eight-year, $32 million contract in 2007. Saban continues to deliver, compiling a record of 146-21 with the Crimson Tide. As long as Saban is at Alabama, the program will remain elite and his assistants will continue to grow and spread out throughout the FBS as Head Coaches.
Most importantly, Saban has proved that giving coaches second chances can deliver positive results and so far, he hasn't lost his touch.