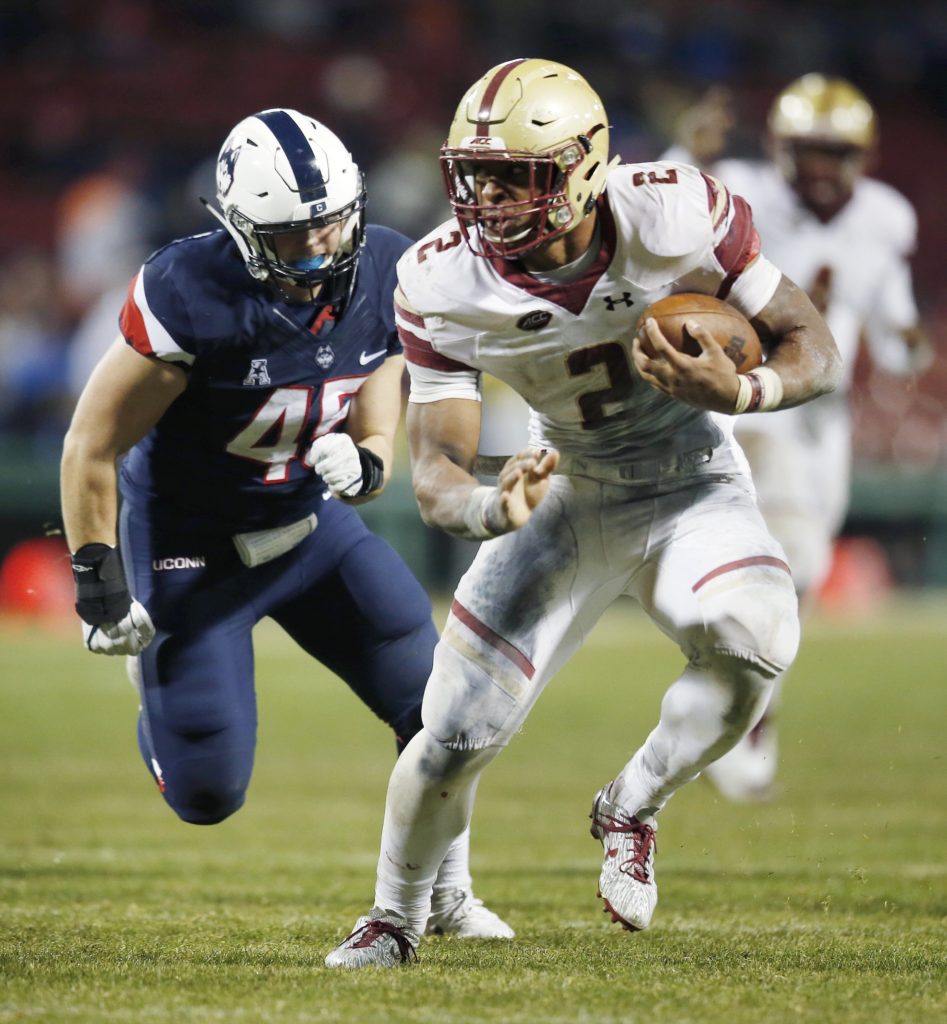 Long gone are the times when incoming freshmen had to redshirt, watch games from the sidelines and learn from upperclassmen.
Nowadays immediate playing time is the biggest selling point for coaches when it comes to recruiting–and these teenagers are buying in. Enrolling early enough to participate in spring ball, making a great impression during fall camp and getting thrown to the wolves for the season-opener has become the norm for incoming freshmen.
Last season several true freshmen played and had minimal success, while others exceeded expectations. Some even lived up to the hype of their star ratings and proved to be the "real deal."
The coaches believed in their potential, and these athletes took a leap of faith without having the luxury of the new redshirt rule that has been implemented into the sport this fall.
These young men made positive impacts on their teams as true freshman last season and now we're going to find out what they possibly have in store for an encore in 2018. Here's a look at the Power 5s' top-40 true sophomore skill players on offense.
40) Hunter Bryant, TE Washington: He caught 22 balls for 331 yards last season and earned freshman all-America honors. Unfortunately, he'll be sidelined for most, if not all of the 2018 season while he recovers from a knee surgery he suffered back in June.
39) Dom Williams, RB Kansas: Played in nine games and started against Ohio. He finished the season with 176 rush yards and three scores. He also contributed on special teams.
38) John Lovett, RB Baylor: He started four games last season for Baylor and lead his team in rushing with 445 yards, including 161 in the first two games and finished with five touchdowns. Lovett will be apart of a crowded Bears' backfield this upcoming season.
37) Ty Chandler: RB Tennessee: The Tennessee native was rated as a four-star running back out of high school in 2017. In his lone start against Kentucky last season he rushed for 153 yards and two touchdowns. He finished the season with 305 rush yards and added a kick return touchdown. His numbers should increase this fall now that he's the Vols' primary back.
36) Jeff Thomas: WR Miami: He was the top receiver from the state of Missouri in 2017. Thomas emerged mid-season and caught 17 balls for 374 yards and two touchdowns. His eye-popping 22 yards per catch is what got the Miami coaches believing he'll be one of their best players on offense this season now that he's a starter.
35) Kylin Hill, RB Mississippi State: He's a bruiser-type of back for the Bulldogs that's not afraid of contact and tough to bring down. He had nearly 400 rushing yards last season and two touchdowns. Hill will be a valuable backup to senior 1,000-yard returning rusher Aeris Williams this fall.
34) Bryce Wolma, TE Arizona: He started six games and caught 28 balls for 241 yards and two touchdowns last season. Wolma was also a great blocker and helped open up holes for quarterback Khalil Tate in the Wildcats' run game. He's feeling optimistic with new coach Kevin Sumlin on the sidelines this season and his numbers should increase.
33) Jerry Jeudy, WR Alabama: He was one of the highest-rated wideouts coming out of the state of Florida in 2017. He's the leading returning receiver in receptions and yards for the run-heavy Crimson Tide. Jeudy's average of nearly 19 yards per catch last season shows how dangerous of a deep threat he could possibly be in 2018.
32) Isaiah Hodgins, WR Oregon State: The four-star receiver was the Beavers' top recruit in 2017. He started six times and had at least one catch in every game he played in and finished with 31 receptions for 275 yards and two touchdowns. The 6-foot-4 wideout will be the primary target in new coach Jonathan Smiths' scheme this season.
31) Chase Hayden, RB Arkansas: Last year he rushed for 120 yards in the Hogs' season-opener and played in seven games until an injury sidelined him for the rest of the season. Hayden still finished third on the team in rush yards with 326, averaged 5.3 yards per carry and tallied four touchdowns. The 5-foot-10, 200-pounder looks to contribute again on offense with a bevy of backs for new coach Chad Morris.
30) Stephen Carr, RB USC: This kid was one of the top running backs out of high school and the Trojans top recruit in 2017. He showed moves and elusiveness that resembled Reggie Bush while he backed up workhorse Ronald Jones III last season. Carr had over 500 all-purpose yards and will be a force to be reckoned with now that he's the Trojans' primary back for 2018.
29) Donovan Peoples-Jones, WR Michigan: He was the No.1 wideout coming out of high school in 2017. He played in all 13 games, started four and finished with 654 all-purpose yards. Those numbers were not that impressive as other freshman receivers across the country, but the Wolverines had major issues at the quarterback position. That shouldn't be a problem this upcoming season now that Michigan has an experienced signal caller in Ole Miss graduate transfer Shea Patterson.
28) Salvon Ahmed, RB Washington: The four-star running back was the Huskies' top recruit in 2017. He played in all 13 games last season and nearly finished with 400 yards on the ground to go along with three touchdowns. He'll be a valuable backup to 3-time 1,000-yard rusher Myles Gaskin this upcoming season and will also contribute on special teams as the main kick returner.
27) OrTre Smith, WR South Carolina: The 6-foot-4 wideout was the Gamecocks' top recruit on offense in 2017. He started 10 games and finished third on the team with 30 catches and three touchdowns. The receiving corp should be a strength for South Carolina in 2018, so expect his numbers to improve.
26) Jamiere Calvin, WR Washington State: This kid played musical chairs with Oregon State and Nebraska before signing with Washington State in 2017. As the Cougars' top recruit, he appeared in all 13 games and finished with 33 catches for 300 yards and three touchdowns. Calvin was named freshman all-Pac-12 second-team. With a new and inexperienced signal caller taking snaps for Washington State this fall it'll be interesting to see if Calvins' numbers will decline.
25) Michael Carter, RB North Carolina: The talented running back had 659 all-purpose yards and nine total touchdowns for the Tar Heels last season. He was also named to the preseason Doak Award watch list. Unfortunately, he suffered a broken wrist in fall camp and will be sidelined for 4-6 weeks for the upcoming season.
24) Kellen Mond, QB Texas A&M: He went 5-3 as a starter for the Aggies last season. The dual-threat quarterback threw for over 300 yards against Louisiana-Lafayette and had over 300 total yards in a road win at Arkansas. Mond finished with over 1,600 yards of total offense and 10 touchdowns. New Aggie coach Jimbo Fisher runs a pro-style type of scheme and even if Mond isn't the starter this fall, the coach will find ways to utilize his skill set.
23) Shi Smith, WR South Carolina: The four-star wideout played in 12 games last season and made seven starts. The sure-handed receiver didn't drop a single ball and caught 29 passes for 409 yards and three touchdowns. He has big-play capability and can stretch the field on opposing defenses.
22) JD King, RB Oklahoma State: This running back finished second on the team in rushing with 469 yards and five total touchdowns last season. King showed he could be a workhorse for the Pokes when he had 36 carries for 142 yards and a touchdown in a road win at West Virginia. He'll be a nice backup to Justice Hill and Oklahoma State should have one of the best rushing attacks in the Big 12 this season.
21) Henry Ruggs III, WR Alabama: One of the top receivers out of the state of Alabama in 2017. He caught only 12 balls last season but six of those catches went for touchdowns. The wideout also contributed on special teams and finished with 514 all-purpose yards and earned all-SEC freshman honors along the way. Ruggs along with Jeudy will be the go-to receivers for the Tide this fall after the departure of Calvin Ridley.
20) Ricky Smalling, WR Illinois: The Chicago native was Illinois top recruit in 2017 and played in all 12 games last season and made 10 starts. He had over 100 receiving yards against Rutgers and caught eight balls against Minnesota. Smalling led Illinois with 501 receiving yards and two touchdowns and had at least one reception in 11 straight games to end the season. He was held out of spring ball with an undisclosed injury, but will be ready to go in time for the season opener against Kent State.
19) Colby Parkinson, TE Stanford: This 6-foot-7 tight end was one of the top athletes to come out of California in 2017. He was also a goal-line terror for opposing defenses last season. He only caught 10 balls, but four of those went for touchdowns, with two apiece against Rice and Oregon. Parkinson will be a huge target for Stanford quarterback K.J. Costello to throw to and will require double coverage from defenders down in the red zone.
18) Sean Savoy, WR Virginia Tech: This kid played through some hardships last season with the death of his brother. Still, he caught 39 passes, including nine receptions for 139 yards and a score against Boston College. Savoy finished the season with 454 receiving yards and four touchdowns. The leading returning receiver for the Hokies also added 116 yards on the ground and two rushing scores.
17) Sam Ehlinger, QB Texas: The four-star Austin native was born a Longhorn. He proved to be a true dual-threat quarterback after passing for nearly 2,000 yards and rushing for nearly 400, tallying 13 total touchdowns. Second-year coach Tom Herman has already named him the starter for Texas season-opener against Maryland. That's showing a lot of confidence in the young signal-caller because I'm sure the Longhorns don't want another season-opening loss to the Terrapins.
16) Cody White, WR Michigan State: The talented 6-foot-4 wideout played in all 13 games and started the last six for the Spartans last season. He set a school-record for most receiving yards by a freshman with 490 to go along with four touchdowns. He will no doubt be the Spartans' deep threat this fall and their receiving corp will be a strength on offense.
15) Danny Davis, WR Wisconsin: He played in 12 games last season and started three. Everyone knows Wisconsin is a run-heavy program, but this wideout made the most of his opportunities when the ball was thrown his direction. Davis finished with 26 receptions for 418 yards and five touchdowns, including a school-record with three in the Orange Bowl win over Miami. Look for him to step up and be the go-to receiver for the Badgers this fall with fellow wideout Quentin Cephus taking a leave of absence from the team to deal with criminal charges.
14) Najee Harris, RB Alabama: This kid was a five-star recruit and one of the best running backs out of high school in 2017. He averaged over six yards per carry to go along with 370 rush yards and three touchdowns in a loaded Tide backfield last season. The 6-foot-2, 230-pounder can start for any other team in the country but will split carries with fellow running back Damien Harris in 2018, creating a lethal duo for SEC defenders to deal with.
13) D'Andre Swift, RB Georgia: The Philadelphia native saw limited field action as he played behind two running backs who are now on NFL rosters. He still finished with 618 yards, averaging 7.6 yards per carry, with 153 reception yards and four total touchdowns. His production and numbers should improve this fall now that he's the primary back and will split carries with Elijah Holyfield for the Bulldogs.
12) Jhomon Auson, WR Texas A&M: This wideout didn't put up the numbers Christian Kirk did as a true freshman but he still made a similar impact for the Aggies offense last season. He caught 50 balls, including 12 in the Aggies bowl game and finished with 571 yards and three touchdowns. Auson had two 100-yard reception games against UCLA and Wake Forest, and was named to the freshman all-SEC team.
11) Morgan Ellison, RB Indiana: The three-star recruit proved to be a valuable commodity in Indiana's backfield last fall and led the team with 704 rushing yards and six touchdowns. He had two games where he rushed for over 100 yards against Georgia Southern and Rutgers. Ellison will be the Hoosiers best offensive player and lone starter at running back in 2018.
10) Trey Sermon, RB Oklahoma: This kid finished last season with 744 rush yards, averaged over six yards per carry and tallied seven total touchdowns. After recovering from a small injury he suffered during the Sooners spring game, he's now back at 100 percent. Sermon along with starter Rodney Anderson will be the best running back duo in the Big 12 this upcoming season.
9) Jalen Raegor, WR TCU: The four-star receiver was TCU's top recruit in 2017 and he contributed immediately, playing in all 14 games and starting two. Raegor averaged 17.5 yards per catch on 33 receptions and finished with nearly 600 yards and eight scores. His eight touchdowns were the best by any freshman in the nation, a team-high and earned him the Big 12 Co-Offensive Player of the Year honors. The Horned Frogs will need him to put up even better numbers this fall having only three starters return on offense.
8) CeeDee Lamb, WR Oklahoma: The four-star Texas native arrived on campus and played in all 14 games with 13 starts. The 6-foot-2 wideout caught 46 balls for 807 yards, which was a school record for a freshman and averaged 17.5 yards per catch. Lamb had two 100-yard receiving games against Tulane and Texas Tech, and earned freshman all-America honors. Lamb along with fellow receiver Marquise Brown provides Oklahoma with two legit deep threats this season and should make life easier for new starting quarterback Kyler Murray.
7) Travis Etienne, RB Clemson: The Louisiana native lived up to all his star ratings coming out of high school and was electric when he had the ball in his hands last season. He led Clemson in rushing with 766 yards, averaging 7.6 yards per carry and 13 touchdowns, earning third-team all-ACC honors. Etienne will be the lone starter at running back for the Tigers this season, plus he wants more of a workload and will also return kickoffs.
6) Cam Akers, RB Florida State: This Mississippi native was a five-star prospect, the Seminoles top recruit and arguably the No. 1 running back in the nation out of high school in 2017. Akers lived up to his billing by eclipsing the 1,000-yard mark, which broke Dalvin Cook's freshman record and scored eight total touchdowns. This kid was a beast with the ball in his hands and his physical run style made it tough for defenders to bring him down. He had four 100-yard games against Miami, Syracuse, Duke and Louisiana Monroe. New Florida State coach Willie Taggart has to be drooling at the mouth with ways he can use Akers in his run-heavy offensive scheme this fall.
5) Tua Taglovaila, QB Alabama: The lasting impression this kid left on the college football world has everyone craving more of him. Not only did he lead Alabama to a come-from-behind overtime victory in last season's national championship game, but his game-winning touchdown throw will be remembered forever. Taglovaila's numbers during the regular season wasn't too shabby either, passing for 636 yards, 11 touchdowns, with only 2 interceptions and two more scores on the ground. His performance against Georgia is the reason why Alabama is deep in a quarterback controversy this fall and got last year's starter Jalen Hurts feeling some type of way and potentially transferring. Stay tuned!
4) JK Dobbins, RB Ohio State: The four-star Texas native put up true freshman numbers for the Buckeyes last season that were more impressive than Maurice Clarett's. He had six 100-yard games against the likes of Indiana, Army, Nebraska, Michigan State, Michigan and Wisconsin. Dobbins finished with 1,403 rush yards, eight total touchdowns and averaged 7.2 yards per carry. With a new Buckeye quarterback at the helms this fall, Dobbins will take off some of the pressure and ease the transition.
3) AJ Dillon, RB Boston College: This kid was the Eagles' top recruit in 2017 and three games into the season the rest was history. Out of nowhere the 6-foot-2, 240-pounder set the ACC on fire with five 100-yard games and also had two games over 200. Dillon's four touchdown performance on 39 carries against Louisville was magnificent. Iowa's defense even stacked nine defenders in the box to stop him during the Eagles bowl game and he still rushed for over 100 yards. He finished the season with a jaw-dropping 1,583 rush yards and 14 touchdowns and earned ACC Offensive Rookie of the Year and freshman all-America honors. All eyes will be on him this fall.
2) Jake Fromm, QB Georgia: The four-star Georgia native made his debut in the season opener after starter Jacob Eason was sidelined with an injury. The young signal-caller never looked back. He took Georgia to new heights that previous quarterbacks Matthew Stafford and Aarron Murray couldn't, by leading the Bulldogs to the national championship game. Fromm threw for 2,615 yards and scored 27 total touchdowns. He earned freshman All-America honors and was the SEC newcomer and freshman of the year. Since then Eason has transferred, but Fromm is trying to hold onto the starting position while being pushed by this years' top recruit Justin Fields.
1) Jonathan Taylor, RB Wisconsin: The first true freshman running back to take the college football world by storm since Adrian Pederson and broke his freshman rushing record last season. His blend of power and speed is unheard of and he was a Doak Award finalist and freshman all-American. Taylor played in all 14 games and started 13. He had seven 100-yard games, three contests with 200-plus and nearly finished with 2,000 on the ground for 13 touchdowns and averaged 6.6 per carry. His success makes you forget how great former Badger running backs Melvin Gordon, Montee Ball and Ron Dayne were. Taylor will come into the 2018 season as a Heisman favorite and will have a bullseye on his chest the size of the Pacific Ocean. Big 10 defenders beware!