Isaiah Foskey trying to take advantage of the Senior Bowl spotlight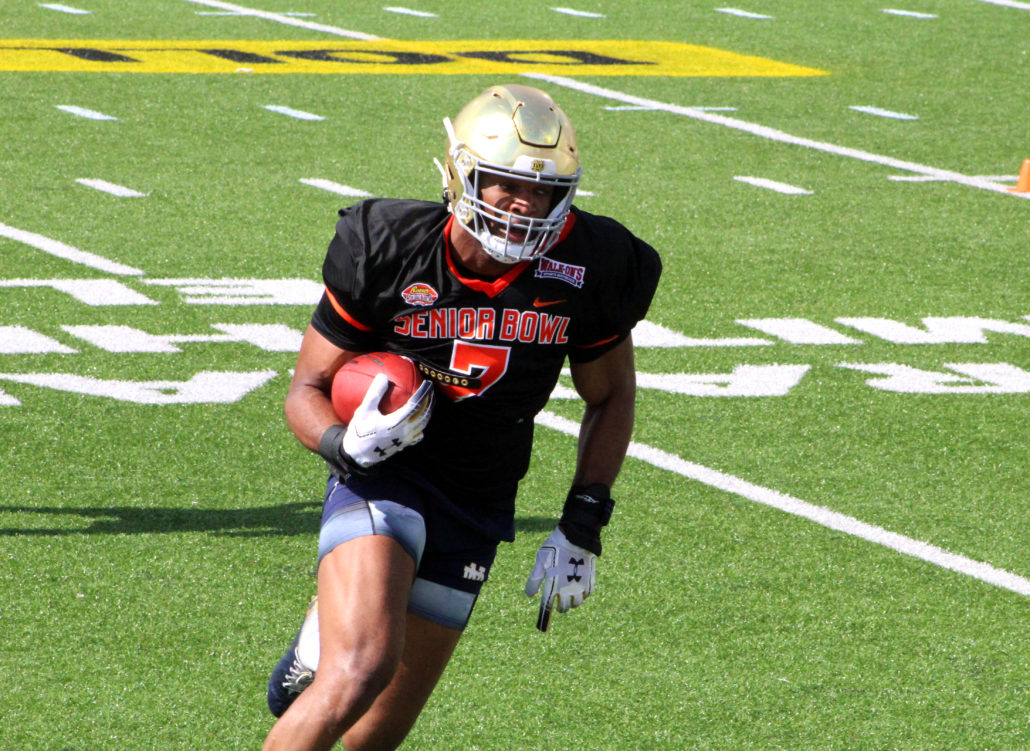 MOBILE, Ala. — The edge rusher played like a man among boys during his time at Notre Dame, and now he's looking to wreak havoc on his path towards the NFL.
Isaiah Foskey has waited for this moment all of his life, and he's not taking anything for granted. Senior Bowl week will provide plenty of tasty matchups for him to display his skills to the scouts, coaches and General Managers. On papers he's well accomplished. After all, he generated 20.5 sacks over the past two seasons with the Fighting Irish.
Foskey is no stranger to penetrating the backfield and bringing down the ball carrier either. He's relentless, with a non-stop motor and a level of tenacity the the pros love. Foskey is a confident individual because he's worked so hard to get to this point.
"Part of my game that will translate best to the NFL is getting to the quarterback in any type of way," Foskey said. "That's what I'm good at, and that's what a lot of people see on film."
The former four-star prospect played for two different coaches at Notre Dame. Brian Kelly, who's now LSU's coach, and Marcus Freeman, who's currently patrolling the sidelines in South Bend. Both taught him different philosophies and he had no problem adjusting on the fly.
"Personality was the biggest difference, I seen Coach Kelly as more of a generic type of coach, like the seal of the team," he said. "Coach Freeman was more hands on, more personable type of coach, he was always around the players in the lunchroom."
The Californian is taking everything he learned from the two coaches, and applying it on and field in practice. He can't wait to go up against stud offensive linemen like Ohio State's Dawand Jones. Foskey doesn't feel like he has something to prove. Instead he just want to have fun and compete. Most importantly he's building lifelong relationships during the process.
He weighed in at 262 pounds and stands six-foot-four. That's great size at the next level for a defensive end in a 3-4 or 4-3 scheme. There are some areas Foskey wants to work on though, including his had placement.
"Pretty much just hand placement are coachable things, and that's what I was focused on my senior year," the 22-year old said. "It all starts with attacking the offensive tackles and guards."
Foskey doesn't consider himself as an ordinary edge rusher. He loves special teams too. Not to mention he blocked four punts in his career, including two against UNLV. Foskey is versatile too, and played tight end in high school. He's hoping that will all translate well for him at the next level. Considering he earned second-team, AP All-American honors in 2022, all eyes will be on him.
Foskey even skipped Notre Dame's bowl game to prepare for this week at the Senior Bowl. And he didn't come this far for nothing. He's looking forward to making a name for himself and Foskey is representing for all the Golden Domers that came before him, and the others that will come afterwards.