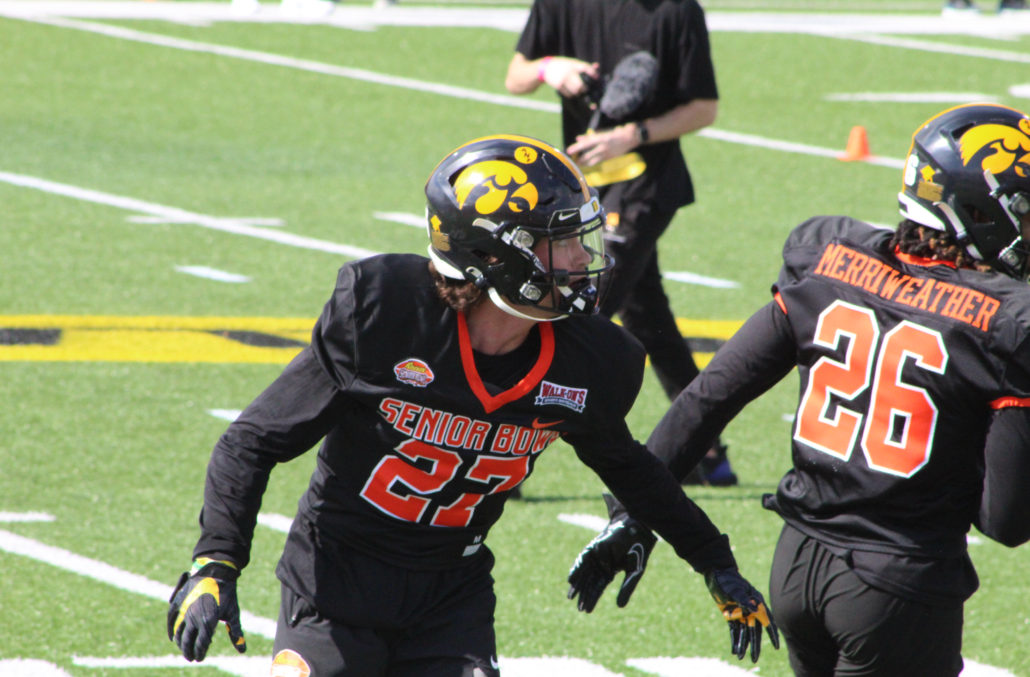 MOBILE, Ala. — The cornerback has been one of the best defenders in the Big Ten during his time as a Hawkeye, and now he's looking to spread his wings among the nation's elite.
Riley Moss has the instincts coaches can't teach, and the speed to keep him confident out on an island by himself. With the first Senior Bowl practice officially in the books, he's getting a feel what it's like to be a professional athlete. The schematics, the grind, and the competition is like no other.
Moss is one of two members from Iowa's secondary taking place in the annual event, and he's trying to make a splash with the scouts. After all, they're already intrigued by what he accomplished on the gridiron. Moss showed tremendous skills as a ballhawk, with 12 career interceptions. And a lot of times quarterbacks avoided throwing in his direction.
Which is why he's a two-time, first-team, All-Big Ten performer. However, he's going to have to amplify those skills against elite competition this week. Moss thought he started slow out of the gates Monday afternoon, but adjusted enough to not miss a beat.
"It wasn't too bad, a lot of stuff that we're running on defense, we ran a version of it at Iowa, so the learning curve wasn't that bad at all," Moss said.
The coaches had Moss and the rest of the defensive backs operating out of cover zero and three zones. Iowa Defensive Coordinator Phil Parker taught him all about those types of coverages. Moss is enjoying going up against Nebraska wide receiver Trey Palmer, and believes they're bring out the best in each other.
"I got a lot of respect for Trey and we were getting at it on that Black Friday game," he said. ""Been kind of trying to get some revenge a little bit, some good fun, and it's good competition."
The six-foot, 192-pounder feels he brings a lot to the table at the cornerback position. His experience, production and leadership is what jumps out to scouts. Moss was an ideal to student-athlete on and off the field too, and the NFL appreciates individuals with great character.
Although the Des Moines native got banged up at times during his career, he was never considered injury-prone. The Des Moines native is also confident with himself in any coverage.
"I think I can run, I like to be physical at the line," the 22-year old said. "I can read the quarterback, and know what the offense is trying to do."
Being versatile is what's going to take him far at the next level. The former two-star prospect knows he left a great legacy with Iowa. Now he and teammate Kaevon Merriweather are trying to represent for the black and gold this week. All eyes will be on the duo too.
There's no denying Moss always carries his Hawkeye pride on his sleeve. And he'll never forget the lessons Coach Ferentz and his staff taught him.
"It's a family atmosphere, you're playing with tradition, and he was saying to leave your jersey in a better place."