How Clean, Old-Fashioned Hate can be a potential trap game for Georgia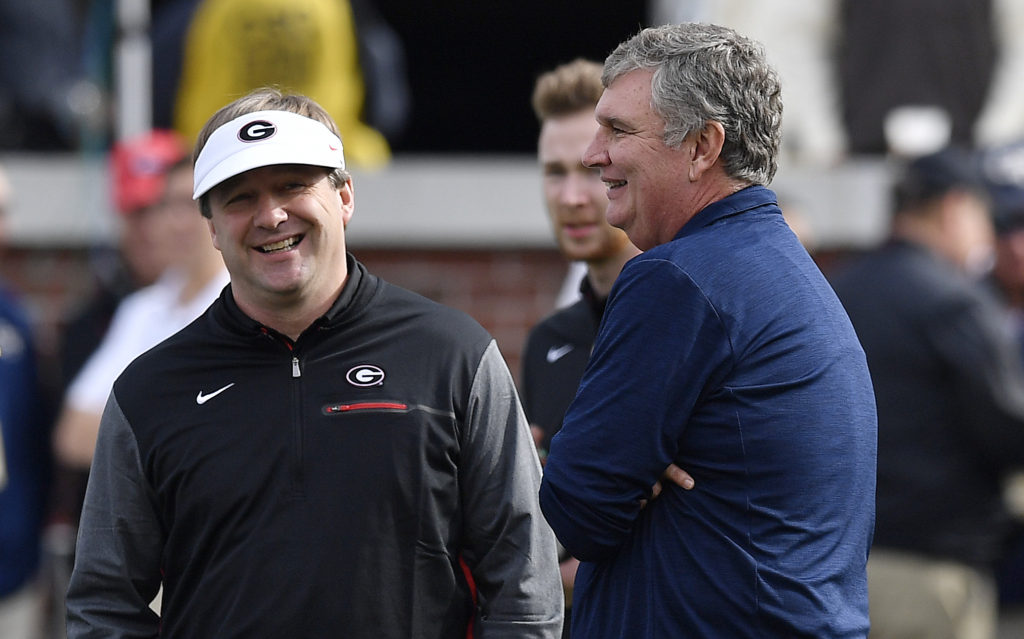 The Bulldogs already clinched a berth in the SEC Championship against the Crimson Tide, but shouldn't overlook a Yellow Jackets team that has won six of their last seven games.
Kirby Smart has the highest ranked one-loss team in the Playoff Rankings and his boys are also No. 5 in the latest AP Poll. However, Paul Johnson's triple-option attack is a whole other animal to prepare for in one week. Georgia may be catching Georgia Tech at the wrong time. The Yellow Jackets are riding high on a four-game win streak and averaging 44 points per game over the last four weeks.
Johnson and the Yellow Jackets are good for an upset every couple of years in the Clean, Old-Fashioned Hate Game and won their last trip to Athens. Georgia Tech has the opportunity to play spoiler and will ruin Georgia's Playoff run with a win Saturday.
Still, Georgia has won seven of the last 10 meetings against Georgia Tech. Smart will need to make sure his players are focused on their rivals instead of looking ahead to the Game of The Year on December 1st. This will be the 113th meeting in this storied rivalry and you can pretty much throw out the record books.
Both teams play with intensity whenever they collide on the field and have fun knocking each other around for 60 minutes. Johnson is one of the longest-tenured coaches in the ACC and knows the tradition this rivalry brings. Smart is one of the hottest young coaches in the game right now and his team may need style points to impress the Committee.
The Bulldogs' offense have been on a tear all year long and No. 2 in the SEC in total yards per game. Both teams will try to pound the ball down each others throat. Under Johnson Georgia Tech always leads the ACC in rushing yards and touchdowns on the ground. Georgia has the No. 1 rush offense in the SEC and leads the league in rushing scores.
The only realistic way the Yellow Jackets can stay in this game is if they lead in the time of possession category and play keep away from the Bulldogs' offense that's averaging nearly 40 points per game this season. Rivalry games are always unpredictable and nothing is settled on paper. Both teams will bring the passion and have a lot to play for so expect this game to be one of the more entertaining ones on Saturday's slate.