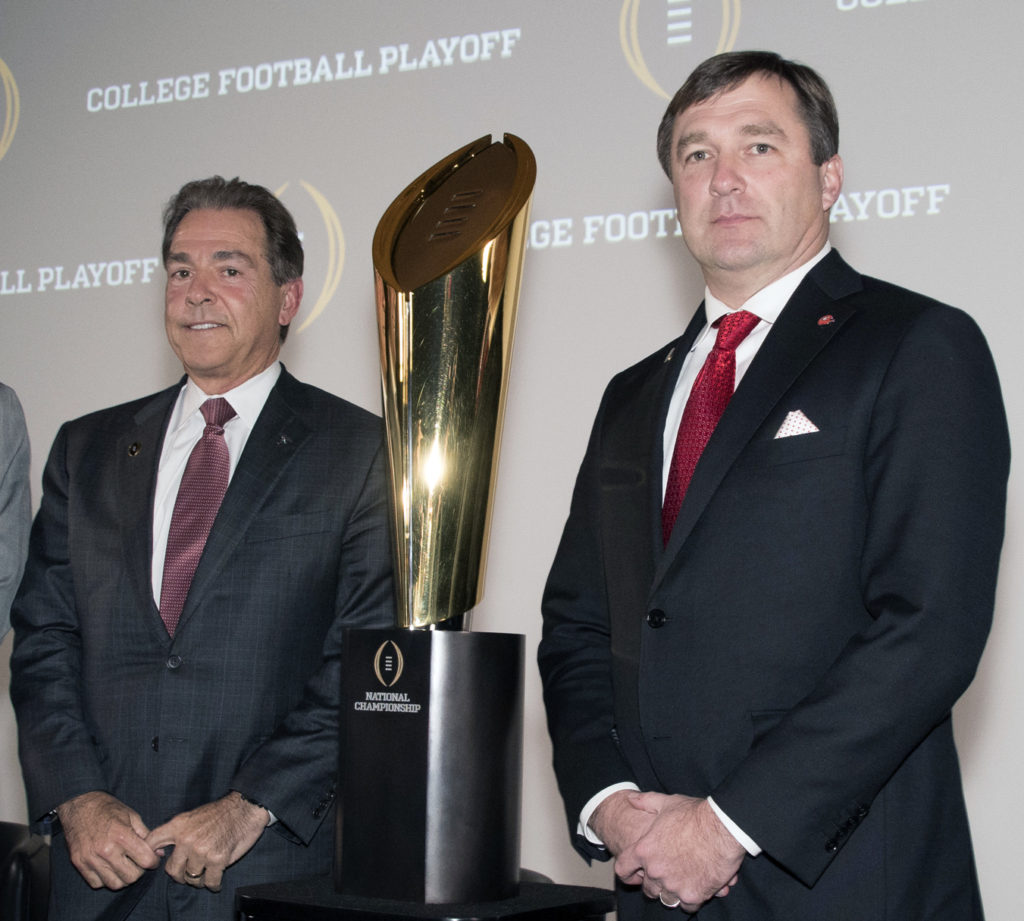 Bulldog nation will never forget Aarron Murray's pass completion to Chris Conley inside the five-yard line that gave the 2012 SEC Title to the Crimson Tide.
There was 15 seconds left on the clock and had Murray spiked the ball it would've put Georgia in position with at least two more downs to claim SEC glory and a berth in the BCS National Championship Game. Mike Bobo wound up catching some heat for that decision, but it was the biggest game of Richt's career and it ended with poor time management and a bone-headed play-call. At that time Smart was apart of the winning side.
However, like Richt, Smart suffered a heartache play by the hands of the Crimson Tide also. No one knows why in overtime Mel Tucker decided to put Malkom Parrish out on an island against a speedy Alabama receiver with no help from free safety Dominick Sanders in last season's National Championship Game. It was the most significant of Smart's career, but blown coverage resulted in a 41-yard touchdown pass and cost Georgia yet another Championship Game against Alabama.
Smart and his boys find themselves in familiar territory yet again in the Game of the Year against the Crimson Tide, with the winner securing a spot in the College Football Playoff. The SEC Championship Game will have all the Committee's attention and will decide several other team's post-season fate.
Alabama and Georgia weren't scheduled to play this season, but trust and believe Smart had this game circled on his calendar since last January. The Bulldogs have been toe-to-toe with Alabama in recruiting the past two seasons and that feat alone deserves a standing ovation for Smart.
Now Georgia has the opportunity to avenge last season's loss, but it remains to be seen if Smart and his boys will be ready this time around for Alabama. What helps the Bulldogs is that they don't have to leave the state of Georgia for a fourth-straight game
The Bulldogs have the No. 1 rush offense in the SEC and is tied for a league-high with 29 touchdowns on the ground. The fact that Jake Fromm been in this position before benefits Smart. Since Georgia's loss at LSU Fromm has been on fire, throwing for 827 yards, 11 touchdowns and one interception over the last five games.
Georgia's defense has been no slouch either during the team's five-game win streak, allowing only 18.4 points per game and 17.2 for the season. Special teams will be a huge factor in this game and Smart still has Rodrigo Blankenship. The kid is clutch when he wears those glasses and has made 19 of 22 field goals this season.
Unfortunately for Smart, he's a Saban protege and the ol' ball coach has dominated his former assistants in head-to-head match-ups. Still, Georgia has a ton of momentum and with a few breaks can make this Alabama's most competitive game this season. Everyone get your popcorn ready!