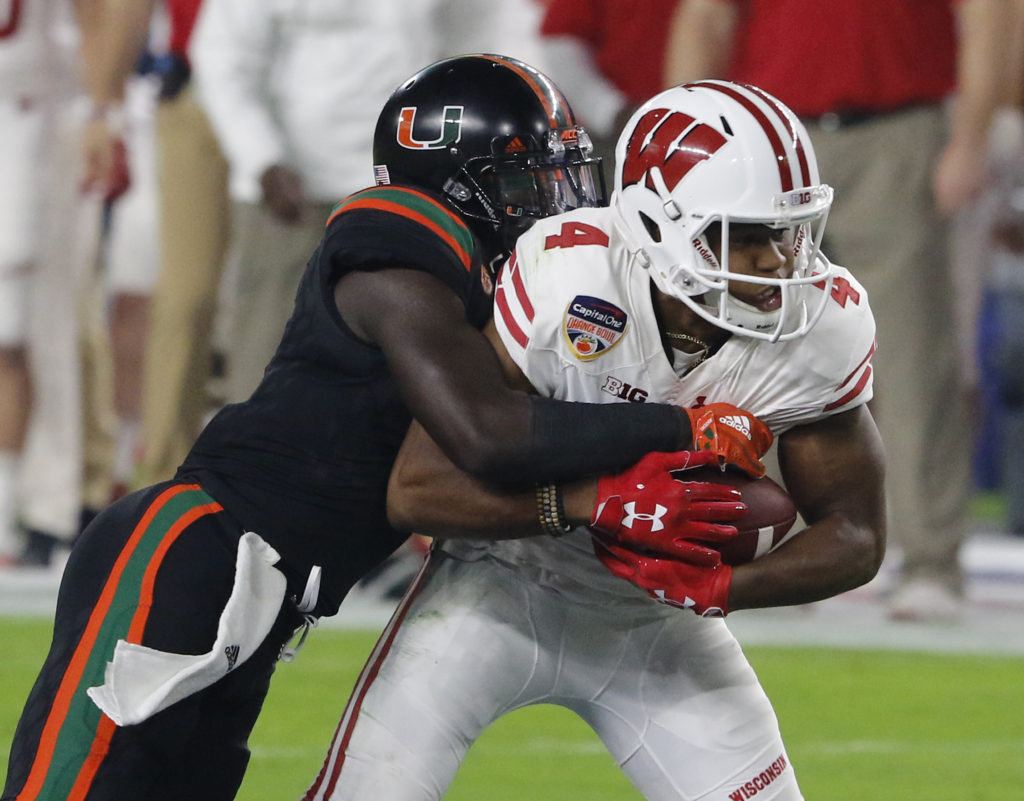 Wisconsin is on an upswing under head coach Paul Chryst, going 34-7 over the last three years, winning three straight bowl games and was one win away from making the College Football Playoff in 2017. The Badgers return arguably the nations' best running back, five starters on the offensive line, a two-year starter at quarterback, topped off by one of the best defenses in the Big 10 this fall. Don't think that hasn't been the motivation for a Wisconsin team looking to capitalize on their top-10 ranking in the preseason polls.
Team strengths: The backfield, offensive line and defense. The Badgers were second in the Big 10 in rushing, averaging nearly 230 yards per game last season. Three running backs return that combined for 2,575 yards and 18 touchdowns. O-linemen Michael Delter, Jon Dietzen, Tyler Biadasz, Beau Benzschawel and David Edwards have all combined for 133 career starts. Key contributors return to a defense that finished No. 1 in the Big 10 in scoring and total defense last season. There are studs along the defensive line, at the linebacker positions and in the secondary.
Team weaknesses: Alex Hornibrooks turnovers and the kicking game. Hornibrook threw for 25 touchdowns last season, but he was second in the league with 15 interceptions and was a liability for the Badgers in the conference championship game. It seems like he always makes that bone-headed throw that leaves fans shaking their heads. The Badgers' second-place leader in field goal percentage Rafaeal Gaglianone is out indefinitely with a right leg injury he suffered in fall camp. Neither one of his replacements have attempted a field goal attempt for Wisconsin.
Players to watch: Running back Jonothan Taylor, wide receiver Danny Davis, linebackers T.J. Edwards and Andrew Van Ginkel and strong safety D'Cota Dixon. Heisman hopeful Taylor rumbled through the Big 10 and broke Adrian Pedersons' freshman rushing record with 1,977 yards and 13 touchdowns last season. He has the power to run over linebackers and enough speed to fly past defensive backs. Davis is now a starter and will improve on his numbers with fellow wideout Quintez Cephus taking a leave of absence to deal with criminal charges.  Edwards is the heart and soul of this defense and also a sure-tackler who can fly from sideline to sideline. Van Ginkel had a strong first season with the Badgers racking up 10 tackles for loss, 6.5 sacks and two interceptions, including one returned for a touchdown in the Big 10 Championship game. Dixon is the play-maker back in the secondary. The performance he put on against Northwestern last season showed he's one of the best defenders in the Big 10.
The schedule: Very manageable. Besides road trips to Michigan and Penn State, Wisconsin will be favored in every game this fall. The Badgers will most likely crush every team in their division.
My take: The Wisconsin football program has been consistently successful. The offense should easily average nearly 40 points per game this fall. The defense will be stingy as always and all eyes will be on Taylor to see what he can do for an encore. It will be a complete shocker if the Badgers don't represent the west for a third-straight year in the conference championship game. Hopefully for the Badgers the third time will be a charm.