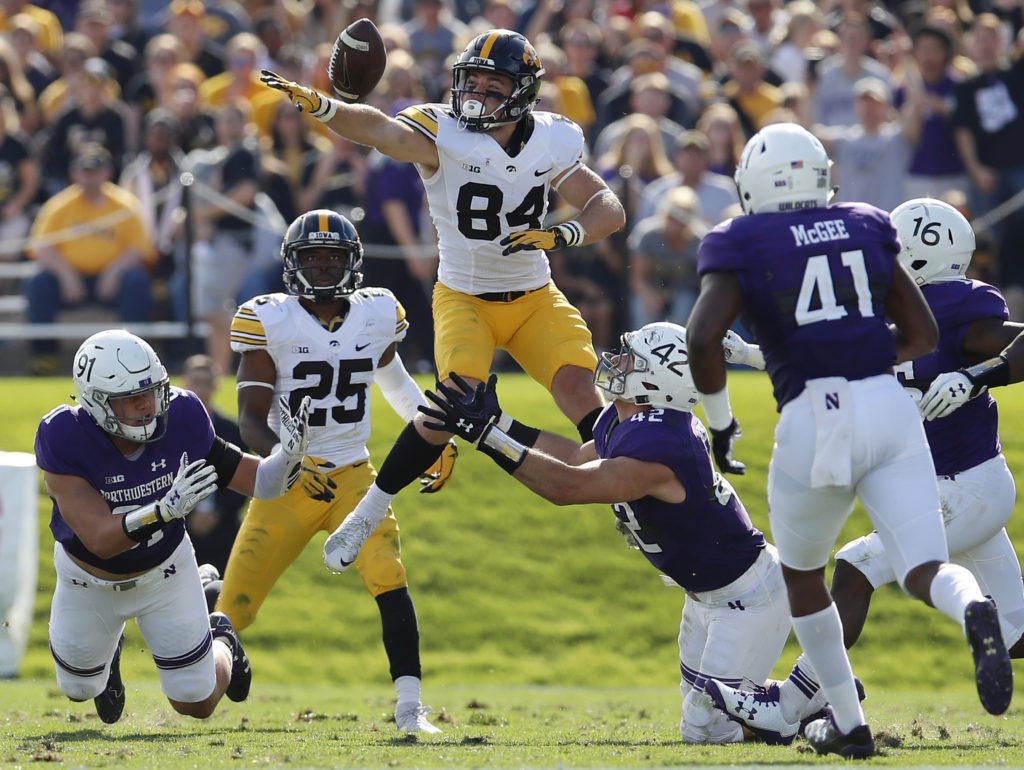 The nations' longest-tenured coach Kirk Ferentz enters his 20th season for Iowa and needs just one victory to become the schools' all-time leader in wins. He emphasized that his team needs to consistently take the next step and that starts with the quarterback Nathan Stanley. He was sort of inconsistent last season but did show a lot of promise with his 2,437 yards through the air. The Hawkeyes' defense will be tough and disciplined as always but has to replace some key defenders. Still, Iowa fans are expecting their team to be in the thick of things in the Big 10 West this season.
Team strengths: Offensive line and tight ends. Interior linemen Tristan Wirfs, Keegan Render and Alaric Jackson have combined for 42 career starts and will be key with protecting Stanley in the pocket as he finds open targets. Noah Fant and T.J. Hockenson are the best tight end tandem in the Big 10. They provided a spark for the Hawkeyes' passing attack and combined for 54 catches, 810 yards and 14 touchdowns in 2017.
Team weaknesses: Inexperience at running back and linebacker. The Hawkeyes' top two rushers are gone. Adam Wadley was a all-everything type of running back, who was also a clutch receiver out of the backfield and his production and leadership won't be easy to replace. Finding replacements for starting linebackers Josey Jewell, Bo Bower and Ben Niemann will be this seasons' biggest coaching challenge for Ferentz. The trio were last seasons' top-three tacklers and combined for 226 tackles, 23 tackles for loss, 6.5 sacks and three interceptions.
Players to watch: Quarterback Stanley, wide receiver Nick Easley, tight end Noah Fant, defensive ends Anthony Nelson and A.J. Epenesa and strong safety Amani Hooker. Stanley threw for 26 touchdowns last season with only six interceptions. He has the offensive line to protect him and big-time targets to throw the ball to this season. Easley led the team in receptions last season with 50 catches and should capitalize on those numbers this fall. Fant blossomed into one of the best tight ends in the nation in 2017 after hauling in 30 balls and scoring 11 touchdowns. He's a mismatch for opposing linebackers and will require double coverage from down in the redzone. Nelson has had 17.5 tackles for loss and 14.5 sacks over the last two seasons. Epenesa was the Hawkeyes' top recruit in 2017 and contributed immediately and finished with 5.5 tackles for loss and 4.5 sacks as a true freshman. Hooker was a tackling machine and returned an interception for a touchdown against Ohio State. He will most likely be the team's leading tackler in 2018.
The schedule: Very favorable. Iowa avoids Michigan, Michigan State and Ohio State from the east. Iowa State, Wisconsin and Nebraska comes to Iowa City. The only most likely loss is a road trip to Penn State.
My take: Iowa has all the pieces in place for the pass game to be successful. The team should be 3-0 heading into a key showdown with Wisconsin in Iowa City. If the Hawkeyes pull off that upset everyone will be jumping on their bandwagon to win the west division. The only problem is the teams' bread and butter, which is the running game and experienced linebackers are missing from this years' squad and that will cost them a couple of games early on. Once November rolls around those weaknesses should be solid and Iowa will finish strong.