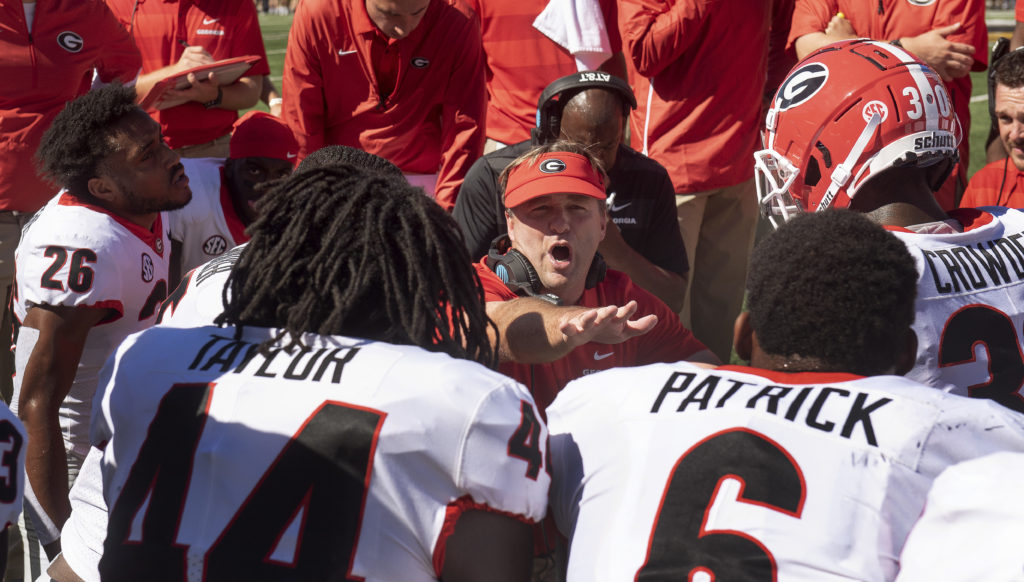 When Smart took Georgia's head coach position at the end of 2015, he knew his predecessor won nearly 75 percent of his games and two SEC titles during a 15-year tenure.
Marc Richt had a good run with the Bulldogs, but he was let go because he couldn't get the program to the next level. The pressure was on Smart from the start and with 34 games under his belt as coach, he has taken Georgia to heights that Richt never could.
The Bulldogs have gone 27-7 under Smart, are the reigning SEC Champs and played in the National Title Game last season. Recruiting has been outstanding for the program over the last two cycles and the roster is now filled with four and five-star talent. Graduation and early NFL departures from players doesn't seem to matter with Georgia and Smart keeps the Bulldogs reloading instead of rebuilding.
Georgia is currently No. 2 in the Associated Press Poll, won 13 of its' last 14 regular season conference games and primed for another national title run. However, Smart's journey to becoming one of the best young coaches in the sport wasn't all peaches and cream in the beginning.
The 42-year-old paid his dues and worked as a graduate assistant under Hall of Fame Coach Bobby Bowden at Florida State. He's also a protege' of Nick Saban and coached under him in both the collegiate and professional level. Smarts' first season with the Bulldogs didn't go as planned and Georgia lost five games, including The World's Largest Outdoor Cocktail Party and Clean Ol' Fashioned Hate. Fans even questioned if Smart was the right person for the job.
However, after Georgia beat rivals Florida and Georgia Tech and was an overtime touchdown pass away from winning a national title last season, his critics have vanished. The players seem to have grown from that loss and Smart has his team motivated and believing they can win their first national title since 1980.
Smart has learned on the job and unlike Saban and Scott Frost, Smart kept his quarterback competition under wraps during fall camp. Signal-callers Jake Fromm and Justin Fields have put aside their egos for the sake of the team and both contributes on offense.
Fromm has thrown for 12 touchdowns, two interceptions and has the second-best quarterback rating of any starter in league. Georgia's defense lost a lot of starters to the NFL Draft last season, yet the Bulldogs are No. 1 this year in the SEC in total yards allowed per game. Georgia had to replace two running backs that are now on NFL rosters and still leads the conference in rush yards per game. Even junior kicker Rodrigo Blankenship, who's known more for his glasses than his field goals, is having a solid year.
The crossover SEC tilt with LSU this Saturday at Death Valley will show everyone how good Georgia really is. The Bulldogs beat divisional foes South Carolina and Missouri on the road fairly easy, but the Bayou Bengals are coming off a loss and are ticked off. No player on the Bulldogs' roster has ever played in Tiger Stadium, and that place is crazy under the lights. Still, if Smart has become good as advertised and Georgia believes it's in the same class as Alabama, this game will be the Bulldogs coming-out party.