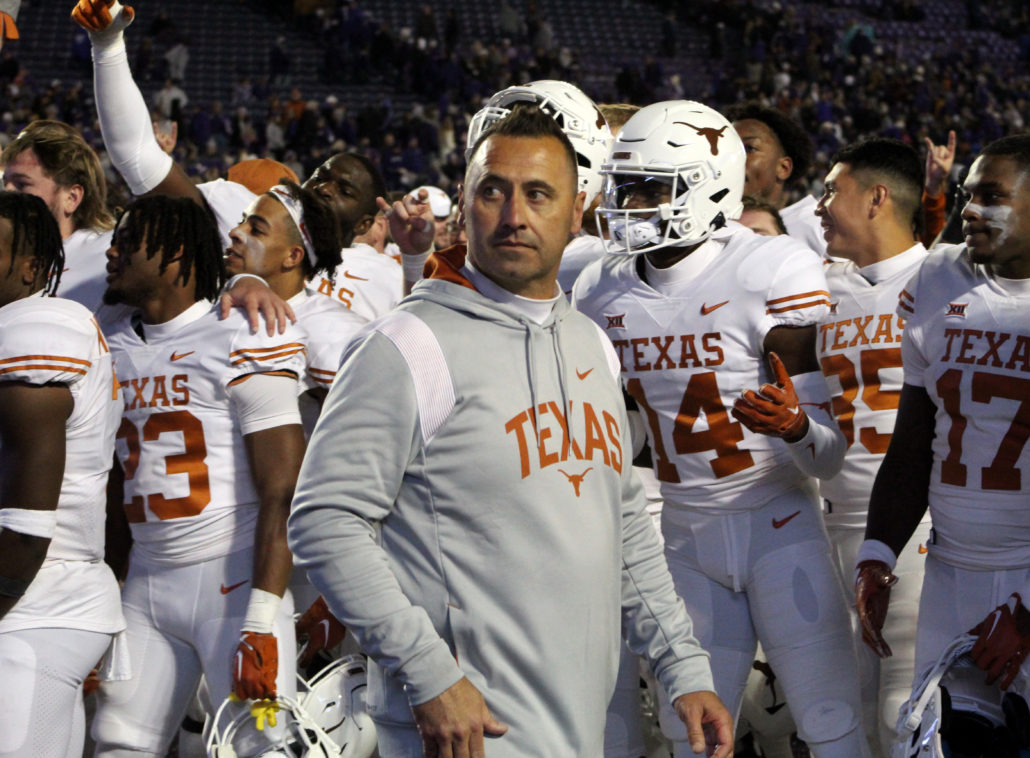 The Longhorns are trying to keep their Big 12 Championship and Playoff hopes alive, but in order to do that the team must travel to a venue they haven't won at since 2017.
Iowa State takes its' home games under the lights very seriously, especially against Texas. Matt Campbell's boys were draped in black the last two times they defeated the Longhorns too. Which is why Coach Steve Sarkisian should be expecting a dogfight in a hostile environment again.
After all, playing Texas is like participating in the Super Bowl for these smaller Big 12 schools. This is also be the last time the Cyclones will clash with the Longhorns for the foreseeable future. Texas (9-1) has everything to gain, meanwhile Iowa State has nothing to lose.
The Longhorns are currently atop the Big 12 standings, and No. 7 in the Playoff rankings. Not to mention Sarkisian's squad is the nation's second-highest rated one-loss team. However, the Longhorns have won their last two games by a combined six points. Texas struggled to put away Houston, Kansas State and TCU.
The Cyclones are very scrappy and have a lot of momentum approaching this game. Iowa State (6-4) demolished BYU on the road by 32 points, which is the same team Texas beat at home by 29 in week nine. The Longhorns haven't looked elite this November though.
Sarkisian lost leading rusher Jonathon Brooks for the rest of the season, due to a torn ACL he suffered against the Horned Frogs. Backup running CJ Baxter is expected to start in Brook's absence. Quarterback Quinn Ewers returned to the starting lineup last week, but looked rusty behind center. Ewers' chemistry with his pass catchers better be on point against a Cyclone unit that leads the Big 12 in total defense.
Still, Texas won on the road at Alabama earlier this season. Bryant-Denny is nearly twice the size of Jack Trice, so the Longhorns know what it's like to play in a snakepit. If the Longhorns can pull off a win in Ames, they'll punch their ticket to Arlington on December 2. It's no mystery that Texas hasn't played in the Big 12 Championship Game since 2018. So that'll speak volumes if Sarkisian can get the Longhorns to Jerry's World in year three.
Sarkisian should be anticipating to get Iowa State's best, especially after it scored a season-high, 45 points last week. The Cyclones stand in the way of everything the Longhorns are trying to accomplish this fall. Iowa State would love nothing more than to send Texas off to the SEC with a loss.
Sarkisian needs to make sure his players stay focused on the task at hand, block out the outside noise and trust each other. No player on Texas' roster has won at Iowa State, so that's something to prove and motivation.
If the Longhorns can take it all one play at a time, be fundamentally sound and eliminate the small mistakes, they'll have a great chance to snap their two-game losing streak at Jack Trice Stadium.