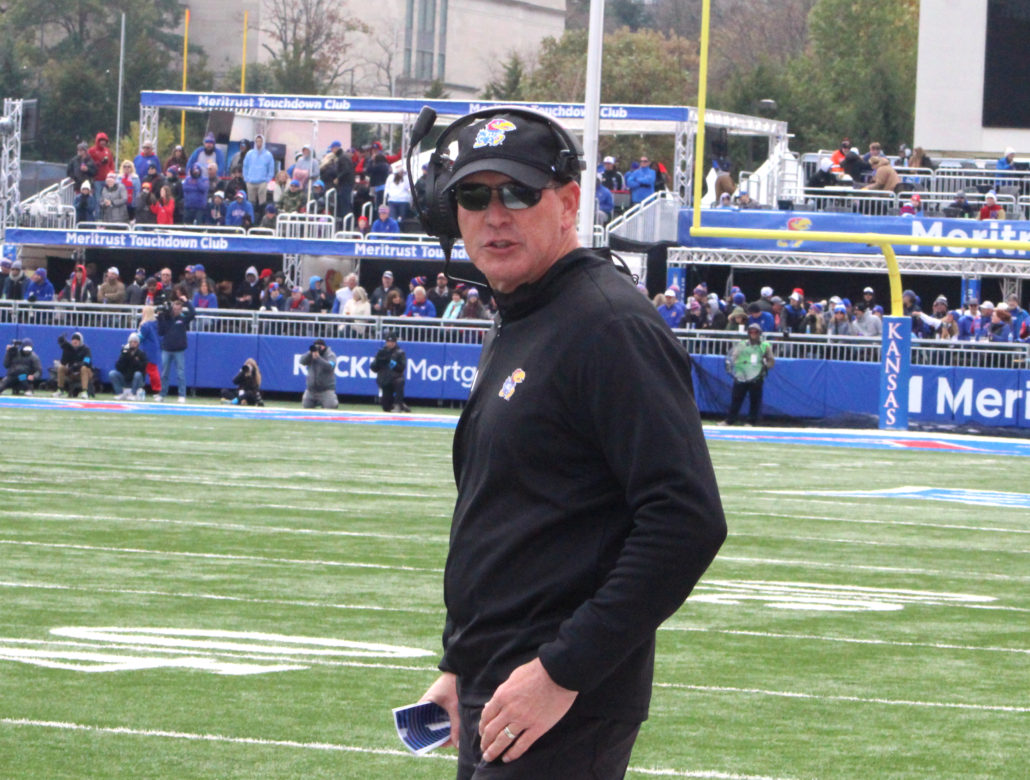 It's no mystery that the Jayhawks have dealt with issues at quarterback throughout the season.
After all, Jalon Daniels, who was the 2023 preseason Big 12 Offensive Player of the Year, has been sidelined with back tightness for the past six games. Backup Jason Bean embraced that next man up mentality, and filled in nicely for Daniels. However, Bean suffered a head injury in last week's loss to Texas Tech.
Despite taking a handful of reps in Wednesday's practice, Bean's status is questionable for the Sunflower Showdown. Third-string quarterback Cole Ballard played most of the game against the Red Raiders. Ballard completed nine of his 20 passes for 124 yards and an interception in Bean's absence. His accuracy and turnover was a glaring weakness that Kansas State will try to exploit.
Which is why Coach Lance Leipold will need a healthy Bean back behind center if he has any hopes of taking down the hated Wildcats. Kansas (7-3) has lost 14-straight games against Kansas State, and hasn't been victorious in the Sunflower Showdown since 2008. Leipold is eager to change that narrative. He's no stranger to accomplishing amazing feats this season either, considering Kansas beat Oklahoma for the first time since 1997, and won at Iowa State for the first time since 2008.
Regardless, beating the Wildcats will do wonders for the program, and give the players bragging rights. Not to mention a win would be beneficial towards recruiting. The Jayhawks are better equipped to take on the Wildcats this time around too. Both teams are in the top-two of the Big 12 in rushing offense, and this battle is bound to get physical in the trenches.
Bean is a threat with his arm and mobility, which should keep Kansas State's defense honest. It just so happens that the Wildcats are coming off a blowout win. Kansas State (7-3) scored 59 points on Baylor, which was its' highest output since September of 2016. Meanwhile, Texas Tech held Kansas to a season-low, 13 points without Bean.
Something has to give in the 121st edition of this rivalry, and both teams are currently in the Playoff rankings. Last year the game was played during a thunderstorm at Bill Snyder Family Stadium. The Sunflower Showdown will be played under the lights again, but this time without all of the rain.
If Bean is in the starting lineup, this game could easily turn into an offensive shootout. If he's unable to go, the Jayhawks will have a hard time answering that bell when the Wildcats score. It's also going to be Senior Day for Kansas, which will be the perfect opportunity for Bean and his teammates to pull off the upset.
Bean's experience, production and leadership will go a long way in this matchup. Everything comes down to execution from the offense though, so protection from the big boys up front will be vital. The Wildcats still have an outside shot at making it to the Big 12 Title Game, but the Jayhawks are standing in their way. So the magnitude of this game will be through the roof. Still, Leipold needs to make sure his squad is ready for the spotlight, with or without Bean.