Jayhawks' quarterback situation keeping Joe Klanderman on edge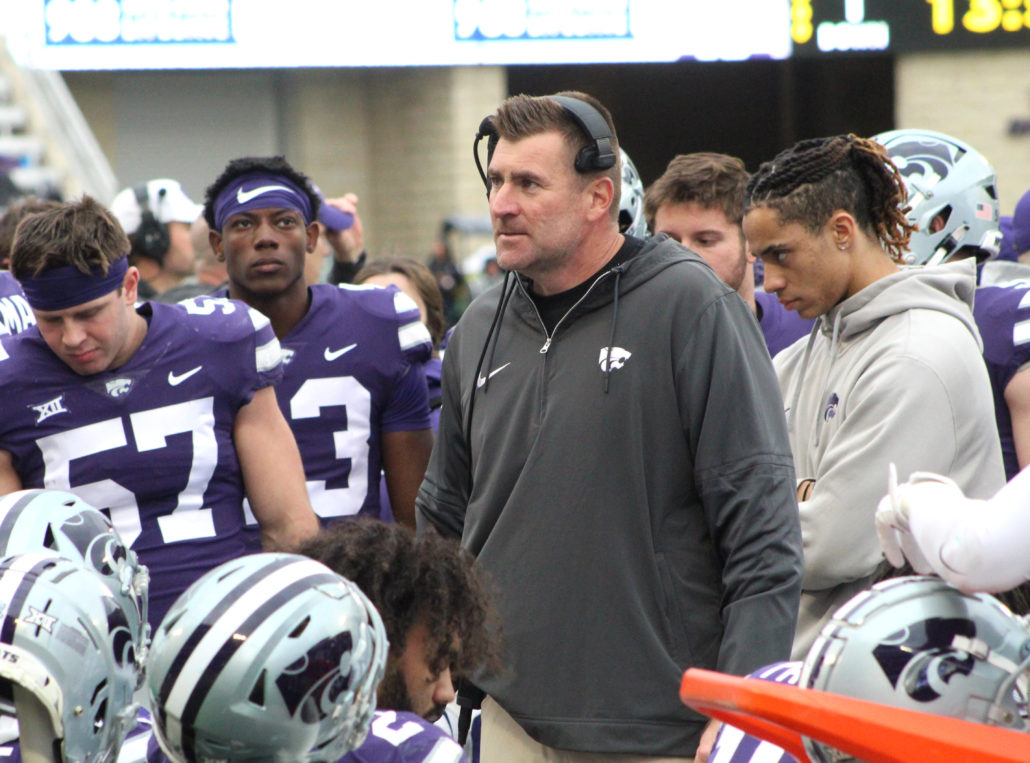 MANHATTAN, Kan. — With the Sunflower Showdown less than 24 hours away from kickoff, Kansas State's defense is preparing for a dogfight under the lights in Lawrence.
Defensive Coordinator Joe Klanderman has put his defense through an intense week of practice, and expects the hard work to pay off for his unit. Scouting Kansas' offense has been a mystery for Klanderman though, because of the uncertainty at quarterback.
After all, Jalon Daniels has missed the past six games. Backup Jason Bean suffered a head injury in last week's loss against Texas Tech, and is questionable. Third-stringer Cole Ballard filled in during Bean's absence, but only completed nine of his 20 passes. Klanderman doesn't know who Coach Lance Leipold is going to put behind center, so he's keeping his focus on the Jayhawks' scheme.
"I think whoever it is we just have to play our game, our style, do our thing, and execute our calls," Klanderman said. "They have very similar skill sets no matter who plays."
Kansas (7-3) likes to take a lot of snaps on offense too, and that requires mobility from its' signal-callers. Klanderman's defense has faced multiple dual-threat quarterbacks this season. Ballard threw an interception and had poor accuracy, and those are areas Klanderman is going to try to exploit. However, Klanderman knows Ballard will be more polished with a full week of practice with the No. 1 offense.
"Watching Cole Ballard last week, it seemed like he was very athletic," he said. "He didn't seem to panic when he had a bunch of pressure, threw a good ball and was able to run their offense."
The Jayhawks are sixth in the Big 12 in total offense, so Klanderman can't take them lightly. Leipold isn't afraid to go for it on fourth downs either, considering Kansas' kicking woes this fall. Which is why Klanderman is expecting Leipold to throw the kitchen sink at his defense.
The Wildcats could potentially be walking into a snakepit, and Jayhawk fans are eager to end the 14-game losing streak. Klanderman anticipates Leipold to field a motivated team, and have a great game plan put together for his defense.
"They do a really good job with that, and they orchestrate it well," the Wisconsin native said. "They do it with a lot of tempo, too, and it's one way to get no huddle without being no huddle because they're going to make you get aligned at the last second to get your eyes right and play."
Kansas State (7-3) still has an outside shot at clinching a berth in the Big 12 Championship Game. The Jayhawks stand in the Wildcats' way, and Klanderman understands the magnitude of this matchup. For the first time in the series history, both teams are in the Playoff rankings.
Klanderman just wants his unit to execute, make tackles out in the open field and create turnovers. Kansas' pre-snap shifts will be a problem, but that's why Klanderman plans on making in-game adjustments.
"That's been the emphasis for us because I think if we can do that, we'll have a chance to succeed."