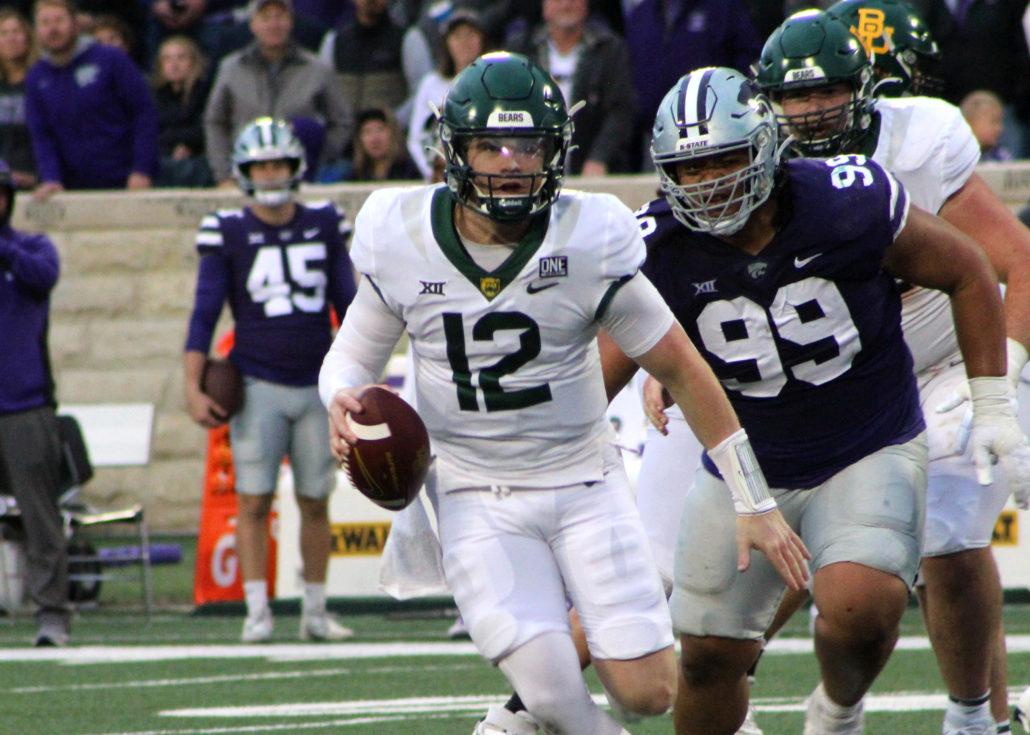 MANHATTAN, Kan. — Although the Bears are coming off their worst loss of the Dave Aranda era, the coach is proud to have a gamer behind center.
There's no denying that quarterback Blake Shapen put together a solid outing at Kansas State. After all, he threw for 253 yards, and a season-high, four touchdowns. Shapen was able to spread the ball around, and located multiple targets downfield throughout the afternoon.
However, one of his passes was intercepted and returned for a touchdown in the third quarter, and that basically put the game out of reach. Aranda admired the fact that Shapen kept his head high despite the circumstances, and the way his teammates continued to rally behind him.
"A warrior man, battled, and there's times that he took hits, and got back up," Aranda said. "On the sidelines he's getting guys up ready to play, so we're proud of his effort."
Shapen needed more help from his supporting cast though. The rushing attack was abysmal, and the Bears finished with 85 yards on the ground. Aranda thought he put together a great game plan, but after Baylor fell behind early, he had to abandon the run game. Adjustments had to be made, and Aranda knew that put more pressure on Shapen, as the Bears played from behind for most of the game.
"In terms of drop back protection and catching the forward pass, we struggled with that," he said. "We had to get movement, we had to have gadgets, and we should be above and beyond that, and we're not."
The Wildcat defenders were able to pin their ears back because Baylor had to throw the ball. Shapen was sacked three times, and Aranda believes it eventually took a toll.
"He was pressing, I thought a lot of that was with the scrambles," the 47-year old coach said. "There were times when the pressure compounded, in which he was feeling it more than he was actually seeing it, and I think all of that is real when you've been hit throughout the year, and then you're trying to make a play."
Baylor (3-7) ran more plays than Kansas State, and led in time of possession, but still lost by 34 points. Aranda still thinks Shapen's experience, leadership and production is something to build on, regardless of the losing season. Now it's going to be all about how the team responds moving forward with no bowl game on the table. Still, Aranda is expecting Shapen and others leaders to emerge and motivate the team.
The Bears have two games remaining on the slate, and Aranda wants the team to finish strong down the stretch. At this point Baylor is playing for pride. It's a head-scratcher that the Bears are just two years removed from winning the Big 12 Title with Shapen. That means there's more work to be done. Aranda is grateful that he can rely on Shapen during times of adversity, and anticipates he'll keep making progress.
"I thought it was a really good week from him."