Will Howard triumphant with Wildcats and sets a new school record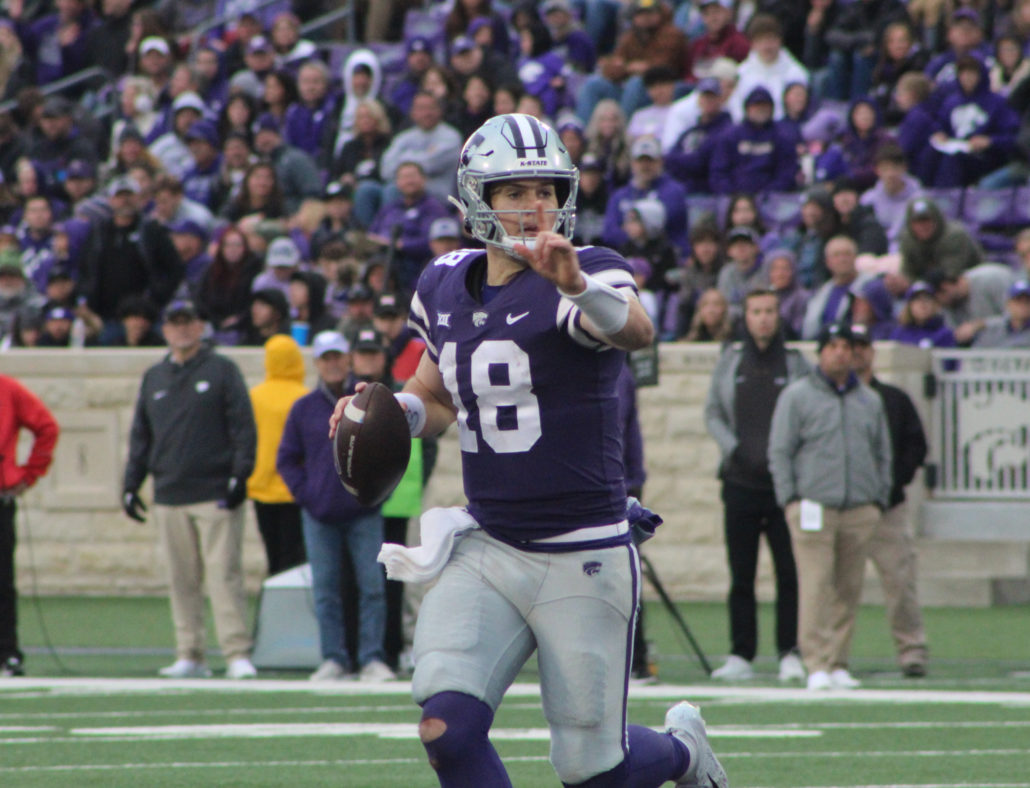 MANHATTAN, Kan. — Kansas State's 59-25 victory over Baylor Saturday was memorable for many reasons, but for quarterback Will Howard, it cemented a legacy of perseverance.
The gunslinger wowed the crowd of 51,790 at Bill Snyder Family Stadium with another stellar performance. After all, Howard completed 19 of his 29 passes for 253 yards, three touchdowns and added a rushing score. However, the significant part about Howard's afternoon, was the fact that it put him in a new stratosphere with the program.
The Pennsylvania native surpassed Skylar Thompson, and became Kansas State's career leader with 45 touchdown passes. Not to mention the Wildcats scored their most points in a single game since September of 2016.
Howard was able to accomplish that feat with Hall of Fame Coach Bill Snyder and signal-caller Michael Bishop in the building. Now the 22-year old is sitting on cloud nine after the incredible outing. Most importantly, Howard knows the contribution from his teammates is the reason why he's in this position.
"It's an unbelievable honor and I couldn't do it without all the guys in that locker room that caught passes for me, and blocked for me," Howard said. "I'm blessed, I'm grateful, it still really hasn't sunk in yet."
Coach Chris Klieman couldn't be more proud of Howard, considering the quarterback's long journey. Everyone remembers Howard's 2020 campaign, when he led the Big 12 in interceptions. He molded himself from a wide-eyed underclassmen behind center, to a seasoned-veteran in Klieman's eyes, and that's why Howard is greatly appreciated.
"Resolve, toughness, character, the kid has battled through," Klieman said. "He's playing at such a high level right now, and I'm excited for him as he's having a great season."
Kansas State has had some notable quarterbacks over the past 25 years, including Bishop, Ell Roberson and Collin Klein. Howard knows all about his predecessors too, and what they accomplished as a Wildcat. Bishop led the team to a 22-3 record as a starter. Roberson set the school record for touchdown tosses in a single season, and Klein won a Big 12 Title. Howard won the hardware too, and admires all of the Wildcat legends for setting the bar high.
"To be able to say that I'm the all-time passing touchdown leader, it's crazy to think about, especially with all of the stuff that I had to deal with here," he said. "I'm so privileged to be in the position that I am, and to just have this platform it means the world."
Although Howard has had a rollercoaster season this fall, Klieman feels the best is yet to come for the senior. Fans criticized him and wanted Howard benched after road losses to Missouri and Oklahoma State. Still, he dealt with all the adversity, and responded in a big way. Now Howard is trying to carry the team to the finish line. The Wildcats are currently in a four-way tie for second place in the Big 12 standings.
Oklahoma still needs to lose another game, as well as Oklahoma State in order for Kansas State (7-3) to control its' own destiny. Klieman understands there's still plenty of football to played over the next two weeks, so nothing is set in stone.
Howard breaking the school record for passing touchdowns, is just the tip of the iceberg for his legacy. Which is why Klieman remains confident in the execution by the offense with Howard behind center, as the Wildcats try to finish strong down the stretch.
"For him to have that record, says an awful lot about what kind of player he is."