Chris Klieman frustrated by missed opportunities in loss at Missouri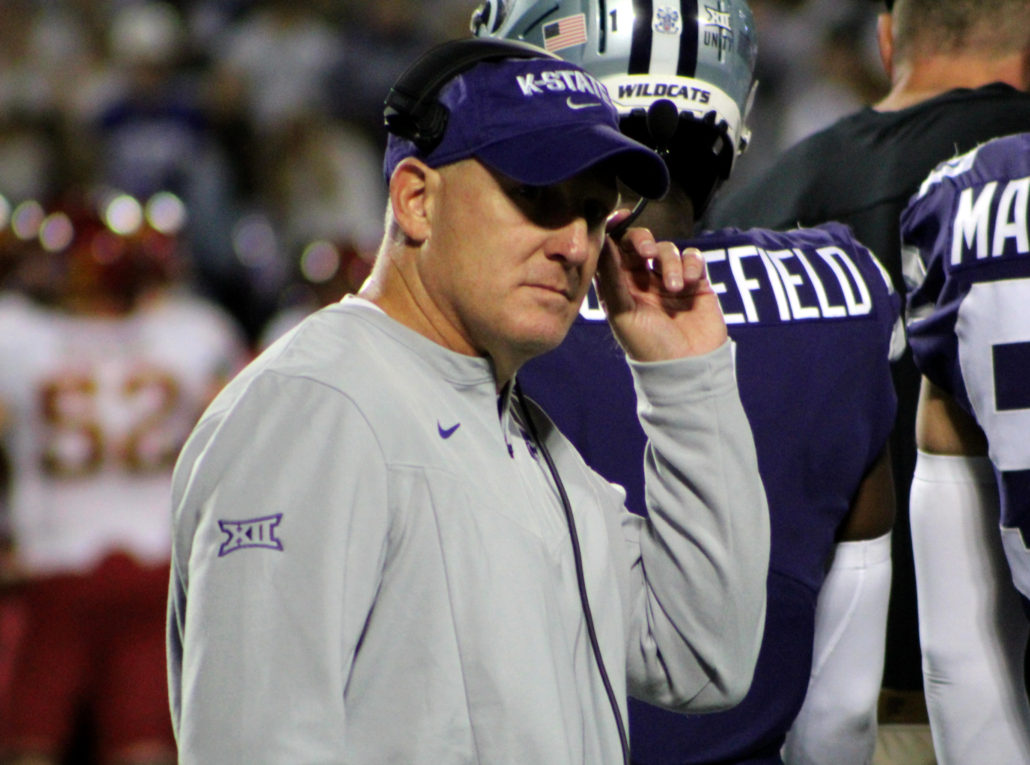 MANHATTAN, Kan. — Although the reigning Big 12 Champs suffered their first loss of the season last Saturday, their head coach remains focused on the rebound.
Now Chris Klieman is back at the drawing board after Missouri's 61-yard field goal dropped Kansas State out of the AP top-25. Still, Klieman is focusing on the positives, despite the lingering issues heading into the Big 12 opener against UCF.
It's no mystery that Missouri led Kansas State in total offense, first downs and averaged more yards per play. To make matters worse for Klieman, is the fact that the Wildcats ran 10 more plays than the Tigers, plus led in time of possession by eight minutes and still lost. On top of that Kansas State lost veteran linebacker Daniel Green for the season due to injury. Not to mention quarterback Will Howard and running back Treshaun Ward got banged up.
"We can't let Missouri beat us twice, we have to come up with great game plans no matter who's playing at quarterback, running back, MIKE linebacker and the show moves on," Klieman said. "We got to continue to battle the adversity that we're facing."
Ward is doubtful for Saturday's game against UCF, and Howard is questionable. The gunslinger didn't practice Monday and was limited in action Tuesday. Which is why Klieman wants his players to embrace that next man up mentality. If Howard is unable to go in game four, Klieman has other options. He's prepared to insert Avery Johnson in the starting lineup, and give Jake Rubley some meaningful reps.
Klieman also had to do some shuffling around with the big boys up front. However, he wants All-American Cooper Beebe  to remain at guard. Klieman was very disappointed with the performance of the Wildcats' secondary. After all, the defense allowed 366 passing yards. There are plenty of Big 12 teams with high-flying offenses that will try to exploit that area.
In Klieman's mind, Kansas State (2-1) left plenty of plays on the field on both sides of the ball.
"We had the ball at midfield up 24-20 twice, where we had a chance to go up by two scores, and give them credit, we didn't make plays and they did," he said. "The glaring weakness of not playing well in the secondary."
Klieman knows going against the almighty SEC was a measuring stick for his team. Now he understands where everyone stands. The Wildcats have to cut down on the mental mistakes, silly penalties and execute more efficiently. The offensive line must provide a better push at the point of attack. The defensive line has to get more penetration in the backfield, as well as he linebackers, and the defensive backs need to tackle better out in space.
"We've been challenged up front for sure, there's no doubt about that, and we're going to be challenged again this week," the 55-year old coach said. "So we got to find ways creatively to run the football without doing too much."
UCF (3-0) will invade Bill Snyder Family Stadium with momentum and something to prove. The Wildcats will have to match the Knights' intensity. The crowd will be amped up for the first night game of the season though. So Klieman is focusing on taking care of his part, and letting everything else play out on the field.