Joe Klanderman requiring better execution from Wildcats' defense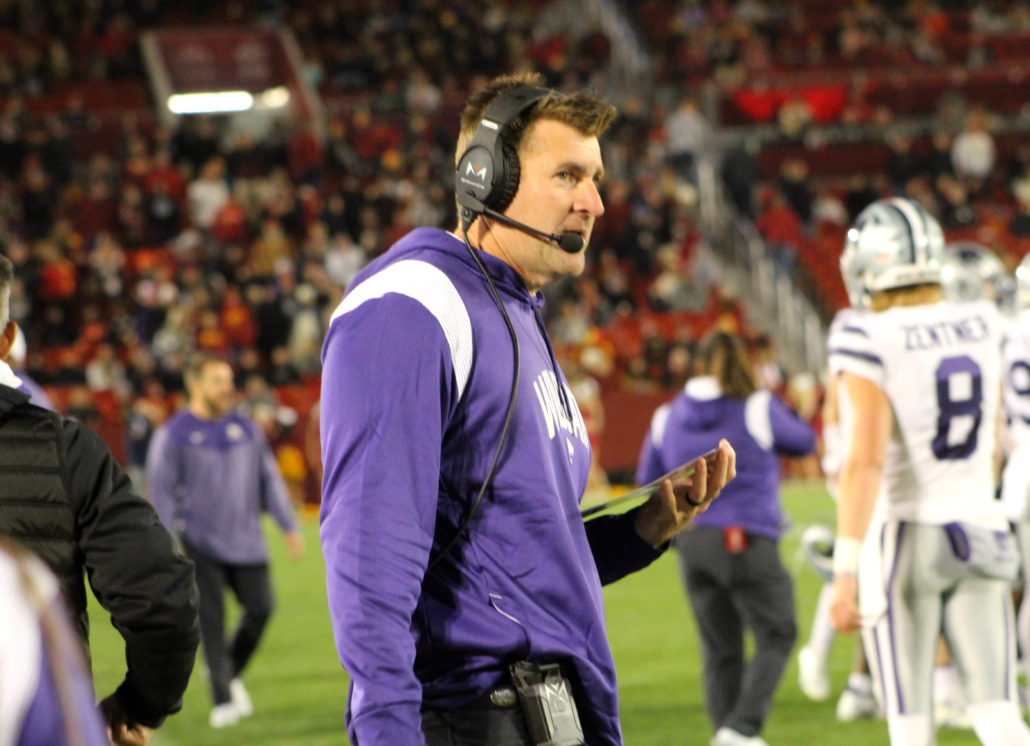 MANHATTAN, Kan. — Kansas State's defense has made tremendous strides through the first two games of this season.
After all, the Wildcats are ranked first nationally against the run, seventh in points allowed and 21st in total defense. However, fourth-year Defensive Coordinator Joe Klanderman is not impressed by those numbers. The games against Southeast Missouri State and Troy were more like glorified scrimmages. So Klanderman expected stellar production from his defense against inferior opponents.
Now that the Wildcats are about to step it up in competition. Traveling on the road to face an SEC team is never easy, despite Faurot Field being only 245 miles away from campus. Klanderman is determined to have his players ready, but still has some areas of concern.
"I think we still are leaving some things out there, leaving some opportunities out there," Klanderman said. "I just want our guys to continue to improve, especially our young guys, and I want those guys to continue to push and be in a situation where there's not a drop off between the ones and the twos."
Going up against SEC-caliber players means facing a plethora of three and four-stars. Klanderman knows Cach Eliah Drinkwitz will field some speedy receivers. To add fuel to the fire is the fact that Kansas State (2-0) beat Missouri by four touchdowns last year at Bill Snyder Family Stadium.
Klanderman believes Drinkwitz had a vanilla game plan against South Dakota and Middle Tennessee. Regardless, Klanderman expects Drinkwitz is going to throw the kitchen sink at his defense. So he has to have his defenders ready for the Tigers' skill position players.
"The difference between these guys and those guys is they are just bigger, they are heavier, they are stronger, and equally as fast," he said. "I worry not only about the route running but the catch and runs, some of the screen games, some of the things that get the ball to those guys in space."
Klanderman is confident his unit is ready for the challenge though. Kansas State is strong up front, and already has 20 tackles for loss, which ranks fifth in the FBS. Not to mention the Wildcats are tied for ninth in the FBS with eight sacks.
Edge rusher Khalid Duke has anchored the defensive line, and made the quarterback eat grass three times. The rest of the unit is playing with tenacity too. Linebackers are flying around, plus the secondary is full of ballhawks, and that's what Klanderman admires.
"We've got a lot of quickness on the defensive line, and anytime you can get those guys moving, I think that that's helpful," the Wisconsin native said. "We've got some linebackers that like to get downhill, too, and take the challenge in the run game."
Klanderman wants his defense to set the tone early on. It's all about stopping the run, disrupting the Tigers' timing, and forcing three and outs. Time of possession is going to be vital, so Klanderman's defense must keep Missouri's offense off the field.
With the proximity so close between the two teams, and their history, this battle should go a long way with recruiting. The 15th-ranked Wildcats need to take advantage of the opportunity. A lot of responsibility is going to fall on Klanderman's shoulders. He knows it's going to be difficult task containing Missouri's offense, but feels his defense is ready. That's why he has made practice so intense this week. The reigning Big 12 champs are looking to show they're the real deal, and the Tigers' offense will be a great measuring stick for Klanderman's defense.
"Those guys aren't going to be easy to get on the ground, so it's going to be a big challenge for us."