Kansas State outlasts UCF behind career day from DJ Giddens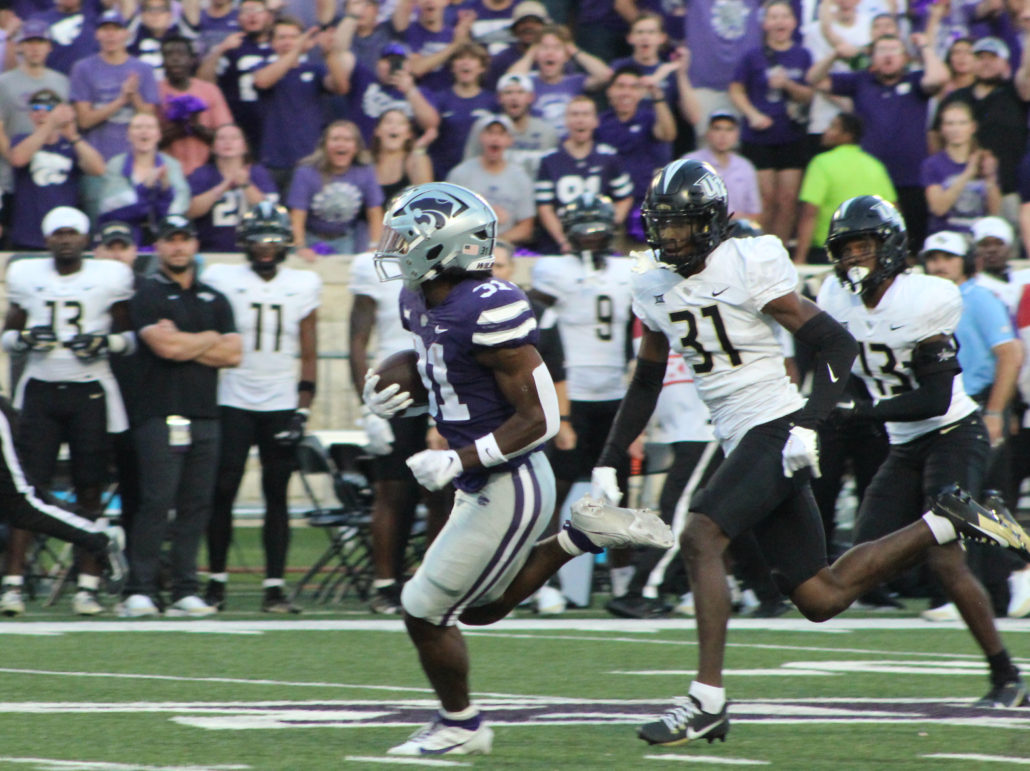 MANHATTAN, Kan. — The reigning Big 12 Champs came into Saturday night's matchup with something to prove, after their heartbreaking road loss, and they made a statement.
In a high-scoring affair, that had three lead changes, it was Kansas State that came out on top over UCF 44-31. Coach Chris Klieman was proud of the resilience in his players, and how they stood up to the task. In front of a crowd of 51,912, the Wildcats dominated the line of scrimmage, and racked up 536 yards of total offense, including a season-high, 281 on the ground.
Most of that production came from sophomore running back DJ Giddens. Although his teammate Treshaun Ward was sidelined with an injury, Giddens made the most out of his touches. He carried the ball 30 times for 207 yards and four touchdowns, which were all career-highs. Not to mention he steamrolled through Knight defenders, and averaged a jaw-dropping, 6.9 yards per carry.
Giddens proved he can be a workhorse, and had at least one touchdown run in the first, second and fourth quarter. Klieman couldn't believe his eyes with the way Giddens delivered in the clutch, and felt he got stronger with every carry.
"We challenged DJ, I said we are going to give you the football, you need to step up, and you have all the ability in the world," Klieman said. "We got to believe in you, and we're going to keep giving it to you."
It got to the point where UCF's defense got tired of tackling the six-foot-one, 212-pounder. Giddens also hauled in eight passes for 86 yards, including 68 after the catch. And that's picture perfect in Kleiman's eyes.
"Just how hard he ran, he wasn't coming down with first contact, and he made people miss in the open," Klieman said. "He ran through tackles, he caught the ball out of the backfield, they were doing some things that a running back had to be able to make plays."
Klieman thought quarterback Will Howard had a solid performance. The gunslinger wasn't 100 percent though. Still, Klieman remained confident in Howard's arm. He just wasn't high on Howard's mobility, but the signal-caller surprised him. Howard rushed for 64 yards, and two touchdowns. The Pennsylvania native completed 27 of his 42 passes for 255 yards and an interception.
Once the smoke cleared, Kansas State (3-1) led UCF in total offense, first downs, and time of possession. On top of that the Wildcats ran 82 plays, compared to the Knights' 59. That was a recipe for success to Klieman.
"With the explosive offense they had, we absolutely had to be able to rush the football, to try to keep their play count down," the 55-year old coach said. "We had to get some negative plays, some tackles for losses, some things where we could get them off the sticks a little bit."
The Wildcats' defense did just that. UCF (3-1) finished with 407 yards of total offense, its' lowest output of the season. Desmond Purnell generated a team-high, seven tackles, including one for loss, and forced a fumble. Khalid Duke recorded two tackles for loss, including a sack. Nate Matlack, Uso Semalo and Brendan Mott also put the quarterback to the turf.
What Klieman was amazed by was the atmosphere at Bill Snyder Family Stadium. The crowd made it a house of nails for the Knights, especially in the second half. On one drive, the crowd caused three penalties for UCF's offense, which amazed Klieman. Which is why he's very appreciative of the 12th man. The Wildcats are 1-0 in Big 12 play, and approaching a bye-week too. So Klieman is definitely excited for the remaining four home games on the slate.
"Excited to come back home in front of a great sellout crowd, which was phenomenal tonight, they stayed."