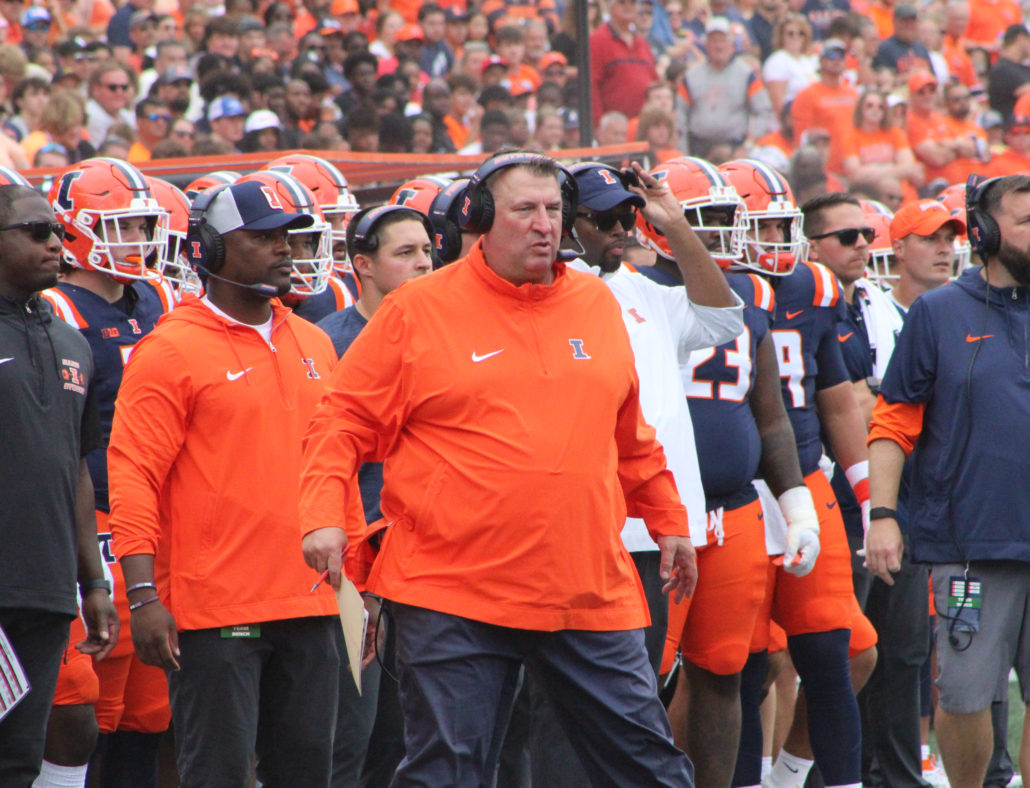 CHAMPAIGN, Ill. — The Fighting Illini had high hopes of pulling off a second-straight upset over the seventh-ranked Nittany Lions Saturday, but turnovers derailed most of their promising drives.
A crowd of 49,099 was on hand at Memorial Stadium. Coach Bret Bielema wanted his players to come out inspired. Instead Illinois had a lackluster performance on offense, the defense was on the field for too many plays, and Penn State was able to pull away in the second half with a 30-13 victory.
It was the Fighting Illini's second-straight loss and not want Bielema had in mind for the Big Ten opener. In his perfect world, Illinois would've pounded the ball, controlled the pace of the game, while the defense took care of the rest. Unfortunately, the Nittany Lions ran more plays, had more yards of total offense and led in time of possession.
There's no denying it was a bad day at the office for Bielema's offense. After all, quarterback Luke Altmyer, threw a jaw-dropping, four interceptions, and the offense lost a fumble. Bielema knew his team had a slim margin for error against a vaunted Nittany Lion squad, and they kept shooting themselves in the foot anyway. Not to mention Illinois was held scoreless in the first and third quarter.
"As bad as things went offensively in the first half, I thought we kind of responded in a proper way at the end of the second quarter," Bielema said. "Anytime you have five turnovers, four picks and a fumble, it doesn't matter how well you play on defense, you're  not going to have success, so we got to do a really good job of cleaning that up."
It's no mystery that Altmyer struggled mightily. He completed 15 of his 28 passes for 163 yards, no touchdowns and four interceptions. The Nittany Lions were able to pin their ears back and watched Altmyer's eyes, who made it easy with the way he stared down his receivers. Illinois (1-2) generated 20 first downs, but was held to a season-low, 62 yards on the ground. It was pure disappointment for Bielema.
"Obviously our fans were out there today, we made a lot about this, and a great opportunity to show them, but we didn't get a win for them," he said. "I do like the way our guys competed, and we're going to put ourselves in the best position to keep grinding."
Bielema inserted backup quarterback John Paddock, and he was able to play some meaningful snaps. Paddock completed 10 of his 16 passes for 129 yards, and a touchdown. Running back Reggie Love finished with a team-high, 55 yards on the ground and a score. Wideout Isaiah Williams hauled in five passes for 63 yards.
The Fighting Illini's defense was scrappy, and held the Nittany Lions to their lowest offensive production this season, which Bielema thought was encouraging. Penn State had to settle for two field goals in the first quarter, and had one blocked.
Clayton Bush and Dylan Rosiek each generated nine tackles. Keith Randolph made a bunch of plays, and finished with eight stops. All-American JeZahn Newton tallied six tackles, including one for loss. Gabe Lucas was very disruptive, recorded four tackles, and made the quarterback eat grass. Still, the offense did very little to help the defense.
Penn State started getting yards in chunks as Illinois' defense became fatigued, and that frustrated Bielema the most. Now he's trying to pick up all of the pieces and go back to the drawing board in search of answers.
"I'm not happy to be 1-2, but we've learned a lot of really good lessons, and we've learned some things that can help us in the nine games ahead," the 53-year old said. "That's going to be the important part."
Illinois will get one last chance to iron out all of the wrinkles against an inferior opponent before conference play resumes. Florida Atlantic has lost their last two games, and Bielema is going to need his players to be more disciplined, and eliminate the costly mistakes in order to pull off that win.
"We got to do a really good job of cleaning that up."