Drew Allar looking forward to practice after subpar outing at Illinois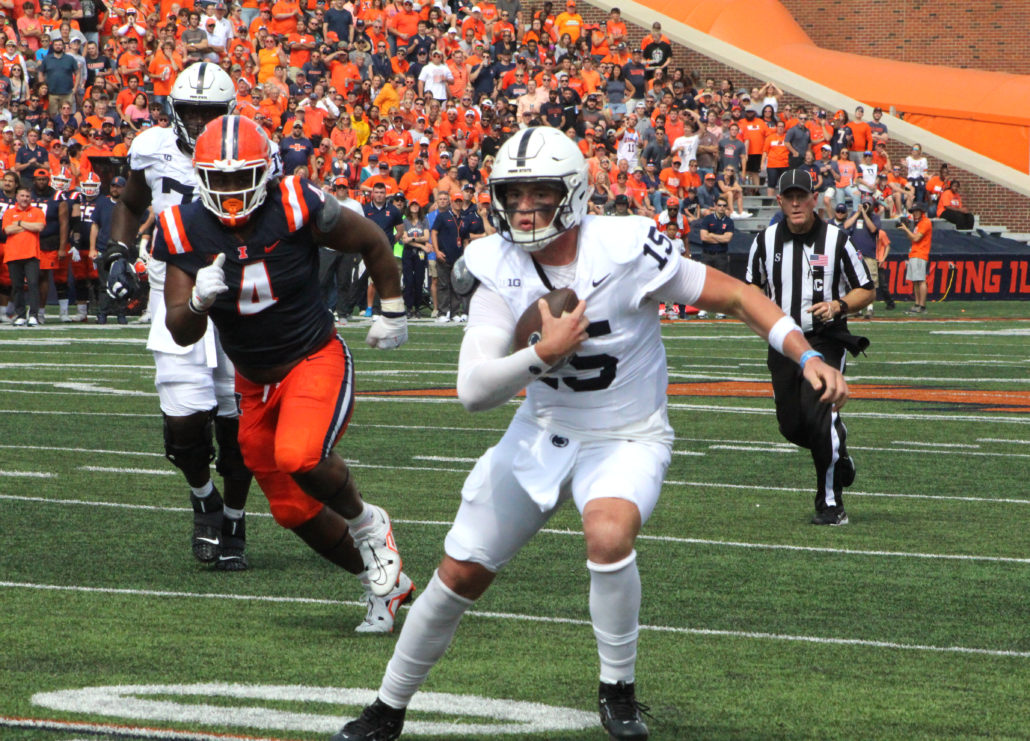 CHAMPAIGN, Ill. — Although the Nittany Lions won their Big Ten opener on the road by double-digits, their quarterback wasn't happy with his performance.
After all, Drew Allar completed 16 of his 33 passes for 208 yards and no touchdowns, which were all season-lows. Penn State outlasted Illinois 30-13, but Allar felt they left some points off the board. The seventh-ranked Nittany Lions had to settle for two field goals in the first quarter, and there were several dropped balls by the receivers.
Still, Penn State (3-0) was able to keep a comfortable lead throughout the game because Illinois turned the ball over five times. Allar was thrilled that the defense showed up in a big way, but thought the offense should've accomplished more. He's proud the offense protected the football throughout the afternoon though.
"I think not having any turnovers is huge because you're not swinging the momentum of the game," Allar said. "There wasn't any times in the game when the ball was put in jeopardy, so we take pride in that as an offense, and I just want to keep building off that."
The Nittany Lions led the Fighting Illini in total offense, yards per play and time of possession. Allar knows that's a recipe for success. Which is why he's looking forward to watching film and ironing out all of the wrinkles. There's no denying Illinois' defensive line is one of the nation's best. Allar thought Penn State's protection up front was solid, and only allowed one sack.
Regardless, the gunslinger demands more out of himself, and wants to continue to make others around him better.
"Nothing has been perfect so far, and I'm just looking forward to watching the film, and getting to see what I may have missed," he said. "What we can do better as an offense, and looking forward with a positive mindset."
Allar has yet to throw an interception this season, and wants to keep the momentum going. The Ohio native had one of his top weapons out, but was encouraged by the way his receivers played. Running back Nicholas Singleton even led the team in receiving yards. Allar wanted to get into a rhythm, but Illinois' defense was disruptive.
"By no means were my numbers perfect, but at the end of the day, we're going home with a win, and that's all that matters to us," the 19-year old said. "We talked as an offense, and the only stat that we want to lead the nation in is wins."
The six-foot-three, 242-pounder is confident the offense will clean up the mistakes. Iowa's defense is tenacious, and will present more challenges next week. In Allar's eyes, he's just learning on the job, and plans to adjust on the fly. By no means is he taking his outing for granted, and will use it as motivation in game four.
"Overall special teams and defense had our backs today, and they know we're going to have their backs in the future."