Penn State opens Big Ten play on a high note after throttling Illinois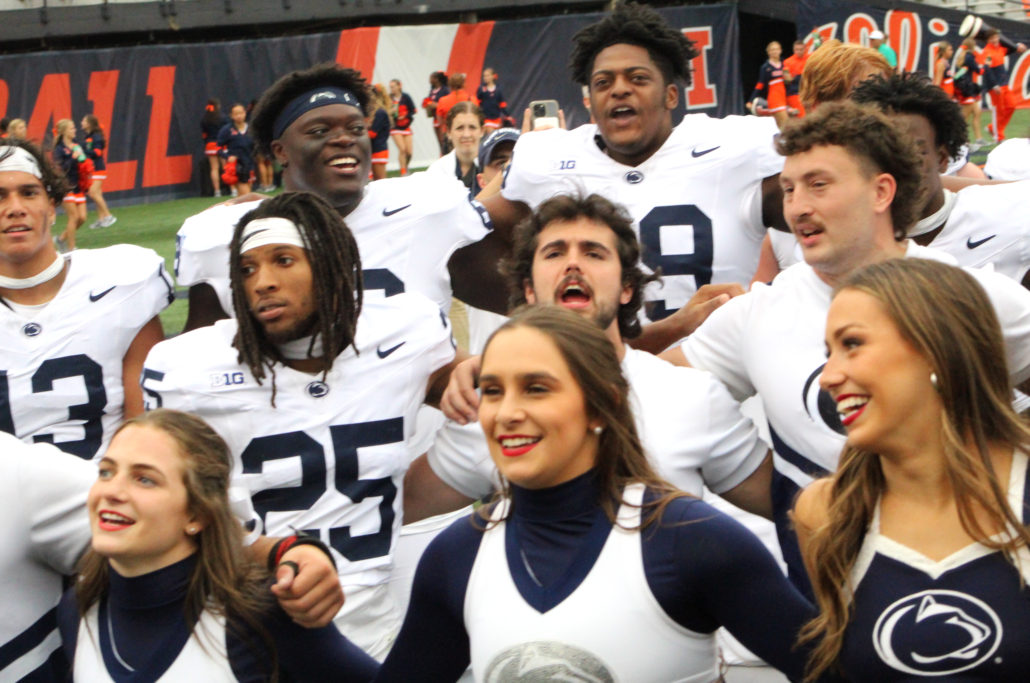 CHAMPAIGN, Ill. — The seventh-ranked Nittany Lions walked into a snake pit when they invaded Memorial Stadium Saturday morning.
A crowd of 49,099 watched as Penn State's defense forced a jaw-dropping, five turnovers and put away Illinois 30-13. Coach James Franklin couldn't have thought of a better way for his team to get revenge for their nine-overtime loss to the Fighting Illini at Beaver Stadium two years ago.
Not to mention it was the 10th-straight time that Penn State has scored at least 30 points, which is currently the longest active streak in the FBS. Franklin even got to play a bunch of guys, and is confident that's going to be beneficial down the road. Penn State (3-0) led Illinois in total offense, time of possession and averaged more yards per play. Franklin appreciated that his players performed well in a hostile environment, despite a slow start.
"That was a really good example of going on the road, 11 a.m., Big Ten environment and found a way to grind it out," Franklin said. "That's what the first half was, we never lost the lead, we never lost control of the game, and just kind of kept chipping away at it, so I'm proud."
Quarterback Drew Allar had a decent game, but didn't throw any touchdowns. He completed 16 of his 33 passes for 208 yards. Franklin thought the big boys up front gave Allar solid protection, considering the way they mauled Illinois' touted defensive line.
The Nittany Lions averaged five yards per play and generated 20 first downs. The Fighting Illini played mostly nickel, but Franklin thought Allar looked comfortable in the pocket, the rest of the offense fed off his energy.
"He (Allar) kept his cool, he's pretty steady and poised," he said. "We did have some drops that made it harder than it needed to be, but he'll learn from this."
Running backs Kaytron Allen and Nick Singleton each recorded a rushing touchdown. Minnesota transfer Trey Potts threw an 11-yard touchdown to tight end Tyler Warren.
However, Illinois (1-2) held Penn State to a season-low, 383 yards of total offense. What frustrated Franklin the most was having to settle for field goals in the first quarter, and the silly penalties. That's why he's going to be critical on film work next week to get the mistakes corrected.
On defense the Nittany Lions was tenacious though. Franklin was encouraged by the five forced turnovers, and thought Manny Diaz put together a great game plan. His defense held the Fighting Illini's offense scoreless in the first and third quarter.
Abdul Carter, Cam Miller, Johnny Dixon and Demeioun Robinson all picked off a pass. Dominic DeLuca and Zakee Wheatley tied for a team-high, six tackles. Coziah Izzard was an animal from the interior, and tallied two tackles for loss and two sacks. On top of that, Penn State's defense limited Illinois' offense to a mere 62 yards on the ground.
Above all, Franklin is glad his players kept their foot on the gas and put away an upset-minded team. Starting off Big Ten play with a win adds extra motivation for game four, and Franklin knows his squad can build on a lot.
"That was a big time win for us on the road, it was beautiful to me, especially when you take all of the factors that we look at into it."