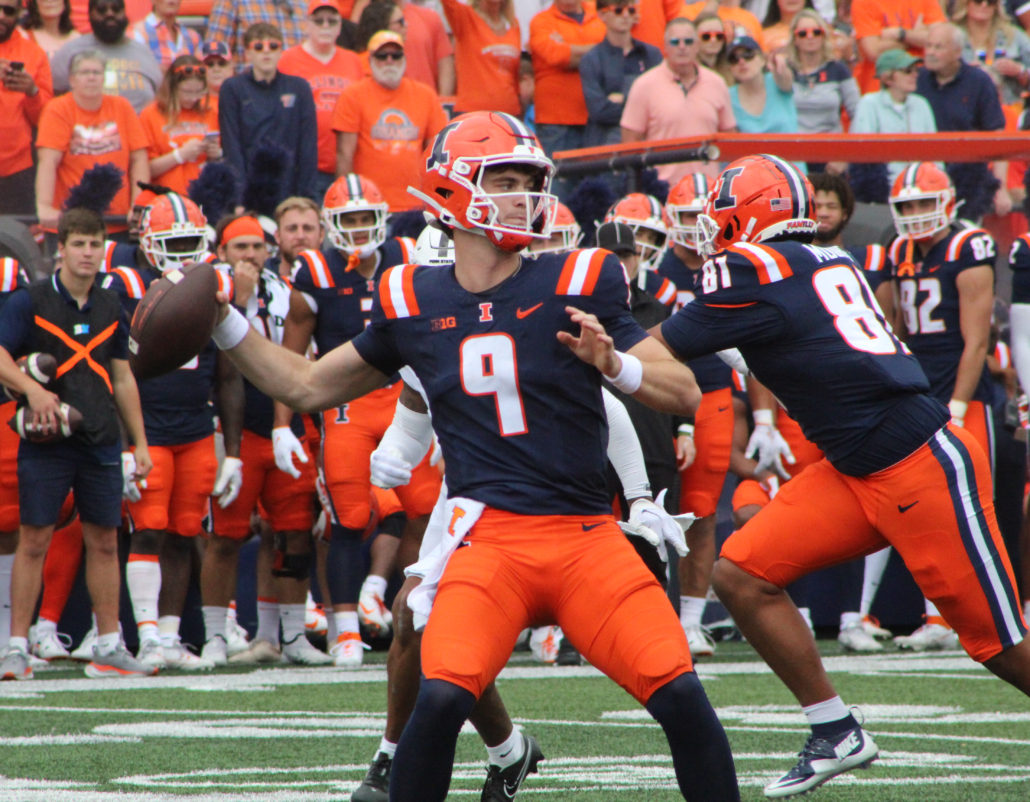 CHAMPAIGN, Ill. — The quarterback is coming off his worst performance of the season in Saturday's loss to Penn State, but his coach is standing behind him as his starter.
Luke Altmyer has had some bright spots through the first three games. However, his numerous turnovers has really cost his team points. Turnovers derail promising drives, and can damage confidence. Coach Bret Bielema wants his young signal-caller to learn from his mistakes, and build on the positive aspects. That's easier said than done though, considering Altmyer's interceptions has doubled every game
He was picked off once against Toledo, twice against Kansas and a jaw-dropping, four times against Penn State. Bielema knows that must change before the Fighting Illini resume Big Ten play in two weeks.
"Well he (Altmyer) threw to the wrong guy, that's just what it is," Bielema said. "I understand third down plays, but for us to be successful, whoever is in at quarterback, you can't have early down interceptions."
Altmyer has passed for 576 yards, one touchdown and seven interceptions. Every game his passing production has decreased too. The Mississippi native has relied more on his legs to move the sticks. After all, Altmyer is Illinois' second-leading rusher through three games. Bielema inserted backup John Paddock in for Altmeyer, and he completed 10 of his 16 passes for 129 yards and a touchdown. Most importantly, Paddock didn't throw any interceptions.
That doesn't mean the Fighting Illini have a quarterback controversy. The last thing Bielema wants to do is play musical chairs with his quarterbacks. Regardless of Paddock's promising outing, Bielema just wants Altmyer to make others around him better, and take advantage early in games.
"We can't convert, we can't have that first drive not put ourselves in position to come away with points," he said. "We put so much into the start of the game."
Penn State's defense held Illinois' offense scoreless in the first and third quarter. Add to the fact that the Fighting Illini turned the ball over five times, which is too much to overcome. Bielema believes Altmyer was trying to force things, and extend plays, but in return it backfired. He wants Altmyer to live to play another down. Everything doesn't have to be won on one play. So he takes full responsibility for Altmeyer's mistakes.
"That's my fault, when we recruit quarterbacks I tell hem for me as a head coach it's always going to be on my shoulders," the 53-year old said. "So we didn't have a good enough game plan for him to be successful,  and I obviously want him to take these moments and grow."
Illinois (1-2) will have one final tune up game against Florida Atlantic to iron out all of the wrinkles. Bielema is anticipating an intense week of practice and film work to correct the mistakes. By no means is he ready to hit the panic button on his starting quarterback just because of a poor performance.
"I don't think it's any reason to change who's going to be our starting quarterback next week, but I'll look."