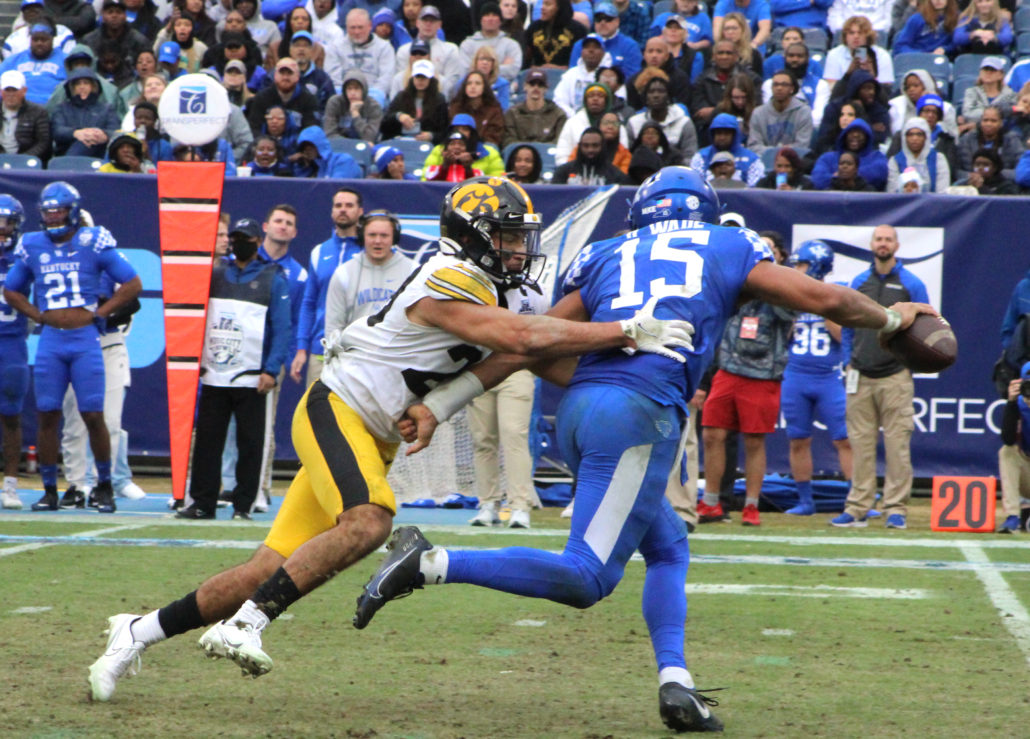 IOWA CITY, Ia. — There's no denying Iowa's senior defensive back is coming off a stellar performance in the victory at Iowa State.
After all, Sebastian Castro recorded four tackles, broke up a pass, and returned an interception 30 yards for a touchdown. For his heroics, Castro was named the Big Ten Defensive Player of the Week, and made his head coach proud.
Kirk Ferentz has had a front row seat to Castro's journey as a Hawkeye. Now everything has come full circle for the Illinois native, and his performance on the gridiron is raising eyebrows across the conference.
"He was a missile out there, he went hard and fast," Ferentz said. "Sebastian, you can go there's no repercussions for making a mistake, then you get into a system where you have reactions and different responsibilities."
Defensive Coordinator Phil Parker is a guru with the secondary, considering he's a former defensive back himself. He puts his players in the best places to be successful, and Castro thrives at the CASH position. Castro is a veteran in Parker's system, so a lot of leadership and responsibility falls on his shoulders. Ferentz believes he's doing a great job so far, and Castro's energy is rubbing off on his teammates.
"Sebastian has it figured out, and I thought he did a really nice job for us last year," he said. "I am excited to watch him play all season long."
Castro's coming out party was in last year's Music City Bowl against Kentucky. The 5-foot-11, 205-pounder recorded five tackles, including four solo and sacked the quarterback. Castro is a very versatile defender, who's a staple against the run and excels out in coverage.
Being a legitimate ballhawk means he can blanket half of the field. Castro has natural instincts, surprising speed and knows how to read the quarterback's eyes. Being able to make stops out in the open field will go a long way this fall, and Castro is establishing himself as an All-Big Ten caliber defender.
Ferentz isn't surprised by Castro's success, and feels he's just cracking the surface of his potential. The 68-year old coach admires the skills Castro is bringing to the table, and expects him to set the tone for the defense. Iowa has Western Michigan to battle before Big Ten play starts, and Ferentz knows Castro is getting better every game.
"He's an aggressive, tough guy, who's totally committed and 100 percent onboard."