James Franklin loading up Nittany Lions for first road trip of season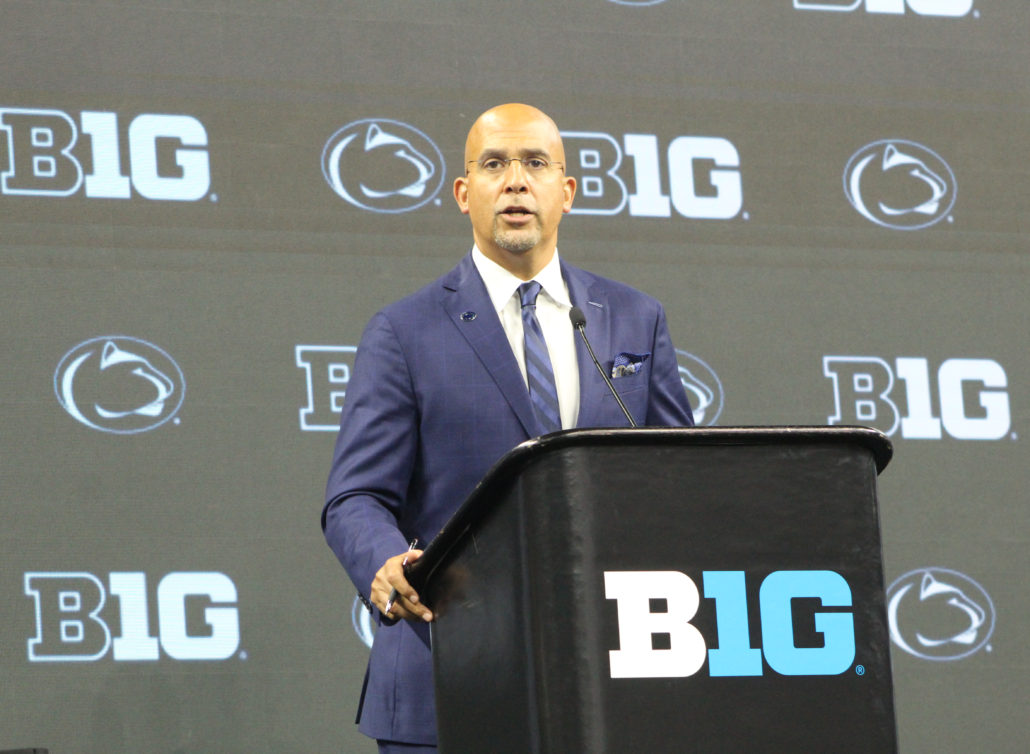 UNIVERSITY PARK, Pa. — The Nittany Lions are off to a hot start after two blowout wins, but now they're approaching Big Ten play and the stakes are higher.
Coach James Franklin is no stranger to opening up conference play on the road. After all, he's the second-longest tenured coach in the Big Ten. The seventh-ranked Nittany Lions are the hunted, and Franklin knows what comes with the territory.
Which is why Franklin is expecting every opponent's best, especially the one that handed his team a loss in nine overtimes on their homefield two years ago. Although Illinois (1-1) is in a different division, and hasn't clashed with Penn State since 2021, Franklin is very familiar with the program.
He admires what Coach Bret Bielema is accomplishing in Champaign, and think it's unique that both of them coached multiple seasons in the SEC. The Fighting Illini are coming off a double-digit road loss, but that doesn't mean Franklin is taking them lightly. Bielema will have his team prepared for this clash, considering the Nittany Lions are the highest-ranked opponent of their schedule.
"We expect it to be a challenging road environment, but we didn't wait until this week to prepare for that," Franklin said. "Whether it's crowd noise or whatever it may be, we've done that all training camp, and obviously, we'll major in it this week as well."
Penn State (2-0) has played lights out, and outscored the opposition 101-22. Drew Allar has done an excellent job replacing record-setting quarterback Sean Clifford. Not to mention he was named the Big Ten Player of the Week for his performance against West Virginia.
Allar has 529 passing yards, five touchdowns and no interceptions. He's also ranked 16th nationally in passing efficiency. Franklin is proud of Allar's maturation process, and believes he's just cracking the surface of his potential.
"He's doing all the right things in terms of preparation, in terms of watching film, in terms of nutrition, hydration, sleep," he said. "He's getting more and more comfortable and confident in his leadership role on the team."
Franklin has provided Allar with plenty of weapons in his arsenal, including wideout KeAndre Lambert-Smith, who has turned heads with his athletic ability. Lambert-Smith has the speed to take the top off the defense. He has hauled in 10 passes for 197 yards and two touchdowns. The backfield is a three-headed monster, and the offensive line is full of veterans.
Still, Franklin knows the Fighting Illini's defensive line will be a challenge for his offense. Illinois' JerZahn Newton and Keith Randolph are arguably the best defensive tackle tandem in the league. The duo has combined for 19 tackles and two sacks through two games.
That's why Franklin is expecting a physical game, especially in the trenches. So it's going to be important for his team to set the tone up front.
"As an offensive lineman, your footwork, your gap, your responsibility on a double team and who you're working to in combination with the tackle or whatever it may be, being very aggressive on game day based on your preparation," the 51-year old coach said. "Same thing with the running backs, the wide receivers, the coaching staff."
What has Franklin concerned is the fact that the Nittany Lions have yet to play in a tight game. The Fighting Illini are scrappy, and Bielema will try to pound the ball and control time of possession. Penn State's defense appears to be the real deal though, with a couple of All-Big Ten caliber players at each level of the unit.
The Nittany Lions are ranked 10th in the FBS in total defense, and should be licking their chops against a Fighting Illini offense that's struggling to find an identity. Illinois' quarterback Drew Altmyer threw two interceptions against Kansas, and the rushing attack has been lethargic.
The 2021 thriller is still fresh to some of the Nittany Lions, and they want to return the favor. Above all, Franklin is embracing this road trip, and can't wait to find out how his team handles a hostile environment.
"Going on the road and playing your first road game in the Big Ten, there is value in that, and we'll continue to learn things about our team and our program as the year goes on."