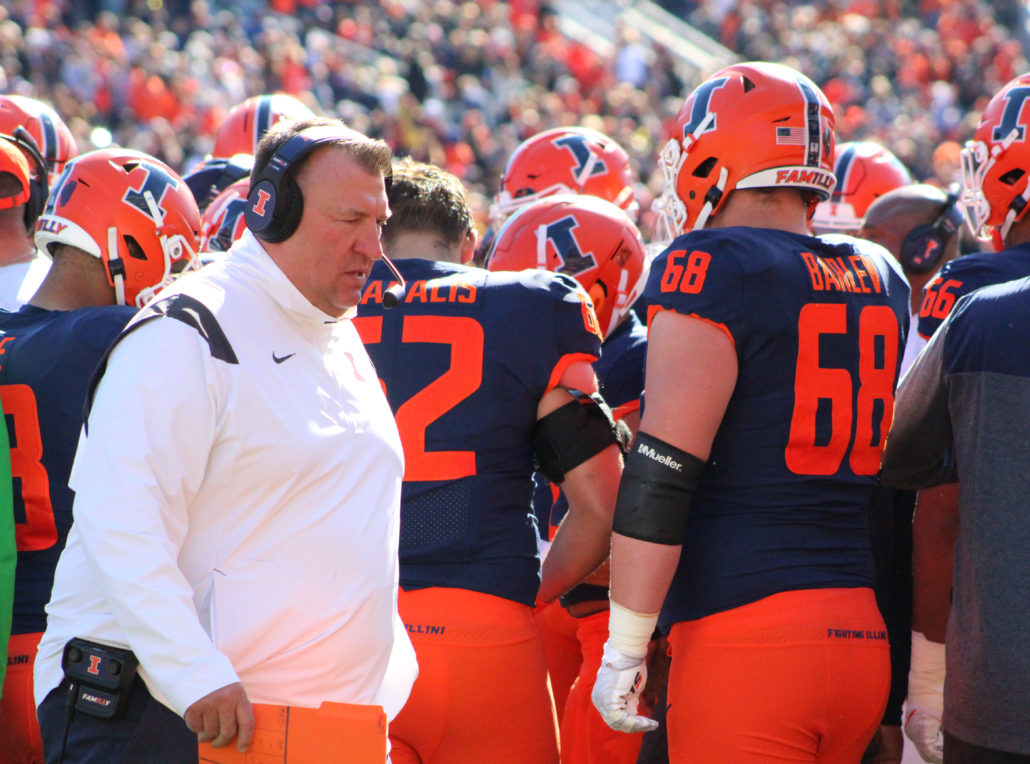 CHAMPAIGN, Ill. — The Fighting Illini are coming off a double-digit road loss, and now their coach is trying to prepare the team for the toughest opponent on the 2023 schedule.
Bret Bielema found out a lot about his players last week at Kansas. The game was a measuring stick, and exposed some glaring issues on both sides of the ball. After all, Illinois had to pull a fourth quarter rally to put away Toledo in game one.
The Jayhawks were able to take advantage of the Fighting Illini's weaknesses in game two, and once the smoke cleared it was the same results. Toledo and Kansas led Illinois in total offense, first downs, and time of possession. Not to mention the Fighting Illini led both teams in penalties. That's something Bielema has to correct with his staff before Penn State (2-0) invades Memorial Stadium this Saturday.
"We had to have some conversations, but on the same point you can't let Kansas beat you twice," Bielema said. "So we got to jump into our preparation, learn from our mistakes, make the adjustments we need to correct, especially for our players and coaches."
Quarterback Luke Altmyer has played solid through the first two games. He has passed for 413 yards, three touchdowns and three interceptions. Not to mention Altmyer has dangerous mobility, with 139 yards on the ground, to go along with two scores. However, the gunslinger can't do everything on his own, and needs more help from the backfield. Altmyer has been Illinois' leading rusher up to this point, which means he's taking a lot of hits.
There's no denying Bielema misses running back Chase Brown. No rusher on the offense has yet to emerge as a workhorse, which Bielema admires. And until Reggie Love or Josh McCray can establish themselves on a consistent basis, defenses are going to key in on Altmyer.
Illinois has a bigger problem on defense. Bielema fielded one of the nation's top defenses in 2022, but life after Ryan Walters, who's now the head coach at Purdue, has been tough on the new defensive staff. The Fighting Illini currently ranks last in the Big Ten, and 125th in the FBS in total defense. Bielema recognizes the growing pains and learning curve, but stands behind first-year Defensive Coordinator Aaron Henry.
"You understand there's going to be transition whenever things happen, there's a lot of different change in personnel, people are new and attack your scheme and where it is," he said. "Aaron and the defensive staff are an intelligent crew, we've met a lot before last Friday, and we meat a lot afterwards, and we'll continue to get better."
The Fighting Illini's defensive line was projected to be one of the best in the conference, with Jer'Zahn Newton and Keith Randolph holding down the interior. The defense continues to struggle though, with only three sacks, and is allowing 224 rushing yards per game.
Bielema needs his players to become more mentally tough too. Silly penalties and personal fouls have halted promising drives, and costed Illinois valuable field position. It all has frustrated Bielema because he prides himself on having his team fundamentally sound.
"There's going to be certain fouls that happen during a game," the 53-year old coach said. "That's part of the game, but what you can't have is post-snap penalties and repeated issues."
Bielema knows his players can't make those same mistakes against the No. 7 Nittany Lions, so they have a slim margin for error. Penn State will want to return the favor from Illinois (1-1) winning in nine overtimes at Beaver Stadium in 2021. So Bielema will need to have his squad ready for an intense battle this Saturday.