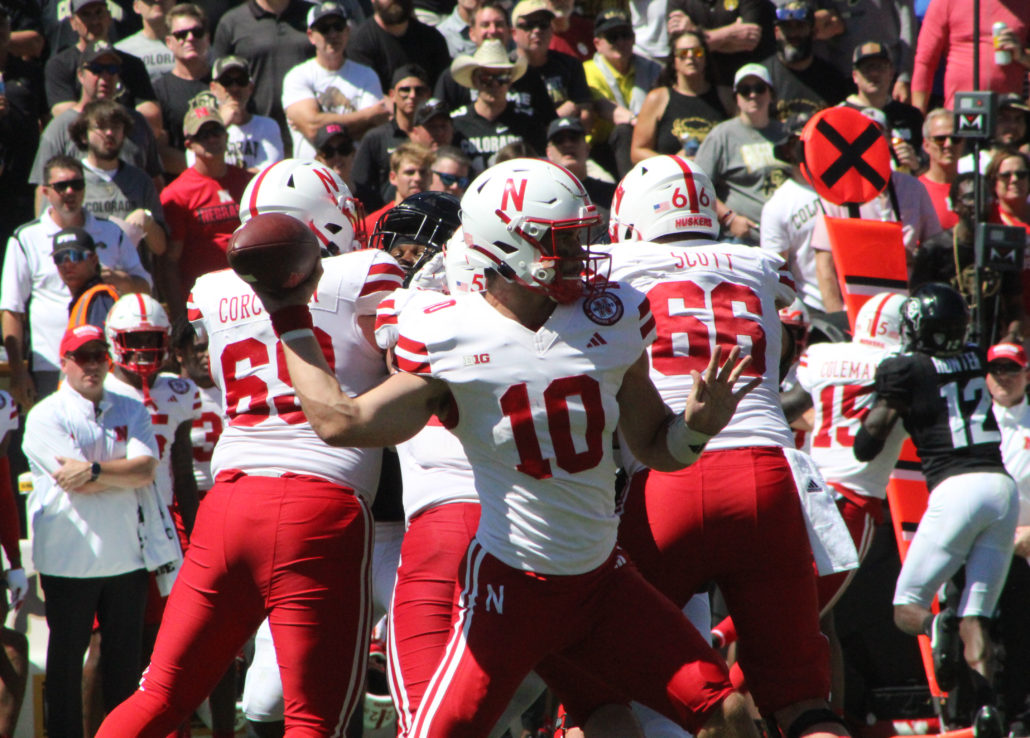 BOULDER, Colo. — The sophomore quarterback earned valuable playing time in Nebraska's 36-14 loss at Colorado, and his coach thought it was a promising performance.
Heinrich Haarberg was inserted late in the second half after an injury knocked starter Jeff Sims out of the game. Although the contest was pretty much out of reach at that point, Coach Matt Rhule watched as Haarberg took command of the huddle.
The former three-star prospect handled himself like a veteran instead of a wide-eyed underclassmen. Haarberg completed two of his six passes for 13 yards and a touchdown. He connected with wideout Thomas Fidone for a 4-yard score as time expired. It was Nebraska's second touchdown of the game.
One of the lone bright spots for the Huskers gave a fresh breath of air to a lethargic offense over the first two games, and Rhule believes that's something positive to build on.
"Yeah, there's never a thought of putting Heinrich in," Rhule said. "We have some plays for him that we were going to potentially utilize so he might be getting ready for one of those things."
The Huskers had Chubba Purdy, Jack Woche and Luke Longval on the roster at quarterback, but Rhule gave Haarberg the nod. Regardless of who Rhule inserted behind center, it wouldn't have mattered because of the costly turnovers.
"I thought if we didn't have those turnovers we could have kept them off the field, and that was our game plan," he said. "Once we fell a little behind in the second half, that's when we knew we had to open it up more with him (Sims) running."
Sims limped off the field and it's uncertain of his status for game three. He only had 106 yards through the air and an interception for the game. Purdy played a few snaps against the Buffaloes. He only attempted one pass though, which was an incompletion. The Huskers have been spotty at best at the position.
Through two games, Nebraska has two touchdown passes and four interceptions. Rhule knows that must improve before the Huskers get into Big Ten play. Nebraska has been effective at pounding the ball, but fumbles have halted promising drives. Sims got banged up by doing so, and now Rhule has to find another strategy to keep the chains moving.
The offense is only going to go as far as the quarterback is going to take the team. So Rhule must establish some stability in the quarterback room. It's going to take better protection from the big boys up too.
Nebraska currently ranks 126th nationally in points per game, and 116th in total offense. At this pace, the Huskers could set record lows for the offense by the end of the season. As embarrassing as those numbers are, Rhule feels the unit still has potential.
Haarberg will be a solid piece to build around. The rest of the offense needs to rally behind him while Sims' status remains in limbo. After all, Rhule believes the Kearney native has what it takes to succeed.
"Heinrich is the number two."