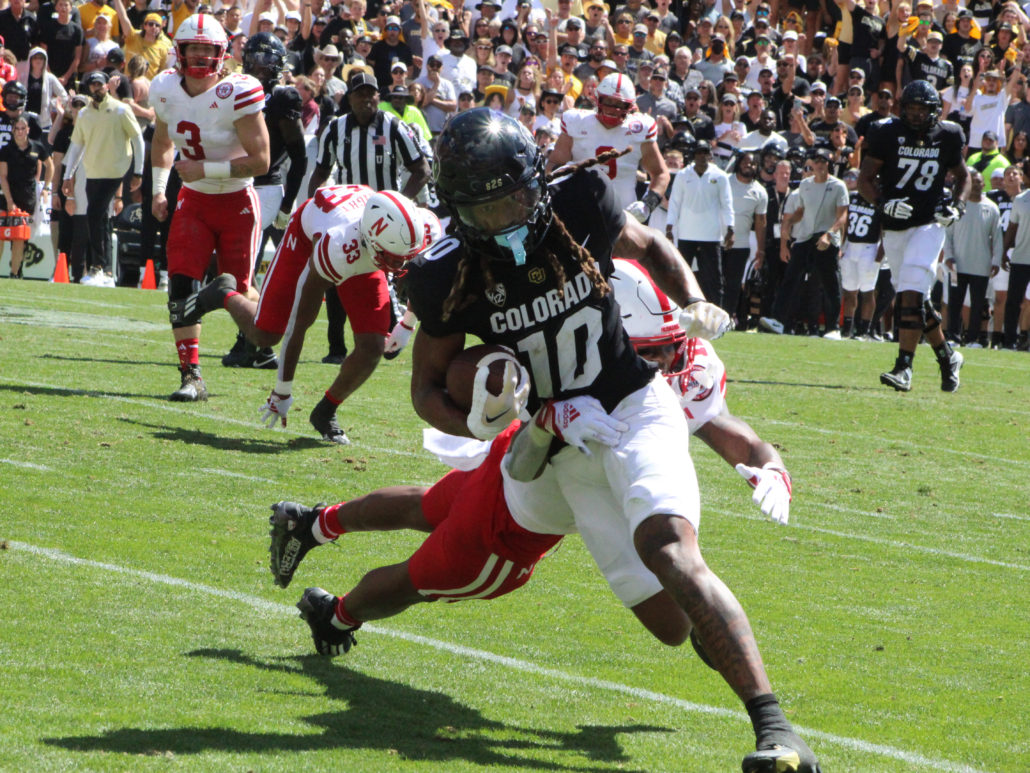 BOULDER, Colo. — There's no denying the veteran wideout has made an immediate impact in his first season with Colorado.
After all, Xavier Weaver wowed fans with stellar performances through the first two games. From running crisp routes, to gaining separation from defensive backs, blocking and catching passes, Weaver has all the tools of a high-caliber receiver.
The former South Florida Bull couldn't be contained in the victory at TCU. Weaver hauled in six passes for 118 yard in his debut. Last Saturday Weaver showed his success was no fluke in win over Nebraska. He caught a jaw-dropping, 10 passes for 170 yards and a touchdown.
Weaver is proud of his performance, and believes he's just cracking the surface of what he can accomplish this fall. In his eyes, Colorado's wide receiver room is a close-knit group, that's highly competitive. Everyone wants to catch a ball from prolific passer Shedeur Sanders, and he knows how to spread the wealth.
That's why Weaver is confident in the group's potential. Nebraska's 3-3-5 stack defense provided some confusion for Weaver and his teammates, but he liked how they adjusted and eventually fired on all cylinders in the second half.
"Our receiver core is great, it's hard to stop all of us, we got too many weapons on the field at once," Weaver said. "If they want to play man it's over with, they can drop eight, we practiced against that coverage all week, we just had to get a feel of it and get rolling, and once it started, we didn't stop."
The Florida native enjoyed the atmosphere at Folsom Field for Coach Prime's opener. However, Weaver felt the Huskers disrespected the Buffaloes during pregame, and they had to respond.
"I remember during pregame, we were in the middle huddling up, they punted the ball and almost hit our head coach in the head, so it was personal after that," he said. "We wanted to run the score up, but we didn't do what we really was supposed to do."
It was crystal clear that incident added fuel to the fire, and was a topic of Coach Prime's halftime speech. Colorado came out inspired in the second half and scored 23 unanswered points, including Weaver's 12-yard touchdown reception. It was special because it was Weaver's first six points as a Buffalo,  and he expects more to come.
The chemistry he has with Sanders continues to raise eyebrows across the College football world. Sanders targeted Weaver eight times against the Horned Frogs, and 12 against the Huskers. It's no mystery that Weaver is one of Sanders' favorite weapons, but their success together didn't happen overnight.
Throughout the offseason the two invested in the weight room, playbook and film study. Now it's all paying off on the gridiron, and everything is coming full circle for Weaver.
"It starts in practice, if he (Sanders) don't like a certain look, or a way you ran something, he's going to stop the whole practice and tell you," the six-foot-one, 180-pounder said. "It's really just the connection we built in a certain amount of time, and it's getting better."
With 16 catches for 288 yards through the first two games, Weaver has everyone's attention. He'll likely require double coverage from this point moving forward. In return that's going to open up opportunities for other Buffaloes to make a play. Colorado is currently 14th in the FBS in total offense. Weaver feels the offense is going to continue to surge too.
"We still got multiple game left, so it's only going to keep growing."