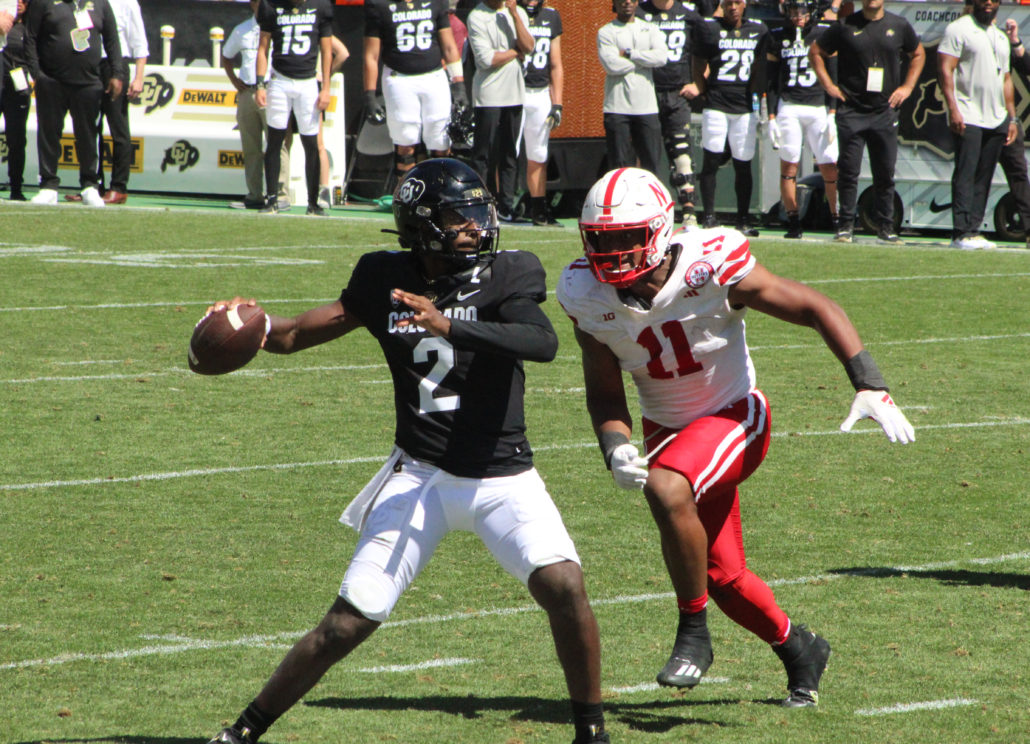 BOULDER, Colo. — The quarterback put the Buffaloes on his back and carried them to the finish line for a second-straight week.
Shedeur Sanders wanted to show last week's success was no fluke. There's no denying that he accomplished that with the way he torched Nebraska's secondary and helped Colorado win 36-14. The Buffaloes' offense started slow out of the gates though, and was held scoreless in the first quarter.
However, Sanders adjusted to the Huskers' 3-3-5 stack defense, and took flight in the second quarter. He threw a 30-yard touchdown to Tar'Varish Dawson, and the Buffaloes never looked back. Colorado scored 23 unanswered points in the second half, including two additional touchdowns from Sanders.
The gunslinger thought the adversity he faced from the Blackshirts early on made him step his game up, and he took command of the huddle.
"I truly appreciate going through this game, going through this with my team, so we know how to respond when adversity hits," Sanders said. "It was a good defense we played though, I like the scheme, it made it tough on us, but I'm happy I was able to face it, so the next time I'll be good."
Sanders was happy to be a showman in front of a sold out crowd at Folsom Field. He completed 31 of his 42 passes for 393 yards and two touchdowns. The signal-caller also generated a rushing score. Sanders clearly made others around him better, and the rest of the offense fed off his energy.
Colorado led Nebraska in total offense, first downs and time of possession. There was one glaring issue that Sanders wants to address. It was his protection up front. The Buffaloes allowed seven sacks, and Sanders understands they must execute better at the point of attack.
"We understand where we got to grow, and get better at, so I'm excited that we went through this," he said. "We found a way to stick together and put points on the board, but it's unacceptable that we put that much pressure on the defense."
Xavier Weaver continues to be Sanders' go-to-receiver, and their chemistry is a strength of the offense. Weaver was targeted 12 times, and caught 10 passes for 170 yards and a score. Sanders thought his performance was promising, considering the offense was sluggish at the start.
Most importantly, he's glad the spotlight is back on Colorado. The team is 2-0 and continues to trend up. Sanders takes pride in turning his doubters into believers. Now he's confident the team can take it a step further.
"I feel like getting this second win, I'm grateful for it, appreciative of it," the 21-year old said. "Whenever we're coming off a high, we got to be able to lock in and stay focused."
Colorado will host Colorado State next Saturday, and ESPN's College Gameday will be at Folsom Field for the first time since 1996. In Sanders' eyes, that's more than enough recognition for what they're building in Boulder.