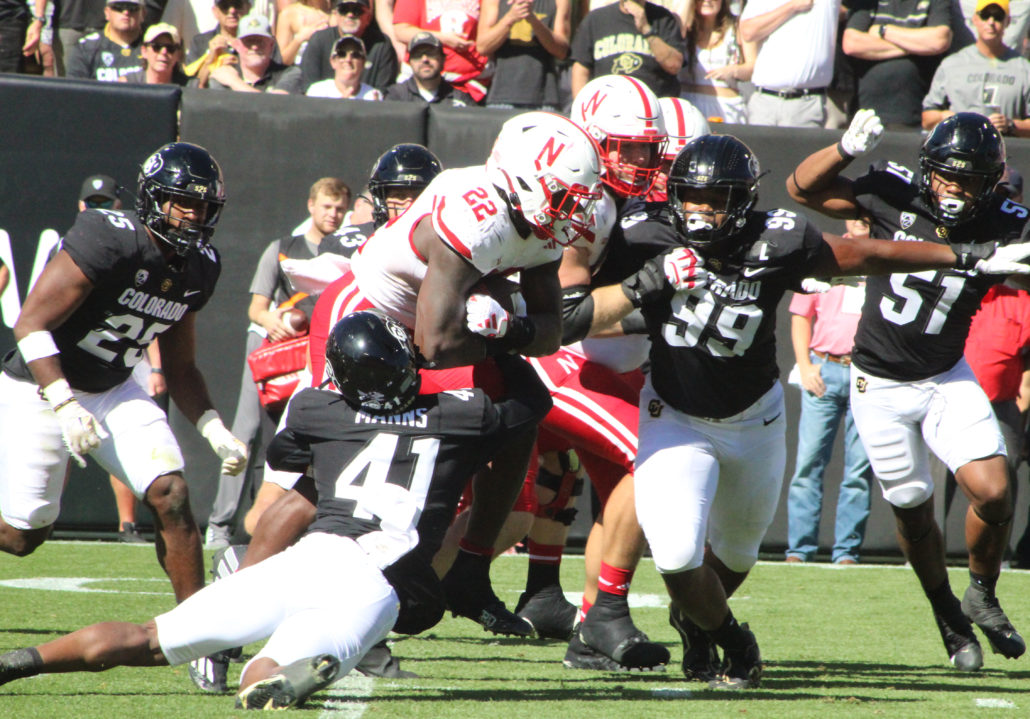 BOULDER, Colo. — There's no denying Nebraska walked into a hostile environment when it invaded Folsom Field Saturday afternoon.
After all, the sold out crowd was ready for Coach Prime's home debut, and it reached deafening noise levels at times. Coach Matt Rhule just wanted his players to settle down, and take it one play at a time. His game plan worked early on, as Nebraska slowed down the game's pace.
The Huskers ran the ball, controlled the clock, limited Colorado's possessions and the score was 0-0 at the end of the first quarter. However, Nebraska couldn't get out of its' own way. The Huskers fumbled on their first possession, which was a promising eight-play drive.
The second quarter is when everything started to crumble to pieces for Rhule's team.  After two punts, Nebraska missed a field goal, lost a fumble and threw an interception. Rhule was frustrated with the execution and silly penalties, knowing the Huskers left some plays out on the field.
"We knew with their offense we would have to control the line of scrimmage, we just thought the best way for us moving the ball was for us to be physical and downhill," Rhule said. "Had we stayed on the field, and not had those penalties and converted some scored down in the red zone, it would have been more."
The Huskers did some damage with their ground attack, and racked up 222 rushing yards. Not to mention Nebraska averaged 5.4 yards per carry. Rhule knows the production was more than enough to keep the chains moving, but was wiped out due to mistakes.
Nebraska's turnovers put Colorado's offense in great field position. In return that put more pressure on the Blackshirts to hold their ground. Rhule was pleased with the way the Blackshirts performed, despite being out on the field for numerous plays. It was obvious fatigue had set in during the second half, which allowed Colorado's offense to execute explosive plays.
"The defense played really hard and well for long stretches, and then eventually just kind of wore out," he said. "We'll get the offense right, we'll get the turnovers right."
Quarterback Jeff Sims completed nine of his 15 passes for 106 yards and an interception. He led the team in rushing for a second-straight week, including a 57-yard touchdown early in the third quarter. Sims got banged up though, and left the game in late in the second half. Nebraska didn't score its' second touchdown until the final seconds of the game.
The Buffaloes led the Huskers in total offense, first downs, and time of possession. Once the momentum shifted to Colorado's side, it stayed there for the remainder of the game. Defensive Coordinator Tony White received praise from Colorado gunslinger Shedeur Sanders, because his 3-3-5 stack scheme gave him fits and forced him to adjust. The Blackshirts sacked Sanders seven times.
Isaac Gifford had a game-high, eight tackles. Cameron Lenhardt and Nich Henrich talled two sacks apiece. Luke Reimer, Princewll Umanmielen and Tamon Lynum each made Sanders eat grass. Rhule thought there were some bright spots from his team on both sides of the ball. He still has tremendous trust in the process, and takes full responsibility on Nebraska's execution.
"So we try to address everything, not emotionally, like just say this is this this is this, but we got too many handling issues," the 48-year old coach said. "So the first two games, there's nothing, there's just no way to get around it, and that falls squarely on my shoulders and nobody else."
Rhule is not proud about losing his first two games with the program, but Nebraska will face a Northern Illinois team that lost to a FCS next week. It's going to be a fresh breath of air to Big Red Nation, considering the clash will be the first of the season inside Memorial Stadium. As for now, Rhule's boys are going to lick their wounds and travel back to Lincoln in search of answers.
"I'm going to take ownership of things I can control, and try to get better, so I hope that we grow closer, and I hope this is the type of thing that teaches our guys what wins football games."