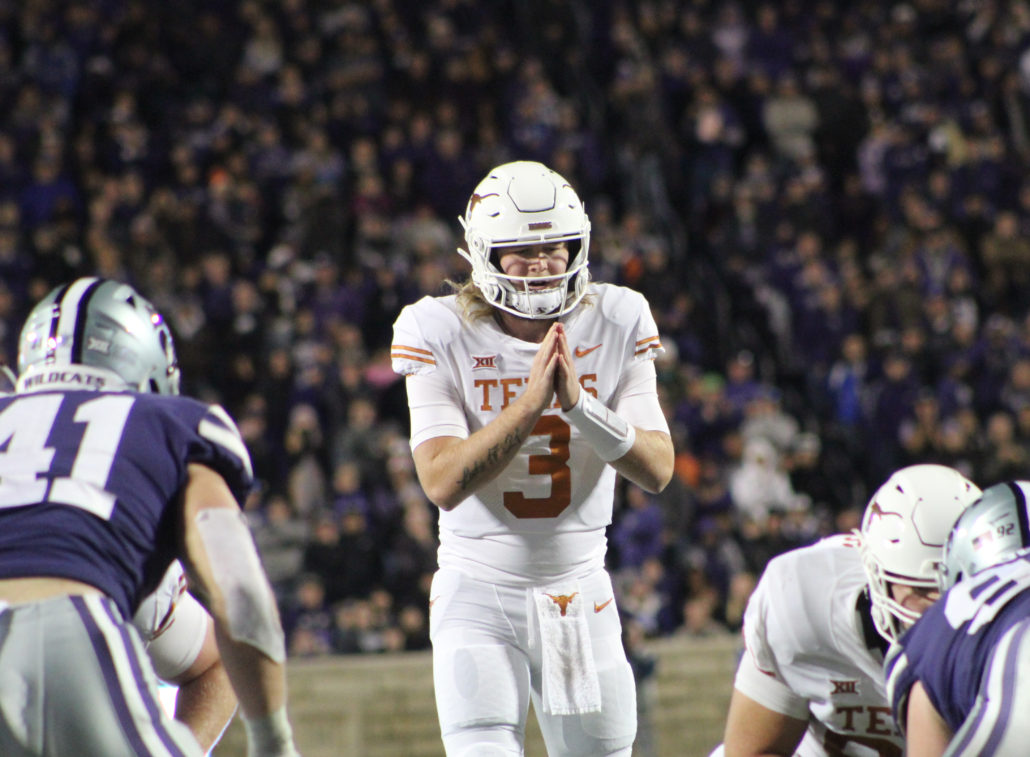 There's a different aura about the sophomore quarterback in year two with the Longhorns.
Quinn Ewers cut off the mullett he had during his freshman campaign, and trimmed it down to a tapered brush cut. His bushy beard is now a clean-cut goatee. Not to mention Ewers chiseled down his body, and weighs 195 pounds on his six-foot-two frame.
In last Saturday's win over Rice, Ewers put together a stellar performance. The 20-year old completed 19 of his 30 passes for 260 yards and three touchdowns, to go along with a rushing score. Ewers looked completely comfortable behind center, and the rest of the offense fed off his energy.
However, Ewers will be facing his biggest challenge to date this Saturday, as Alabama prepares to host Texas for the first time since 1902. The third-ranked Crimson Tide happens to be on a 21-game win streak at home. So there's no denying Ewers and the Longhorns are facing a tough task.
Regardless, Coach Steve Sarkisian is a quarterback guru, who knows Nick Saban's tendencies. Although the odds are stacked against the 11th-ranked Longhorns, they still have a chance to pull off the upset. Texas actually matches up against Alabama better than the naysayers think. The game could easily turn into an offensive shootout with Ewers and Jalen Milroe matching wits.
Sarkisian's game plan worked to perfection last year, and Alabama needed a last minute field goal to pull away from Texas. Milroe is a dangerous dual-threat quarterback, but he is no Bryce Young. He lacks the experience in clutch situations, and Ewers is no stranger to playing in close games.
Ewers had a promising performance last year against the Crimson Tide, despite getting injured in the first quarter. The San Antonio native completed nine of his 12 passes for 134 yards. This time around there's no Hudson Card, and Arch Manning will be backing up Ewers. The gunslinger will be operating with some dangerous weapons in his arsenal. Alabama has one of the nation's best secondaries though.
Wideout Xavier Worthy will likely be the best player on the field, considering he has 21 touchdown receptions over the past two seasons. He caught seven balls in the victory over the Owls, and had 97 receiving yards against the Crimson Tide in 2022. Tight end Ja'Tavion Sanders is a matchup nightmare, who's a former five-star prospect and a All-Big 12 performer. Ewers connected with Sanders for a 44-yard touchdown in game one.
What's going to be important for Ewers is the blocking from the big boys up front. Texas has one of the best offensive lines in the conference, and that unit must thrive in the trenches. If Ewers has time to go through his progression, he'll hit his targets. The running game must be effective to keep the pass rush honest.
Ewers has an opportunity to show that Texas is truly back, and with a win at Bryant-Denny Stadium, the rest of the College Football world would agree. All eyes will be on the gunslinger. So if Ewers gives a memorable outing, don't be surprised to see his name appear in the Heisman discussion, and Texas back in the AP top-five for the first time since 2010.