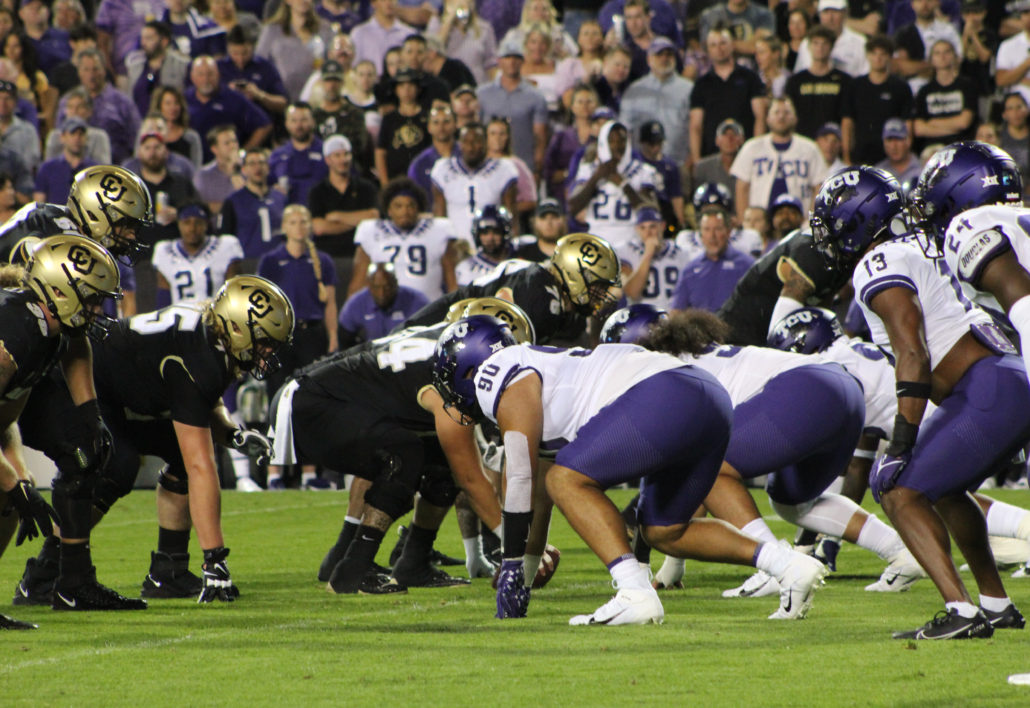 TCU Coach Sonny Dykes was in a familiar situation approaching game one last season.
It was his first year with the team, and he had to open up his campaign on the road at Colorado. Now the tables have turned. The Buffaloes have a new sheriff in town in Deion 'Coach Prime' Sanders, and they have to travel to Amon G. Carter Stadium for his debut.
Playing in a hostile environment will be a great measuring stick for Coach Prime's squad, and all eyes will be on this matchup for several reasons. After all, there's been a ton of hype surrounding Coach Prime's initial season. He has clearly changed the culture of the program overnight with his recruiting, and the transfer portal.
Meanwhile the Horned Frogs feel like they have something to prove. The spanking by Georgia in the National Championship Game continues to add fuel to the fire. And the only way TCU can put that embarrassment in the rearview mirror, is to take it out on the next opponent.
The game will be nationally televised, and will start Fox's Big Noon Kickoff. However, the segment for Saturday's clash has centered around Coach Prime. The TCU players aren't taking that lightly. The naysayers believe the Horned Frogs will take a step back. That's because eight of Dykes' players were selected in the NFL Draft back in April. Although a rebuild is expected, the Horned Frogs have an opportunity to prove all of their critics wrong.
As for the Buffaloes, they literally have nowhere to go, but up, considering they're coming off a one-win season. Coach Prime has revamped the roster with the additions of his son Shedeur Sanders as the starting quarterback, and 2023 AP preseason All-American Travis Hunter.
Coach Prime will get a taste of the style of play in the Big 12, which should help in 2024. Everyone knows the Buffaloes are three touchdown underdogs, and no one is giving them a chance to win. Several national analysts have already projected Colorado to notch less than three victories this fall.
That should be more than enough motivation for the Buffaloes. At the end of the day games aren't played on paper. Coach Prime's team has nothing to lose, and everything to gain, which makes them dangerous. The Horned Frogs are out to take advantage of the spotlight, and show the world that they haven't missed a beat.
Both teams have new Offensive Coordinators, so this game may have some sloppy play, turnovers and fundamental mistakes. Sanders put up jaw-dropping passing numbers over the past two seasons at Jackson State. If he has a smooth transition to Power Five football, Colorado will pull off some upsets.
Chandler Morris is attempting to replace a Maxwell and Davey O'Brien Award winner. Morris got injured in the second half of last year's game at Folsom Field, so he wants to lead the Horned Frogs to the finish line this time around. There hasn't been this much buzz about a season-opener from either program for quite some time.
Some fans want to see Coach Prime succeed, while others want to watch him fail. There's no denying Colorado will be walking into a snake pit Saturday morning, but it's nothing Coach Prime isn't used to. Dykes was last year's Big 12 Coach of the Year. Coach Prime will be orchestrating his first FBS game. Both team want to get off to a hot start for the season. So something has to give.