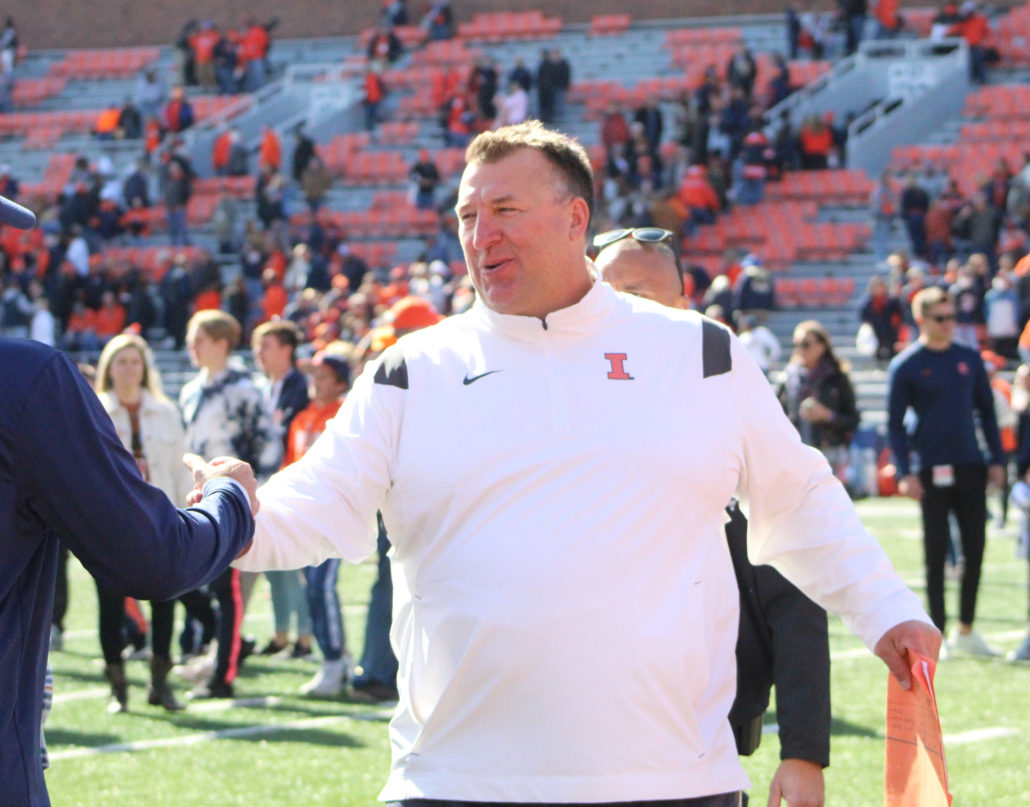 CHAMPAIGN, Ill. — There's no denying Illinois got pushed to the limit by Toledo in game one.
The Fighting Illini ran fewer plays, plus they were outgained in total offense, time of possession and first downs. Not to mention Illinois needed a last minute field goal to pull away. Which is why third-year coach Bret Bielema has made practice more intense for his team this week, heading into their first road trip of the season.
After all, it's against an undefeated team, that's coming off a six-win campaign, and scored 48 points in their opener. Bielema has a ton of respect for Kansas though, and his relationship with Coach Lance Leipold goes back to their days at Wisconsin. The two had a chance to see each other at the NFL Draft back in April.
Knowing Leipold, Beilema is expecting him to field a talented team Friday night. The Jayhawks have some firepower too, including quarterback Jalon Daniels. He's the Big 12's 2023 preseason Offensive Player of the Year. Daniels missed the opener against Missouri State due to back tightness, but will return against Illinois.
So Bielema can't wait to match wits with Leipold. However, he understands it's going to be a great measuring stick for his players.
"Everywhere Lance has gone they've always won, it's super important to realize he's a solid, fundamental coach on offense, defense and special teams," Bielema said. "He surrounds himself with coaches that been with him a long time, they believe in their system, they believe in what they do, and it's proven to be successful."
Playing on the road is always challenging. The Fighting Illini have to clean up several mistakes that they made against the Rockets too. The team suffered a jaw-dropping, nine penalties in the first half. Memorial Stadium packs nearly 50,000 fans, and the fans will try to rattle sophomore quarterback Luke Altmyer.
Bielema was encouraged by Altmyer's performance in game one. The signal-caller completed 18 of his 26 passes for 211 yards, two touchdowns and an interception. He wants Altmyer to be mentally ready for the challenge. What's important to Bielema is that Altmyer make others around him better.
"I think he's got the ability to make all three throws, including the deep ball, the sort ball and the touch pass," he said. "After being through one game with him, he got some intangibles that you didn't know existed."
Bielema thought his new Defensive Coordinators made the right halftime adjustments against Toledo. Regardless, he wants to see the defense get off to a fast start, and set the tone. He thought his staff came together and trusted each other during the clutch, and that's why Illinois came out victorious.
"A lot of people always talk about the growth from game one to game two with players, but I think it can really happen for coaches that haven't worked together," the 53-year old coach said. "So to have four new coaches play the way they did, was pretty cool, and I thought they handled that moment well."
Illinois (1-0) has momentum, and needs to ride that wave into a hostile environment. Bielema is ready to take advantage of the Friday night spotlight, as well as his players.
"In my 15 years as a head coach, the best environment is to have a game that you win, but do enough things that you need to correct, so they have a great frame of mind."