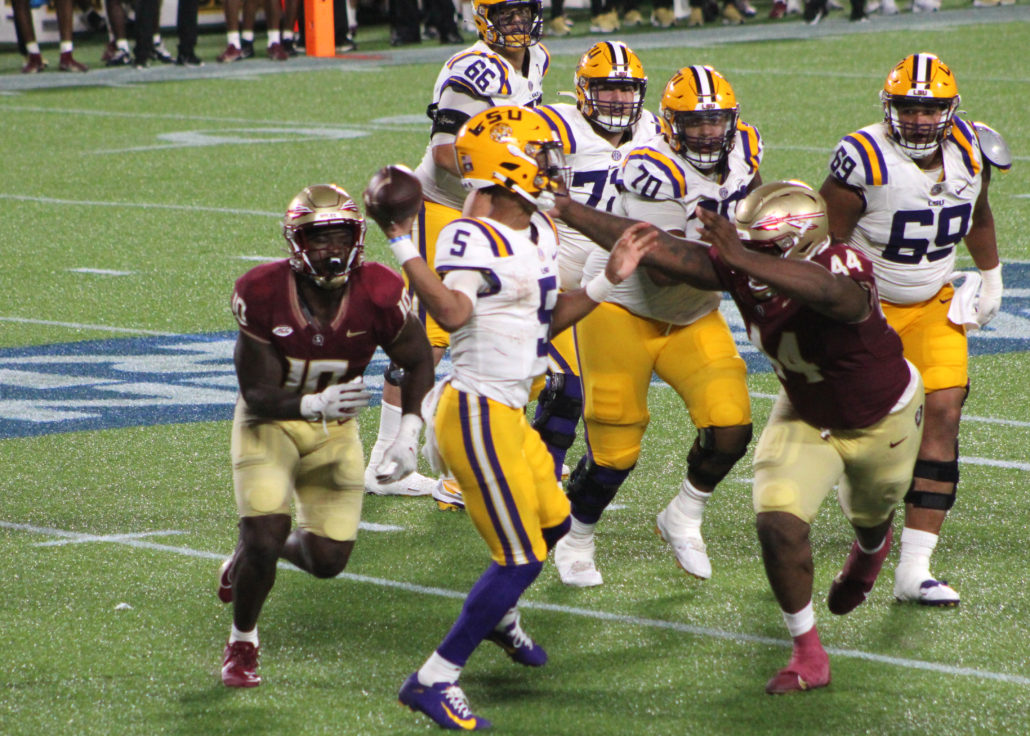 ORLANDO — There's no denying LSU entered the 2023 season as the team to beat.
After all, the Bayou Bengals were coming off a 10-win campaign and returned several key pieces. LSU even surfaced at No. 5 in the AP preseason poll for Brian Kelly's second year, and quarterback Jayden Daniels received the second-best odds to win the Heisman.
However, all of LSU's National Championship aspirations has been temporarily diminished. That's because Florida State handed it a 45-24 loss Sunday night. It was a matchup of top-10 teams, that had everyone's attention. Regardless of the buildup, the game was disappointing and didn't live up to the hype.
After they took a three-point lead at halftime, the Bayou Bengals crumbled like crackers in hot soup for the remainder of the game. Florida State came out on fire, and responded with a jaw-dropping, 31 unanswered points. At that point it became crystal clear that Kelly failed to make adjustments.
Kelly had no answers for the eighth-ranked Seminoles, which is mind-boggling, considering the caliber of coach he is. And as the game prolonged, the crowd of 65,429 at Camping World Stadium turned into a snake pit, with so many Florida State fans in attendance. When he stepped up to the podium in front of a packed room after the game, Kelly looked burned out and distraught. He answered the questions the best way he could though.
"I take full responsibility for not having our team playing the kind of football that I thought they would, and our players have got to make a decision that, you know, they have to get back to the practice field and double down on their efforts and their attention to detail and their focus and the things that they need to do as well," Kelly said. "
There were some coaching blunders on LSU's part too. Kelly refused to kick two reasonable field goals, and instead tried two fourth down attempts and failed. There was poor blocking up front for quarterback Jayden Daniels the entire night. Not to mention he was put to the turf four times.
Daniels completed 22 of his 37 passes for 347 yards, a touchdown and an interception. His touchdown pass didn't come until under two minutes left in the fourth quarter. Now his Heisman stock is going to take a dive because of it. Daniels sat next to Kelly at the press conference, with a bandaid on his face and didn't have that normal big smile. Still, Daniels took accountability for his performance.
"Everything falls on me, what coach was talking about, the urgency and the choices we make, he's right," Daniels said. "Everything falls back on me being the leader, and the quarterback on the team, so I have to get the guys going, and set the tempo."
What really hurt LSU's offense was time of possession. The Seminoles had the ball for nearly 11 minutes more than the Bayou Bengals. Florida State led LSU in plays and total offense. The biggest surprise of the night was the Bayou Bengals' defense. Gunslinger Jordan Travis shredded LSU's secondary with four touchdown tosses, including three to Keon Coleman. That's inexcusable for a program that's dubbed 'DBU' and that has to get fixed before SEC play starts.
Omar Speights and Major Burns each contributed eight tackles. All-SEC linebacker Harold Perkins didn't have a stellar outing. In fact, he only ended up with five stops, and looked gassed in the fourth quarter. Kelly noticed it, and understood why Perkins didn't have his best game.
"He's got to be disciplined and can't lose his eyes on the quarterback mesh, fourth down, there's a lot going on there, and he's trying to sort it out," he said. "You're catching a young player early on in his career, and he's going through some growing pains."
LSU's defense couldn't generate a pass rush at all, and Travis' mobility kept everyone on their heels. The glaring issue for the Bayou Bengals' defense, was the fact that they didn't record any sacks. And that frustrated Kelly at times. LSU's defense allowed 494 yards, including 7.5 per play, and Florida State converted nine of its' 14 third down attempts.
Now Kelly has to go back to the drawing board and pick up the pieces. LSU will likely drop out of the top-10 because of the lopsided loss. So Kelly is going to need leaders to emerge, after the team experienced their first taste of adversity this season.
"We've got to do a much better job obviously in developing our football team."