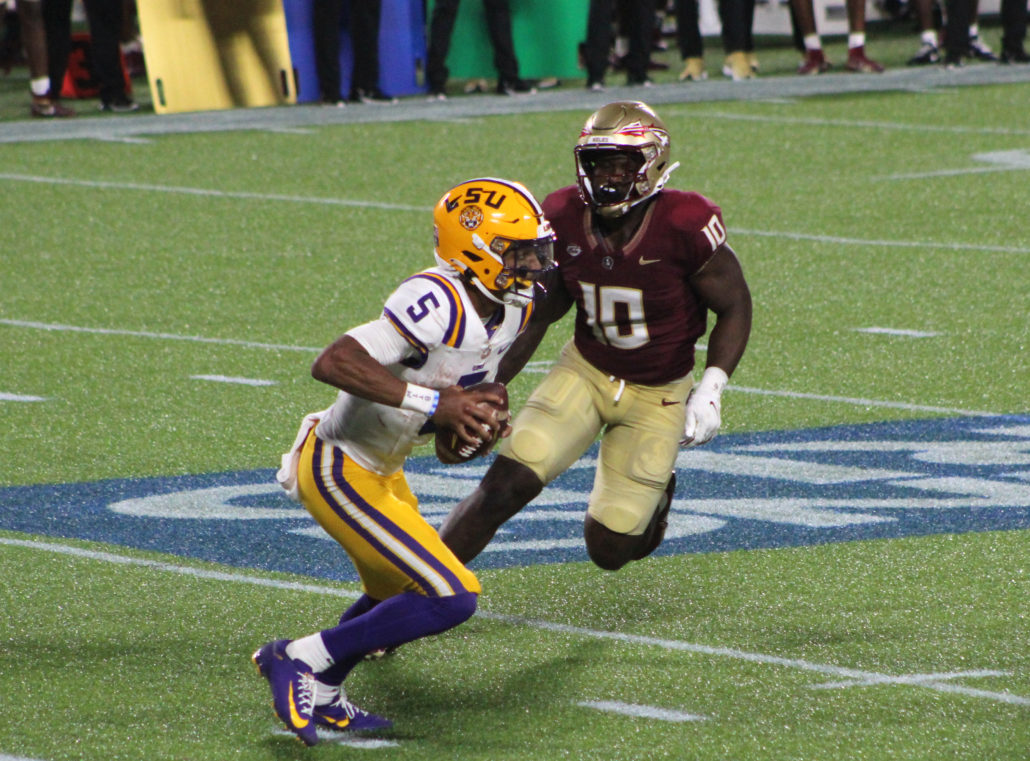 ORLANDO — The quarterback received the second-best Heisman odds heading into the season, but now that's in jeopardy after LSU's embarrassing performance against Florida State.
Jayden Daniels had a ton of hype approaching his last year of College Football, and rightfully so. After all, he's one of the most productive and experienced signal-callers in the country, who led the Bayou Bengals to 10 victories last season.
Daniels played solid early on. LSU even led by a field goal at the half. It was short-lived though. The offense fizzled over the final two quarters, and Florida State scored 31 unanswered points. The former Arizona State Sun Devil didn't look in control of the huddle, and wasn't playing with any enthusiasm, which rubbed off on his teammates.
"Coming out of halftime, that starts with me and getting the guys going," Daniels said. "First drive, I felt like we had urgency, but in critical moments I have to get going, and I have to set the tempo and I have to be able to push the guys."
The Seminoles' defense shut down the Bayou Bengals' rushing attack, and made Daniels one-dimensional. The fans wanted to see him improvise more, and extend plays, but instead he was pressured all night and couldn't establish a rhythm.
"Everybody is looking at me and how I maneuver on a daily basis, and I have to go back to the drawing board and look to what I can do to get the team more prepared on a day-to-day basis," he said.
Coach Brian Kelly didn't make adjustments and the offense suffered because of it. It didn't help that LSU kept points off the board by failing to convert two fourth down attempts, instead of kicking field goals. The Bayou Bengals racked up 460 yards of total offense, and averaged 7.2 per play, but couldn't punch the ball in the endzone when it mattered the most. Kelly's squad even had more first downs than Florida State.
The glaring issue was LSU's time of possession. The Bayou Bengals only converted three of their 10 third downs attempts. Which is why Daniels takes accountability on controlling the clock and executing at the point of attack. He was also sacked four times due to poor protection from the big boys up front.
"We got ourselves in critical second-and-long, third-and-long situations where they know that they are able to pin their ears back and just rush the passer," the 22-year old said. "So you know, staying out of those situations, helping the offensive line out; me getting the ball or me making the right protection call."
Daniels completed 22 of his 37 passes for 347 yards, a touchdown and an interception. However, his 75-yard touchdown pass to Brian Thomas didn't happen until late in the fourth quarter when the game was already out of reach.
There's no denying LSU has a lot to clean up before SEC play starts. Although the team will be operating on a short week, Daniels will get a chance to redeem himself against an inferior Grambling team that'll invade Tiger Stadium. Adversity has hit the team, and Daniels understands it's his job as a leader to gather the troops. The Bayou Bengals still have a long season ahead of them. Until then Daniels is planning on film study, working on his chemistry with his pass catchers and pushing his teammates.
"We have to step back and look back at ourselves in the mirror and how we are going to respond to this at the end of the day."