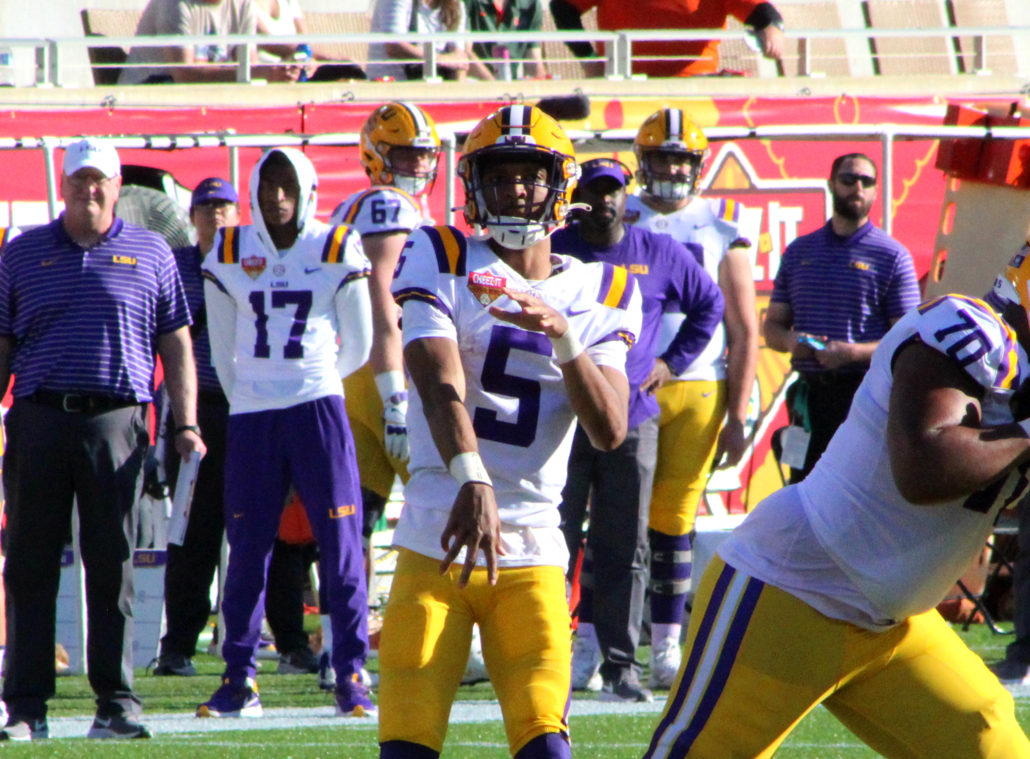 He's one of the most experienced quarterbacks in the country, who's about to have the national spotlight to himself on Sunday in primetime.
There's no denying Jayden Daniels has had a tremendous journey up to this point. After all, currently he is second behind USC's Caleb Williams in the Heisman odds, and LSU is ranked fifth in the AP preseason poll. However, Daniels success didn't happen overnight.
The former four-star prospect racked up 7,312 yards of total offense in three seasons at Arizona State, which ranked sixth all-time at the school. Daniels picked up where he left off in the almighty SEC last season. The Californian led all FBS quarterbacks in rushing yards, and finished ninth nationally in completion percentage. Not to mention he led the Bayou Bengals to 10 wins, and a berth in the SEC Championship Game.
Daniels eclipsed the century mark in rushing yards against three teams, including the one he's facing this weekend. The signal-caller couldn't imagine a better way to kickoff his final season. Going up against a top-10 Florida State team makes this highly-anticipated battle the game of the week. It's going to be a rematch of the thriller from last year's opener, that went down to the very last play.
This time around Daniels needs to be victorious in order to solidify his Heisman stock. It's his second year in Brian Kelly's offense, so his game should take flight. Daniels has looked sharp up to this point, and completed 10 of his 11 passes for 168 yards, and two touchdowns in the spring game.
It's also going to be beneficial that Daniels will be squaring off with All-ACC signal-caller Jordan Travis. That should make for some fun offense for the fans to watch, and both quarterbacks will be trying to outduel each other. The 22-year old Daniels has an opportunity to show the College football world that the Bayou Bengals are the real deal, and their ranking is legit. He has weapons around him too.
Wideout Malik Nabers is coming off a 1,00-yard season, and tight end Mason Taylor hauled in 38 passes. What's important for Daniels is to remain healthy, and that'll fall on the shoulders of the big boys up front. LSU's offensive line basically returns intact. The team that controls the line of scrimmage will likely come out victorious. And this game will likely turn into a shootout that comes down to which offense has the ball last.
All eyes will be on the top-10 matchup, and everything has come full circle for Daniels. Now it's going to be up to him to deliver for the Bayou Bengals on the gridiron.