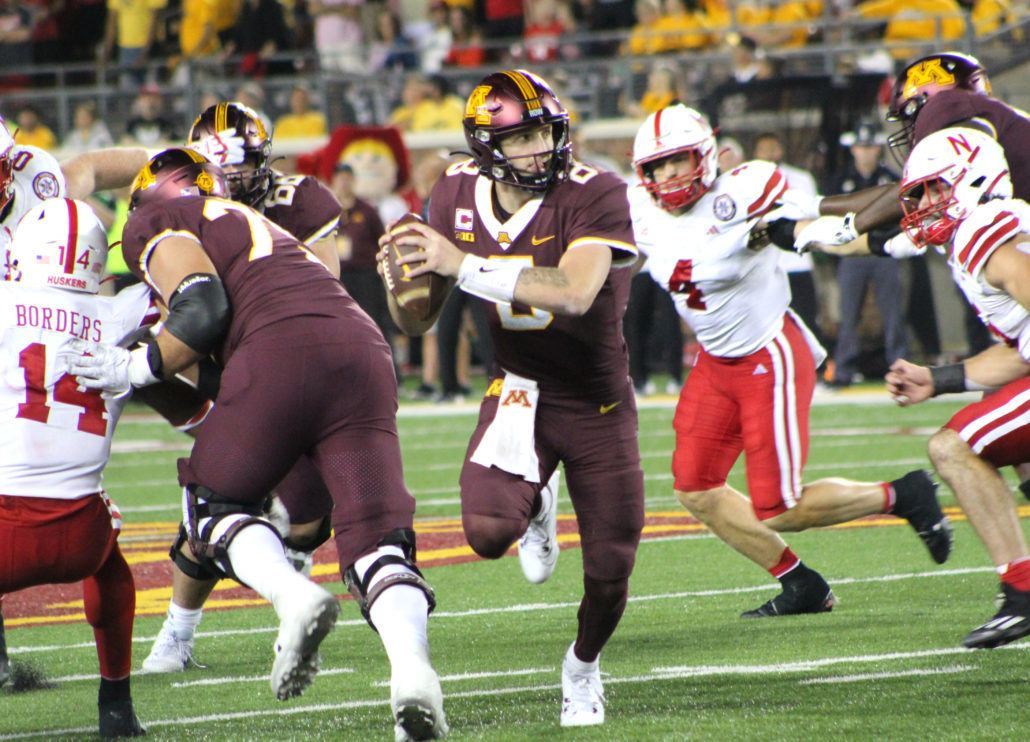 MINNEAPOLIS — Thursday night's Big Ten opener against Nebraska showed Minnesota fans everything they needed to know about their quarterback's maturation process.
After all, Athan Kaliakmanis had some highs and lows throughout the contest. However, he delivered for his team in the clutch. Although the Golden Gophers' 13-10 victory over the Huskers wasn't pretty by any means, Kaliakmanis persevered, and rallied the rest of the offense when they needed it the most.
The Illinois native wasn't afraid of the big moment. He threw a 13-yard touchdown pass to Daniel Jackson on fourth down in the final minutes of the fourth quarter. It turned out to be one of the best plays of the game. With the game tied at 10, kicker Dragan Kesich redeemed himself from a miss earlier, and nailed a 47-yard walk-off field goal.
Kaliakmanis believes it took a complete team effort to get the job done. Which is why he credits all of the hard work his teammates put in through the offseason, especially Jackson.
"We just got a lot of trust in Daniel, and I talked about this all year since January," Kaliakmanis said. "We're going to get the ball to the playmakers, we trust Daniels with the ball in his hands, and he's going to make that play."
Kaliakmanis never hung his head after Minnesota was held scoreless in the third quarter either. He listened to what Coach P.J. Fleck and his staff preached throughout fall camp, which was execution. Nebraska's 3-3-5 stack defense made it tough to run the ball though. In return it put more pressure on Kaliakmanis' shoulders. The Blackshirts also picked him off.
Once the smoke cleared, Kaliakmanis completed 24 of his 44 passes for 196 yards.  His top priority in practice next week will be accuracy. The former four-star prospect feels he was pushed, but didn't fold. So he respects Nebraska for bringing out his competitive spirit. Now he understands what it's going to take to be a better quarterback in Big Ten play.
"There were some missed throws that I had, and we're going to correct those for sure, but I'm really proud of the team because we responded very well," he said. "We had a lot of poise in those situations that might've been a little confusing, and kept getting back up, responding, and that's why I'm proud of this team."
Kaliakmanis had great chemistry with Daniels, considering the wideout was targeted 16 times. So he wants to improve on that for game two. There's no denying the experience he gained in Tanner Morgan's absence last season, is paying off on the gridiron.
At the end of the day, Kaliakmanis feels his outing was promising. He didn't play his best game, and the Golden Gophers won a grinder. Still, Kaliakmanis will have a slimmer margin for error against better competition later this month. There's definitely something there for the offense to build on, which is why Fleck is high on his quarterback's potential.
"He (Kaliakmanis) showed guts, determination and leadership leading the football team," Fleck said. "He's such a great learner, and he takes it all in, he can flush things really quickly, and I think that's a gift."
Minnesota will host an undefeated Eastern Michigan team, before heading to ACC country to take on North Carolina. Kaliakmanis will have an opportunity to iron out all of the wrinkles, and put together a complete game. He's not concerned about Minnesota's lack of a rushing attack, and expects the offense to adjust from game to game. What's important is that Kaliakmanis trusts that the coaches will put the players in the best position to be successful.
"We trained to be in moments like this, it's how we've prepared, fourth down, the way we condition, so it's all credit to Coach Fleck and his staff."