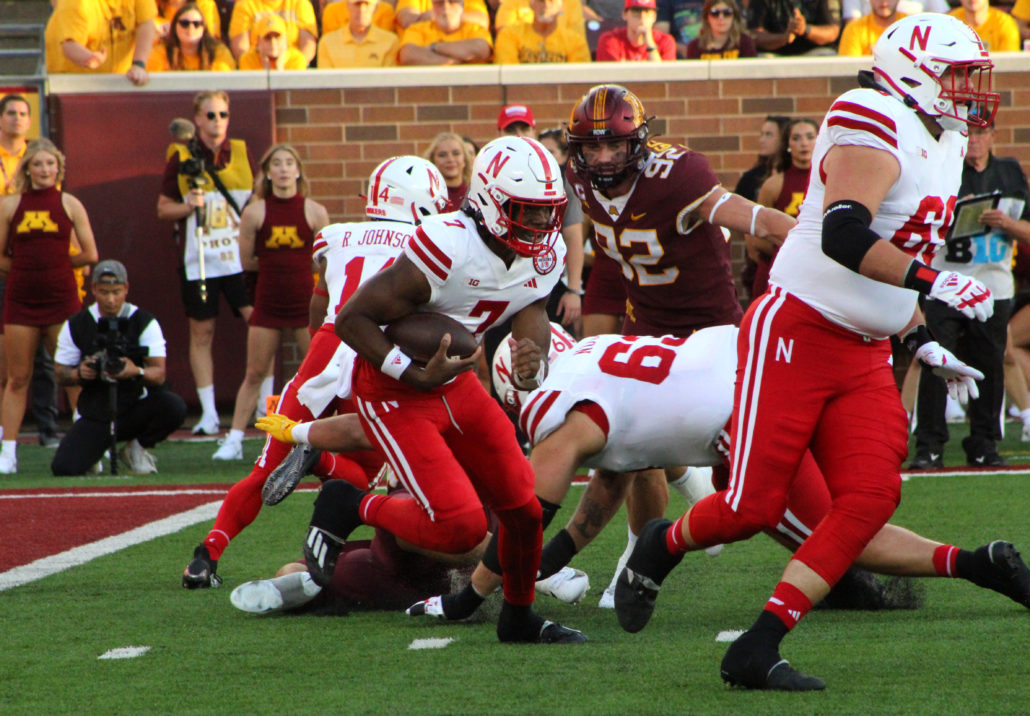 MINNEAPOLIS — The quarterback's highly-anticipated debut with the Huskers exposed some glaring issues that he had back in the ACC.
Jeff Sims took the shoulder of the blame for Thursday night's 13-10 loss at Minnesota. After all, he was picked off twice by All-Big Ten defensive back Tyler Nubin, and threw three total interceptions. Husker fans were under the impression that Sims had put his turnover days in the rearview mirror.
However, Minnesota's defense limited him as a passer, and made  him one-dimensional. Sims at times played like he was still at Georgia Tech. It's hard for Big Red Nation to ignore the 23 interceptions he threw over the past three seasons as a Yellow Jacket.
A sold out crowd at Huntington Bank Stadium knew about his past too, and made it a house nails for the signal-caller.
Still, Sims found ways to be effective, and had some bright moments to build on. The Florida native racked up a game-high, 91 yards on the ground. Not to mention Sims threw a 34-yard touchdown to Alex Bullock on the Huskers' first drive of the second half. Sims was also a big reason why the Huskers led the Golden Gophers in total offense.
He felt the offense left some plays on the field too. A controversial false start penalty on Minnesota's one-yard line, kept the Huskers scoreless at halftime. On the replay booth from the drones above it appeared Nebraska scored.  Regardless of everyone's best effort, it wasn't enough to overcome four turnovers, including a fumble by backup running back Anthony Grant.
"We just can't beat ourselves, we had four turnovers, and when you have turnovers it's going to be a close one," Sims said. "So we just got to protect the ball, and play our football."
It all killed promising drives for the offense. Which is why Sims is determined to get those mistakes corrected. So he's anticipating an intense week of practice, and film study.
Coach P.J Fleck was impressed with the variety of ways Nebraska used Sims. His versatility kept Fleck's defenders on their toes, and forced his defensive staff to make adjustments.
"He (Sims) is such a creator, he can make you miss, so we needed to keep him contained in the pocket," Fleck said. "He's so athletic, they're running option, belly option, quarterback draw, and everything with the guy."
Sims and his teammates are facing adversity, so his abilities as a leader will be tested. He'll have to rally the troops for another road trip, but this time it'll be against rival Colorado. Although Nebraska is 0-1, Sims is trying to take the positives from game one. He understands it was a measuring stick for the offense, and is making sure everyone builds from the loss.
"Minnesota is a great team, you can tell they're very disciplined on defense, so credit to them," the 21-year old said. "They're one of the best defenses in the conference, but I just got to make better decisions with the football, and we got to execute on offense."
It was obvious that the Minnesota defensive backs were watching his eyes. So Sims needs to work on not staring down his receivers. Rhule must also be careful with how he uses the six-foot-four, 220-pounder. Sims isn't afraid of contact, but he still has to keep his body healthy at all costs.
Now it's time for Big Red Nation to support Sims, because Rhule's expecting him to be a new and improved quarterback in Boulder.
"This is the first step for Jeff, and we'll coach him, and he'll come back."