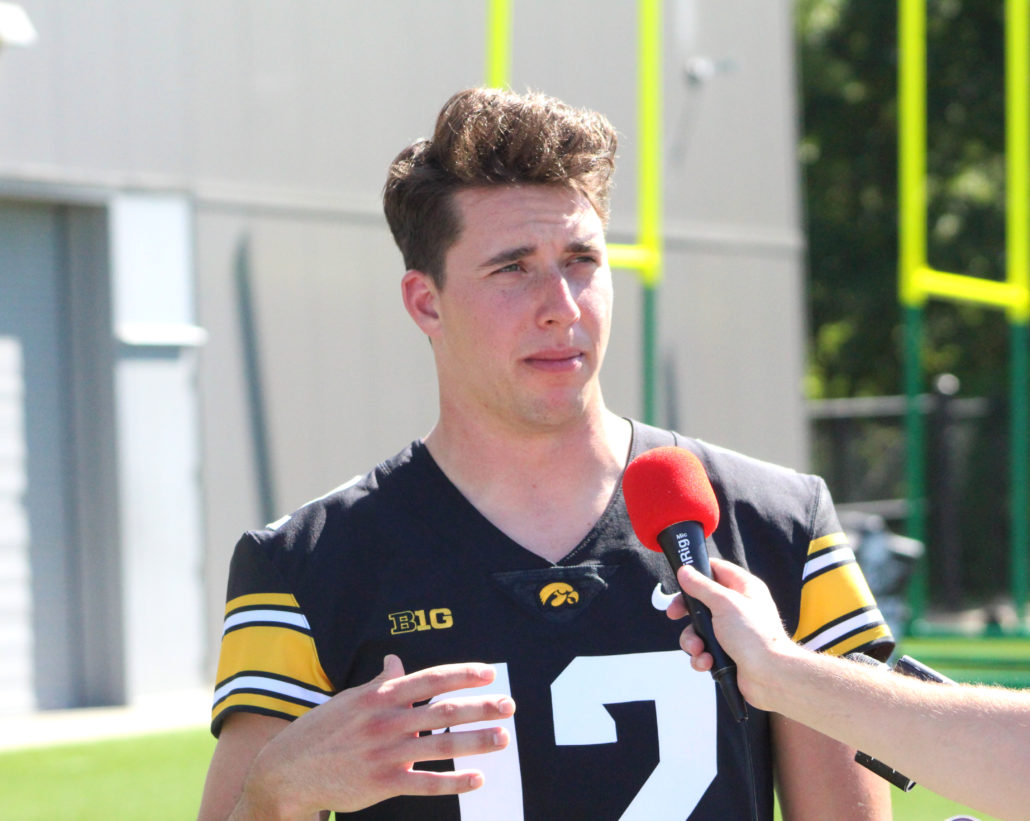 IOWA CITY, Ia. — Although Iowa's top quarterback injured himself in practice a couple of weeks ago, his coach believes he'll be a full participant against Utah State.
Cade McNamara brings a championship mentality to the program, considering he led Michigan to a Big Ten Title in 2021. He arrived in Iowa City with a lot of hype behind his name because of it. So the fans are expecting McNamara to take an abysmal offense to new heights this fall.
However, Coach Kirk Ferentz wants to be cautious with McNamara. Which is why he's monitoring the gunslinger day by day. So far everything has looked promising to Ferentz. He even admires McNamara's toughness and work ethic.
"It's a soft tissue issue, and he started working at the end of last week," Ferentz said. "He's been practicing, but I can't put a percentage on where he's at right now."
McNamara has been cleared medically, and Ferentz believes that's encouraging for the offense. Still, Ferentz is making sure that backups Deacon Hill and Joe Labas are getting valuable reps too. It's all about embracing the next man up mentality if McNamara can't go. The last thing Ferentz wants to do is put McNamara out there and he's unable to perform to his fullest potential.
"The thing we have to judge as we go along is how effective can he be and can he go out and perform in a way that's representative of the kind of player he is," he said. "Obviously we'd love to have him out there, but we also want to make sure he can perform at a high level."
Iowa fans are wondering if McNamara will have to shake off some rust. After all, he was limited in the spring because of a nagging injury. There's no denying he's a gamer though, and brings credibility to the 25th-ranked Hawkeyes. McNamara knows how to take command of the huddle, and lead by example. When he talks everyone else listens, and in Ferentz's eyes those are qualities of a great leader. And that's what the coaches want, is for McNamara to make everyone around him better.
Ferentz likes what he's seeing out of the backups too. Labas, who started in the Music City Bowl against Kentucky, returned to practice towards the end of last week, and is getting back up to speed following his soft tissue injury. Hill will likely be Iowa's starter if McNamara is unable to go.
"Regarding Deacon, a lot better than three weeks ago, two weeks ago or one week ago, and that's what camp is for to watch guys improve," the 68-year old coach said. "If there is a blessing, when Cade was out, gave him every opportunity to work a lot."
Regardless, Ferentz is enjoying the competitiveness in the quarterback room. Everyone is hungry, pushing each other and battling hard. Which why a lot of players are sore approaching the opener at Kinnick Stadium against the Aggies Saturday. Ferentz just wants to make sure that McNamara will be able to perform at the best of his abilities, and put the offense in the best position to be successful.
"We're playing to win, and we're going to get the best guys out there, so if Cade can play the best, he'll be out there."