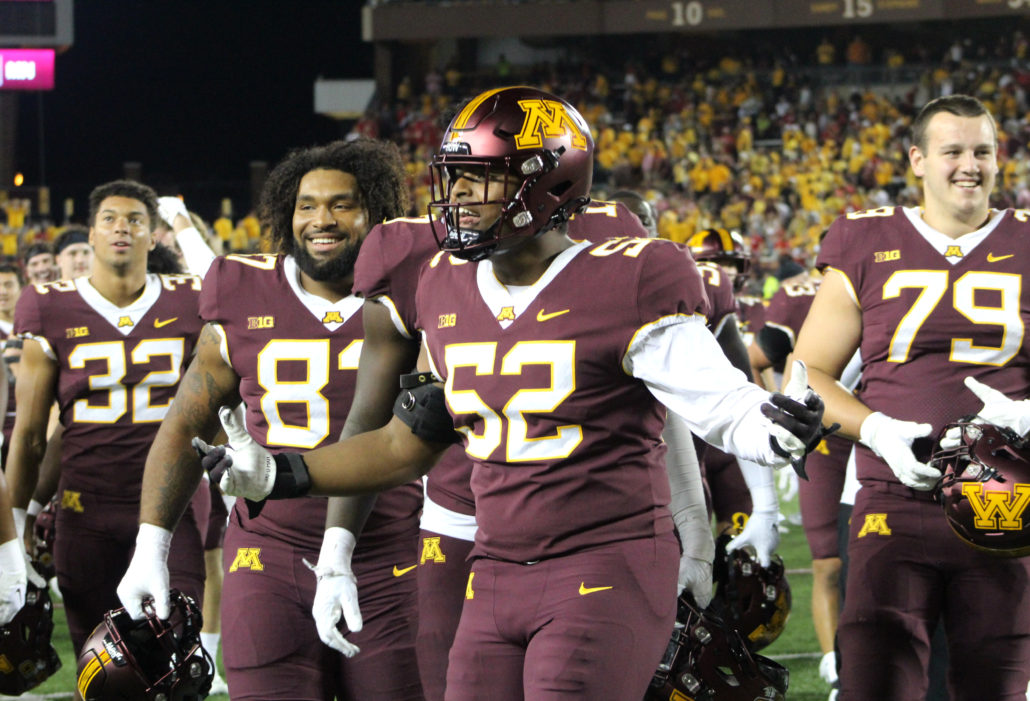 MINNEAPOLIS — Thursday night's Big Ten opener between Nebraska and Minnesota wasn't pretty by any means.
It was a defensive slugfest in front of a crowd of 53,629, that  contained plenty of recruits, and came down to the final minutes of the fourth quarter. However, the Golden Gophers persevered, and won 13-10 on a 47-yard walk-off field goal.
Not to mention it was Coach P.J. Fleck's fifth-straight victory over Nebraska, and he spoiled Matt Rhule's debut. Obviously there's no place like home for Fleck, considering he's undefeated against the Huskers in Minneapolis. Fleck knows his squad has a lot to improve on from now until game two, but he's proud that his players never gave up, and how they responded when adversity struck.
Quarterback Athan Kaliakmanis had a rollercoaster performance. He was on target through the first half, came out sluggish in the third quarter and was resilient down the stretch of the fourth quarter.
"He (Kaliakmanis) showed guts, determination and leadership and leadership leading the football team," Fleck said. "He's such a great learner, he takes it all in, can flush things really quickly and I think that's a gift."
Kaliakmanis completed 24 of his 44 passes for 196 yards, a touchdown and an interception. None of his throws were bigger than the 13-yard touchdown he threw to wideout Daniel Jackson, with under three minutes in the fourth quarter to tie the game. Fleck thought his quarterback's outing was promising, but still wants him to work on his technique and accuracy.
The 42-year old coach was grateful that Minnesota had four weeks to prepare for Nebraska, and all of its' hard work paid off. Still, Fleck noticed some kinks on both sides of the ball that needs to get ironed out, and fast. After all, Nebraska led the game in total offense, and averaged more yards per play.
Life after Mohammad Ibrahim was noticeably tough too, and the Golden Gophers were held to 55 yards on the ground, their lowest output over the past seven games.
On top of that, Minnesota was only able to muster 251 yards of total offense. Fleck realizes that won't be enough production to get the Golden Gophers through the Big Ten gauntlet.
What Fleck thought was encouraging was how his team led in time of possession, committed fewer penalties and the way the defense stepped up over the last 10 minutes. Minnesota's defense forced four turnovers, including three interceptions and a fumble. The unit also limited Nebraska to 295 yards of total offense, and sacked Jeff Sims three times.
"Our guys played really hard up front, our defense played like our defense plays," he said. "I'm really proud of them as a whole, as a d-line, they're going to grow up a lot, remember this is game one."
All-Big Ten defensive back Tyler Nubin picked off two passes, and cornerback Tre'Von Jones led the team with nine total tackles, including eight solo and hauled in an interception. There were some players that caught Fleck's attention, including Jackson, who had a game-high, nine receptions for 68 yards.
The game ball deserves to go to kicker Dragan Kesich though. His two field goals were the difference in the game, and he was able to redeem himself from an earlier miss.
Above all, Fleck is relieved to be 1-0 in Big Ten play, and is confident his team will improve in several areas as the season continues.
"You know me, I want to be way better by the end of this thing, we got a lot of getting better to do, and we will."