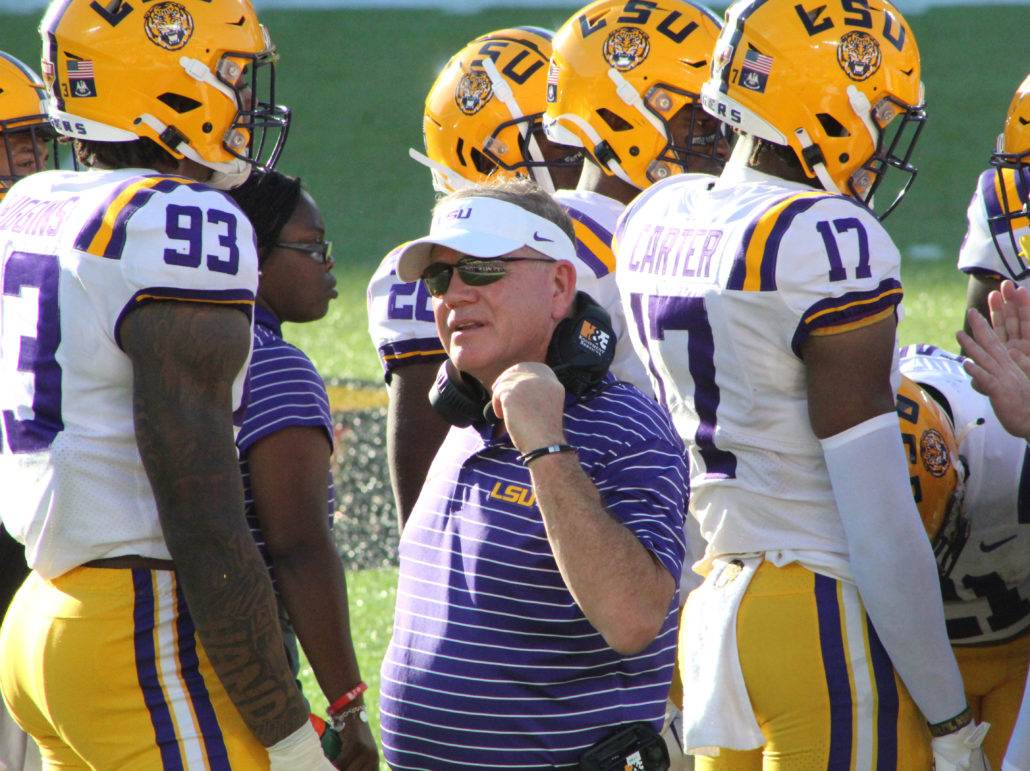 LSU was one of six SEC teams that landed in the top-25 of the annual preseason AP Poll.
Not only did the Bayou Bengals surface at No. 5, but it's their highest ranking in the preseason since 2016. And that speaks volumes for Coach Brian Kelly, who's entering his second season in Baton Rouge. After all, the Bayou Bengals are one of three squads from the almighty SEC that'll kickoff the season in the top-five.
Although Kelly wasn't welcomed to the SEC by any means, the fans from around the league couldn't ignore what he accomplished at Notre Dame and Cincinnati. However, Kelly proved his past success was no fluke. He clinched the West, and won 10 games during his first season.
The 61-year old capitalized on that momentum and signed a top-five recruiting class. So it shouldn't come as a surprise that LSU is projected as one of the nation's best teams. There's no denying Kelly's boys are National Title contenders for 2023. Quarterback Jayden Daniels is one of the most experienced players in the country. Daniels is arguably the best dual-threat gunslinger in the Power Five, and he led the team in rushing yards and rushing touchdowns.
He won't have to carry the ball as much this time around because of a deep running back room. The rotation of Noah Cain, John Emery and Josh Williams will be beneficial down the stretch of the SEC gauntlet. The trio combined for 1,316 yards on the ground, and 22 touchdowns.
Wideout Malik Nabers hauled in 72 passes for 1,017 yards, and threw for a score. Tight end Mason Taylor caught 38 balls last season, and his six-foot-six frame make him the ultimate safety blanket for Daniels. LSU's offensive line returns intact, which will be beneficial in the trenches. The big boys up front will be anchored by Will Campbell, who earned second-team, All-SEC honors in 2022.
The Bayou Bengals should also be stout on defense with the return of some high-caliber defenders. It's no mystery that Harold Perkins is one of the nation's best outside linebackers. The former five-star prospect had a promising true freshman campaign, and will be a future first round NFL Draft pick.
Defensive tackle Mehki Wingo will set the tone up front. The St. Louis native racked up 47 stops, and tied for third on the Bayou Bengals in tackles for loss last season. Wingo is an animal along the interior, and capped off his 2022 campaign with third-team, AP All-America honors.
LSU has already been dubbed 'Defensive Back U' so it's never short of ballhawks in the secondary. Senior safety Greg Brooks is the alpha of the group, who generated 66 stops, and picked off two passes. Kelly even has an experienced kicker in Damian Ramos, who nailed 10 of his 15 field goal attempts last year.
On top of that the Bayou Bengals have a favorable schedule. If LSU can beat Florida State in week one, it could very well be 8-0 heading into Tuscaloosa to face Alabama. Florida and Texas A&M has to come to Death Valley too.
Which is why the Bayou Bengals are definitely worthy of their top-five ranking. Kelly clearly has the team a year ahead of schedule, and expectations are through the roof. The only item missing off Kelly's resume is a National Championship, and this might be his best year to win one.