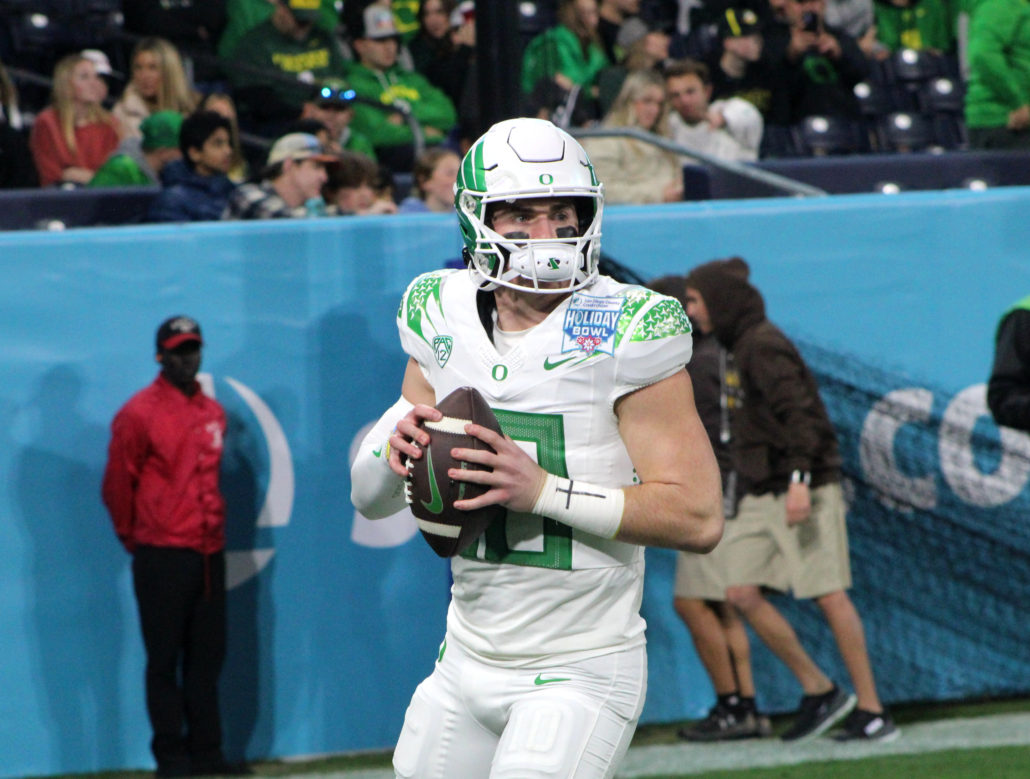 There's a lot of hype surrounding the Ducks this upcoming season, and everything is centering around their veteran quarterback.
After all, it's going to be Bo Nix's second season with Oregon, and fifth overall as a Power Five starter. His journey is inspiring, considering he spent three seasons at Auburn, and won an Iron Bowl. Last year Nix made a name for himself in the Pac-12, and led Oregon to a 10-win campaign.
The former five-star prospect stockpiled 4,104 yards of total offense, which was the third most in a single season for the program. Not to mention he led the entire Power Five, and ranked second nationally in completion percentage. His 29 touchdown tosses were the most by an Oregon gunslinger since Justin Herbert.
So it was a head-scratcher to many Duck fans as to why Nix didn't receive no All-Pac-12 consideration after his stellar campaign. However, the league was and still is stocked with high-caliber quarterbacks. Regardless, that should be more than enough motivation for Nix to make a statement this fall, in his pursuit to take the Ducks to new heights.
He's s fun to watch, with the way he improvises to extend plays by using his legs and vision downfield. There's a reason Nix scored five touchdowns apiece against Eastern Washington and UCLA. The Alabama native's 428 yards through the air in the victory at Washington State were a season-high. Nix 's breathtaking mobility took center stage when he rushed for 142 yards and two scores in the win over Stanford.
There's no denying Nix will have a lot of pressure on him to get the Ducks to the promised land. He'll have some weapons around him too, so defenses won't be able to key in on him. Running back Bucky Irving is coming off a 1,000-yard season, and is dynamic out in space.
Wideouts Troy Franklin and Kris Hutson combined for 105 receptions, 1,363 receiving yards and nine touchdown catches in 2022. The only issue for Nix is a depleted offensive line. The protection from the big boys up front might be sluggish through the first few games.
Still, Oregon doesn't have to open up the season against the reigning National Champs. Portland State should be able to give Coach Dan Lanning an idea of chemistry his players have together. Everyone knows great quarterbacks make others around them better, and Nix definitely fits the bill.
His final season of College football is going to be highly-anticipated, considering Nix is the big man on campus. There's going to be a ton of responsibility that comes with the territory. Nix's experience, production and leadership will go a long way with the 15th-ranked Ducks this season, and he's an early Heisman candidate.
The 23-year old's amazing journey has come to this. Nix will cement his legacy with Oregon if the can win a conference  championship. He'll reach the mountaintop if the Ducks become the first Pac-12 team to clinch a Playoff berth since 2016.