Will Howard eager for opener following completion of fall camp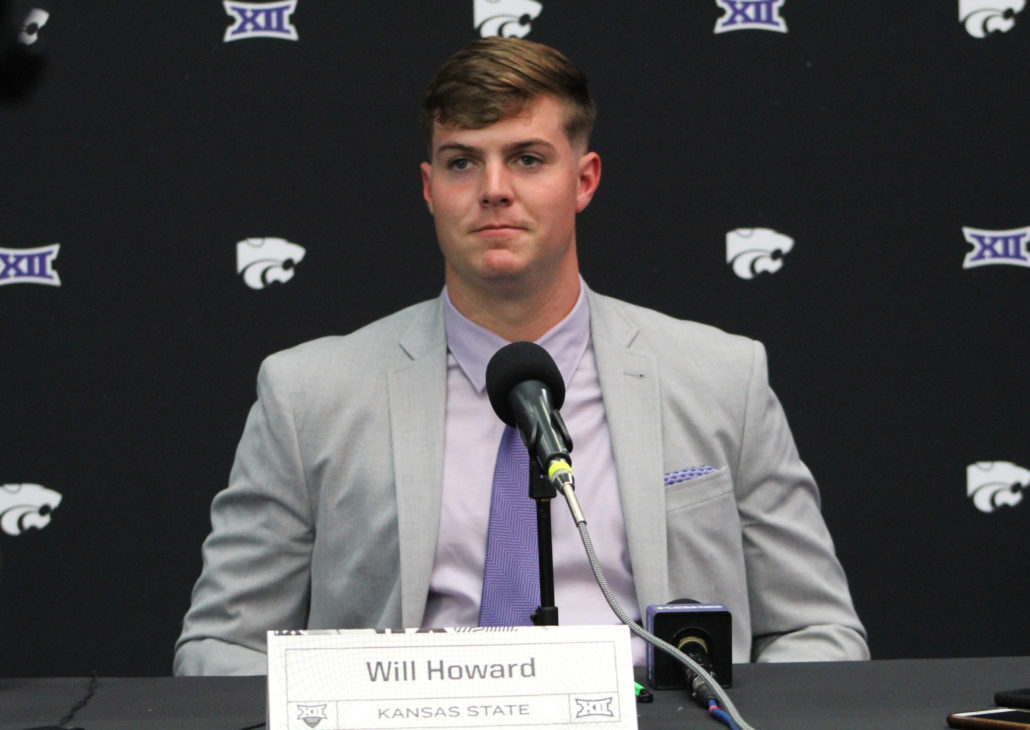 MANHATTAN, Kan. — After completing fall camp this week, the reigning Big 12 Champs are focusing solely on game one against Southeast Missouri State.
Kansas State quarterback Will Howard is enjoying being the big man on campus, after generating momentum over the second half of last season. He led Kansas State to its' first conference title since 2012, and now Howard is ready to pick up where he left off.
The practices over the past three weeks were grueling on him and his teammates, but Howard believes they're all battle-tested now. The Wildcats have won five of their last six season-openers, so they want to continue that success, despite facing an FCS opponent.
Kansas State is ranked No. 16 in the preseason AP Poll, and projected to be one of the top teams in the conference. Howard landed on the Johnny Unitas, Maxwell and Wuerffel Award watch lists. He understands what comes with the territory, and is confident the offense has made strides. Still, Howard knows games aren't played on paper. So the Wildcats have to prove they're reloading instead of rebuilding. Which is why Howard is grinding hard, and keeping his teammates hungry.
"You want to practice every single day, you can't get too far ahead of yourself," Howard said. "Obviously that first game is in the back of our heads, but you can't get too excited, and forget about all of the work that we have to put in now until then."
The gunslinger threw for 1,633 yards, 15 touchdowns and four interceptions over the Wildcats' final eight games. Not to mention Howard scored three total touchdowns in the Big 12 Championship Game. The Pennsylvania native is a firm believer that great quarterbacks make others around them better. So Howard is all about having chemistry with the weapons around him.
In his eyes, Kansas State's backfield is as strong as its' been since he's been in Manhattan. And that's speaks volumes, considering the Wildcats lost All-American rusher Deuce Vaughn to the NFL. Howard feels the running game is in perfect hands with DJ Giddens and Treshaun Ward. The two backs are like thunder and lighting. Giddens runs over defenders, and Ward makes them miss. Howard expects them both to fill Vaughn's production this fall.
"The running back room we have right now is as deep as I've seen it since I've been here, from top to bottom," he said. "I think all of those guys are doing a lot of good things, from DJ and Treshaun, all the way to Anthony Frias and Joe Jackson, we have four guys that can significantly contribute."
Howard will miss throwing the ball to Malik Knowles and Kade Warner. However, he has veteran Phillip Brooks, Iowa transfer Keagan Johnson and rising star RJ Garcia, plus safety blanket tight end Ben Sinnott as targets. Everything will start with the protection up front. All-American Cooper Beebe will be anchoring a veteran offensive line, and they know how to maul defenders at the point of attack.
Kansas State ranked second in the league in rushing offense, and Howard plans on taking it to the next level. He's thrilled about what the offense can accomplish, and wants the unit to make a statement against the Redhawks.
"A lot of preparation, a lot of detailing things that we need to do, you're excited, but you want to focus on the process and not the end result."