Cooper Beebe refusing to let preseason accolades be a distraction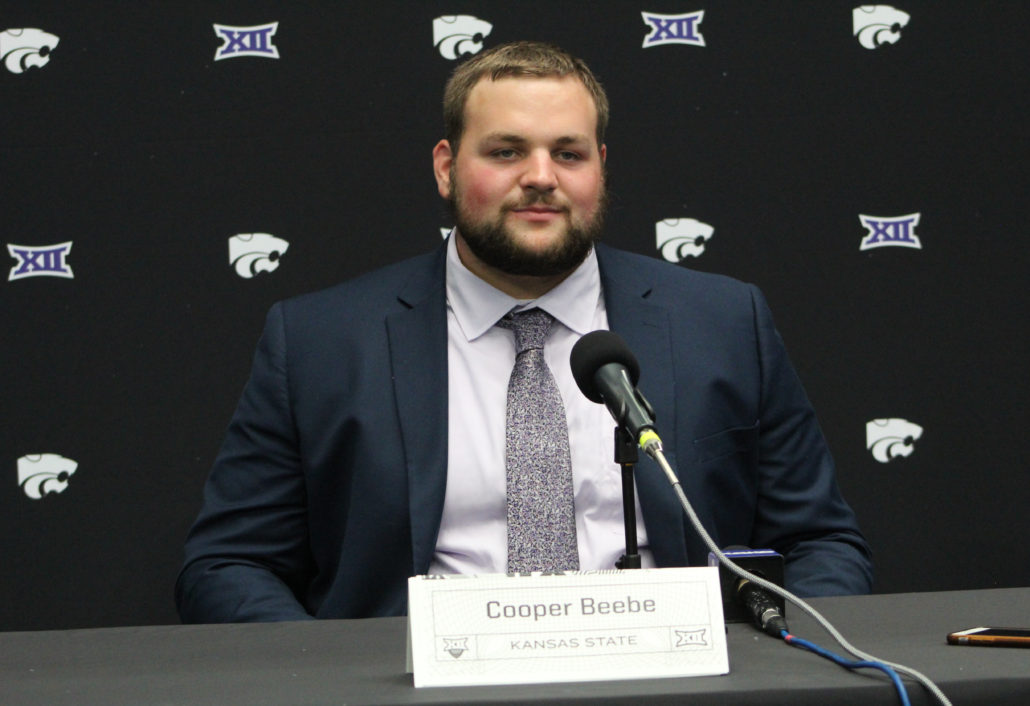 MANHATTAN, Kan. — Kansas State's senior offensive lineman can't wait to anchor the big boys up front again, and rightfully so.
After all, Cooper Beebe is one of the most experienced players in the country, with 35 starts under his belt. Not to mention he has received some notable preseason accolades for an individual that's not a skill position player. Beebe was named a preseason first-team, AP All-American on Monday. He also landed on the Lombardi Award, and Outland Trophy watch list.
The Kansas native is flattered by all of the recognition, but understands he has to deliver on the hype for the reigning Big 12 champs.
"It's definitely an honor to be on a list with top-tier athletes, but for me it's just a preseason thing," Beebe said. "I'm not really focused on it because if I don't go out and do what I got to do, than the preseason awards mean nothing."
Beebe hasn't allowed a sack in his last 803 pass blocking plays. There's no denying the six-foot-four, 335-pounder is versatile, having played several games at guard and tackle. Beebe takes pride in mauling defensive linemen at the point of attack, and holding his own in the trenches. He's all about making others around him better. Beebe is very high on the offensive line this fall, in which he feels is the best unit he's been part of as a Wildcat.
"I think we're top-tier, we've been around each other going on five years now," he said. "Dudes are really clicking together, so it should be fun to watch."
The former three-star prospect is willing to play wherever up front, in order to keep the wheels rolling on offense. Beebe's low center of gravity, physicality and hand placement makes him an immovable object. His work ethic, experience and leadership makes him a valuable teammate. Beebe also gives Offensive Coordinator Collin Klein options with his rushing and aerial attack.
All of the offensive linemen have been motivated and hungry through fall camp. And that's the kind of energy Beebe likes.
"Confidence is very high, we have a lot of experience up front, and I think dudes are really molding together pretty good," the 22-year old said. "So expectations are definitely high."
It helps that Kansas State's offensive line basically returns intact. KT Levenston, Hayden Gillum, Hadley Panzer and Christian Duffie are all veterans, with a jaw-dropping, 81 combined starts. With so much returning production up front, Beebe is expecting the group to open up gaping holes, and provide a brick wall around quarterback Will Howard.
Beebe doesn't mind being shifted around because he's a natural at all three positions. He's just eager to pick up where he left off. And that's delivering pancakes on the gridiron. Above all, Beebe trusts Offensive Line Coach Conor Riley will plug him in the best places to be successful.
"I definitely moved around, there's been some right tackle, right guard, left tackle, just figuring out where the best spots are, and I told Coach Riley I'll do whatever I got to do."