Momentum surging for Cartevious Norton after promising season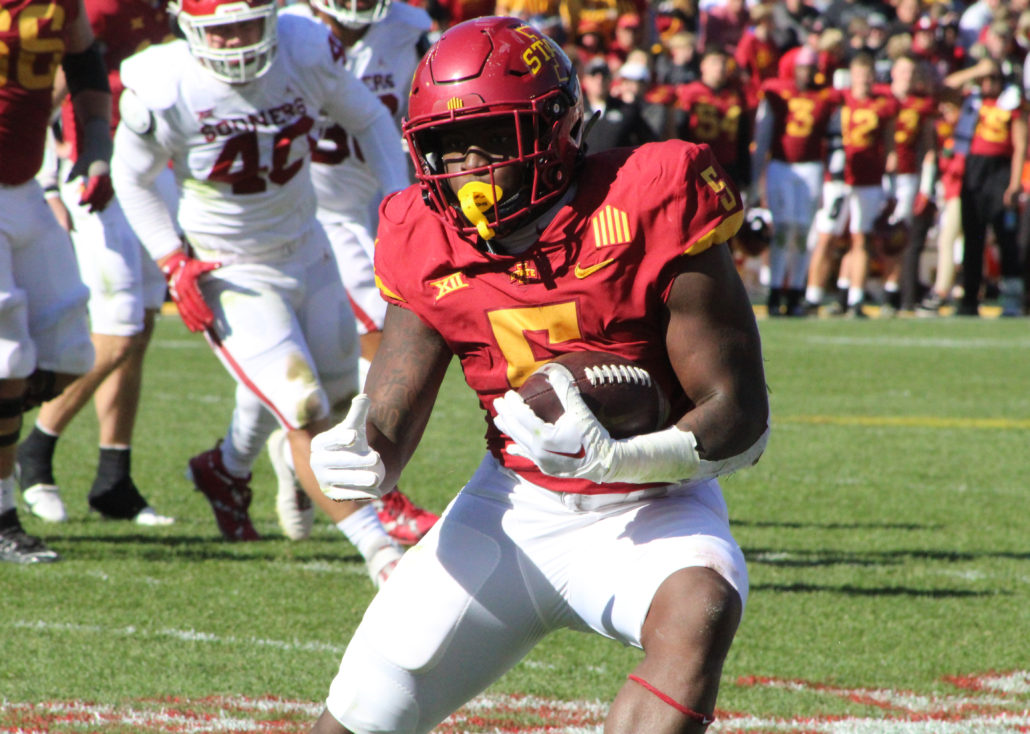 AMES, Ia. — The running back finished second on Iowa State in rushing yards as a true freshman last year, and now he's riding a wave of momentum approaching his sophomore campaign.
Cartevious Norton was able to accomplish those feats, despite battling through injuries, and being a backup. He persevered, started the Cyclones' final three games, and his work ethic been paying off through fall camp.
Norton is a bruiser between the tackles, and is a load for would-be tacklers to bring down in the open field. After all, he's 5-foot-11, weighs 225 pounds and isn't afraid of contact. The Georgia native is all about physicality at the point of attack, but wants to take better care of his body this time around.
Norton felt helpless early on last season when he was sidelined with an injury. On top of that, Iowa State's rushing attack was abysmal. The Cyclones only generated 10 touchdowns on the ground for the entire year, and finished 116th nationally in rushing offense. All of Iowa State's struggles on offense frustrated Norton.
"It's hard to watch someone else play and you're on the sidelines," Norton said. "Our team wasn't doing that good last year, and I felt like I was pointless, but I'm more mature and will handle that situation a lot different."
With Jirehl Brock implicated in the program's gambling probe, Norton is prepared to be the next man up. Eli Sanders will also be in the rotation. Norton feels very confident about Iowa State's running back room. In his eyes the Cyclones have five rushers that are capable of starting this fall. And they're all hungry for carries like wolves at the dinner table.
"It's not even the talent, it's more aggression, we're doing things with intent," he said. "I feel like we've learned from last year, watched film, and actually got in that playbook."
Norton feels everyone is showing what they're capable of, which should give the unit options. The former three-star prospect is fully healthy again and won't take anything for granted. Norton leaned on God first and foremost. He also credited the swift rehabilitation period to his teammates and coaches, considering Norton was away from home and his mother.
Everyone made him feel welcome through a tough period, and all he wants to do is pay them back with stellar play on the gridiron. Although Norton is only a underclassman, he carries himself like a veteran in the running back room. That means he leads by example, and strives to make everyone around him better.
"Competition is high, but we're not really competing with each other, because we all enjoy each other, and happy every time someone makes a big play in practice" the true sophomore said. "At the end of the day we're just trying to be the best, and better than last year."
Norton knows his value to the offense. Not to mention he rushed for 71 yards against TCU, 69 against West Virginia and 59 against Texas Tech. Now he's licking his chops for this fall, and can't wait to show last year's production was no fluke.