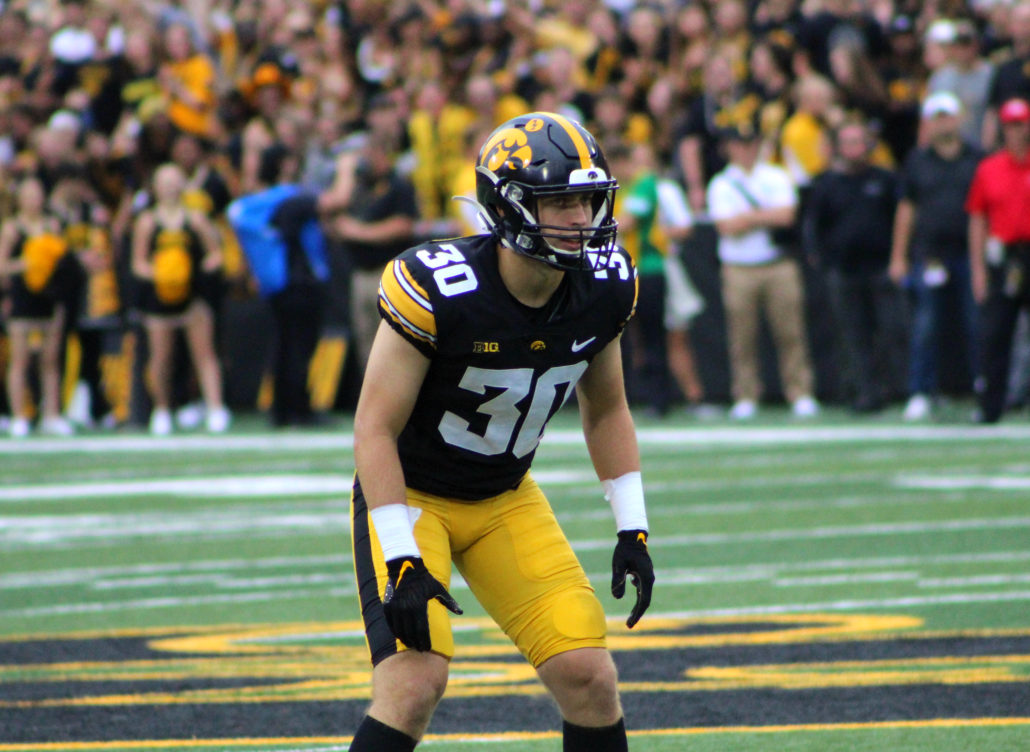 IOWA CITY, Ia. — Iowa's veteran safety is no stranger to perseverance, and he's all about staying the course to achieve a goal.
After all, Quinn Schulte began his Hawkeye career as a walk-on in 2019. Through hard work and determination, he earned a scholarship in 2022, and hasn't looked back. Schulte proved he was worthy of it all, and delivered a breakout campaign last season, in which he finished fourth on the team in tackles.
He also was a staple out in coverage, and broke up six passes, which ranked second on the Hawkeyes. With Riley Moss and Kaevon Merriweather no longer in the secondary, Schulte is embracing a leadership role, and understands what comes with the territory.
All-Big Ten cornerback Cooper DeJean returns to the unit, so Schulte is confident the group is going to keep the 'Doughboy' legacy alive and well this fall. The Iowa native feels being a Hawkeye defender is a privilege, so he doesn't take anything for granted, and learns something new on the job everyday.
"Just trying to know the game, do my job consistently, so we're all trying to do that on the back end, by putting out a good product and see what happens," Schulte said. "We lost quite a few guys, but at the same time we bring back a lot of good talent, and a lot of young guys that have studied the game and are ready for their opportunity."
Schulte was a very productive defender in 2022. The six-foot-one, 209-pounder posted nine tackles, including seven solo against Iowa State. Schulte also had nine stops and picked off a pass at Illinois. Not to mention he tallied eight tackles against Ohio State, and seven apiece in road victories over Rutgers and Minnesota.
Still, Schulte believes he's capable of more this fall. Which is why he's striving everyday to improve certain areas of his game as a defensive back.
"Being faster in and out of your breaks, you can always get better at that," he said. "Obviously tackling, running through the tackles, closing space as much as you can on the back end, and try to take away green grass."
Schulte loves playing for Defensive Coordinator Phil Parker, who's arguably the nation's best, and a former safety himself. Iowa's secondary has been a puppy mill for the NFL under Parker, with a jaw-dropping, eight defensive backs drafted under his watch. And Schulte trusts Parker is going to put everyone in the best position to be successful.
"Coach Parker is a Hall of Fame coach, any day you get to learn something new from him, it's a good day," the senior said. "Just try to take as much knowledge as I can from him in the time that I'm here, try to apply that onto the field, and see what it brings for the future."
Schulte grew up a Green Bay Packers fan, and idolized Nick Collins. His work ethic comes from his parents, and Schulte still listens to his playlist from high school before games. The chemistry in Iowa's defensive back room couldn't be better in his eyes, and he knows Parker is going to be fielding another elite group this upcoming season. Schulte just wants to represent for the Doughboys again.
"We're continuing that for this year, we're just out there trying to make plays together, and we definitely have a lot of fun in that room together."