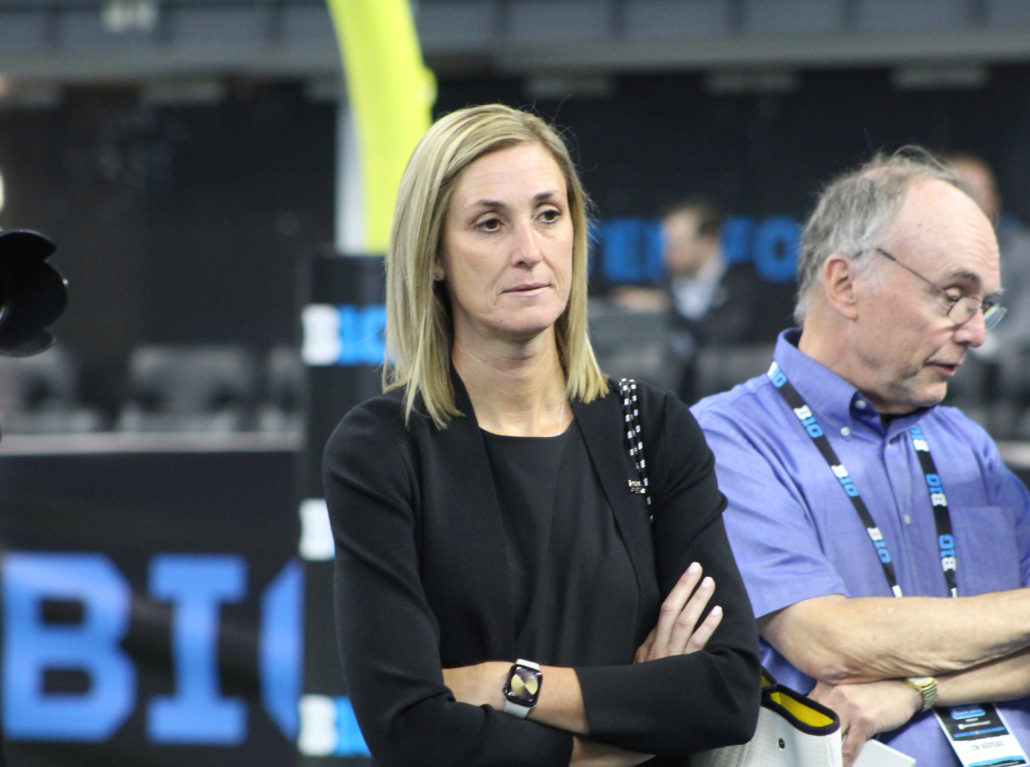 IOWA CITY, Ia. — She took the podium for the first time as the Hawkeyes' Interim Athletic Director Thursday afternoon, and addressed several situations surrounding the football program.
Iowa is making headlines for all of the wrong reasons, including a gambling probe that has the football team under a microscope. However, Beth Goetz, who officially began serving as Athletic Director on August 2, provided clarification on all of the lingering issues at Iowa.
She happens to be the only female Athletic Director in the entire Big Ten, following the retirement of Gary Barta. There's no denying her hands are full during the first month on the job. Regardless, Goetz is ready to make an impact on the athletic department. So getting her legacy off to a hot start is vital. After all, she understands with great power comes great responsibility.
"First and foremost your priority is how do you best support the success of your student-athletes and your teams, and that's where your focus lives day-to-day, and it's certainly influenced by some of the things you talked about," Goetz said. "Whether that's name, image and likeness or gambling or conference realignment, all the things I'm sure we're going to get to talk about here, but that's really where we want to spend our time."
The gambling scandal first surfaced back in May. It has been a big snowball rolling down the hill for all parties involved. Now it all has turned into an avalanche, with former and current players involved, plus a Graduate Assistant. Star defensive lineman Noah Shannon is the most notable Hawkeye implicated.
Goetz is still uncertain with what type of punishments will be handed down, but has trust in the process. Her main focus is to keep everything from being a team distraction for the upcoming season.
"On the reinstatement process specifically, we have submitted all the requested information to date to the NCAA, and we're optimistic that we are just hopefully days away perhaps from getting some feedback at least initially on what that means for our student-athletes who currently are here and have remaining eligibility," she said.
Goetz is looking at the glass half full, but with the support from everyone, she's confident Iowa will get through this process, and be stronger for the future. With her experience in collegiate athletics, Goetz will definitely have the Hawkeyes evolving. Goetz has been on Iowa's staff for 11 months, but started out as the Chief Operating Officer.
It has all been a smooth transition for her, considering Goetz was an Athletic Director at Minnesota for two seasons. The Big Ten experience is there, and she also had the same title at Ball State for five years. Fans are hoping with her experience the Hawkeyes can somehow remove themselves from being under this black cloud.
"Every place I've worked has been incredibly special for a different reason," the 49-year old said. "But this is Iowa, and it's the Big Ten, and the opportunity to come be a part of everything I knew about who the Hawkeyes were was something that I had — I just felt like I had to do. I wanted to be a part of this team."
Coach Kirk Ferentz revealed at Big Ten Media Days that he and Goetz are building a closer relationship. That's going to be key from this point moving forward with Iowa. That means everyone must stay on the same page. Although there are some roadblocks ahead, Goetz plans on maneuvering through them all. Everything is going according to plan, even Brian Ferentz's stipulated contract, which is a major topic approaching the season.
"Brian does now report directly to me."