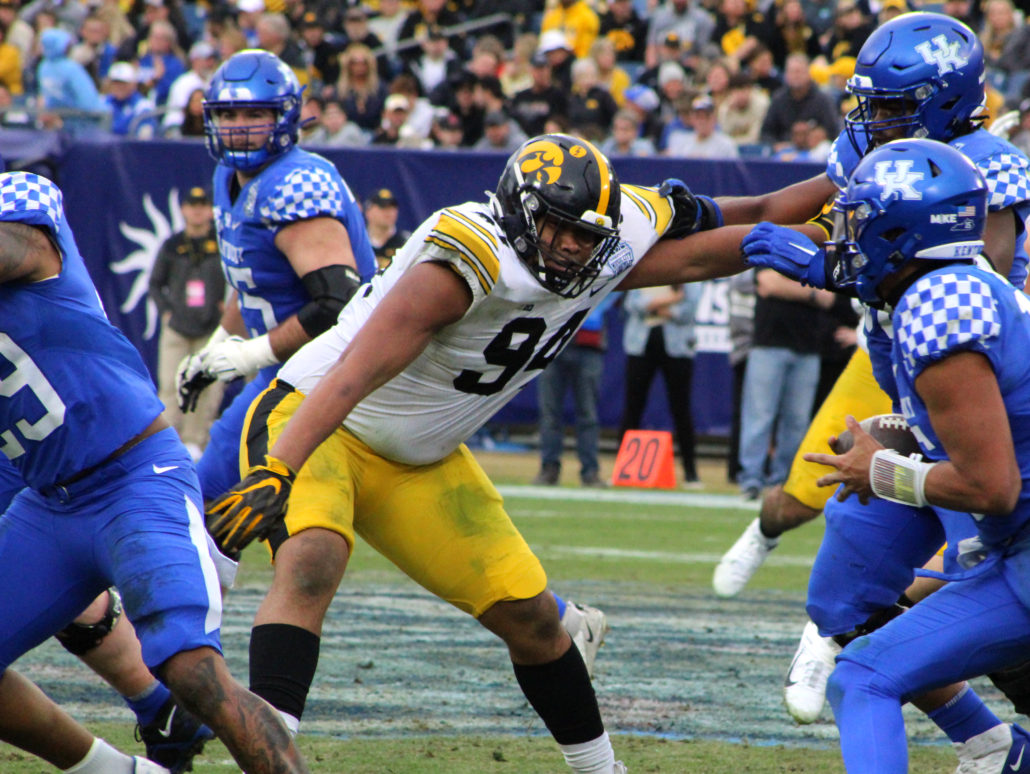 IOWA CITY, Ia. — Although Iowa's junior defensive tackle battled through injuries all of last season, he's back fully healthy now and is eager to put five fingers in the dirt.
Yahya Black has yet to make a start as a Hawkeye. However, he's confident his perseverance is going to pay off on the gridiron this fall. Black wants to be an enforcer from the interior, and set the tone up front for the Hawkeyes' defense. Standing six-foot-five, and weighing 315 pounds, makes him a load for offensive linemen, plus Black usually requires two blockers.
Iowa's defensive line is projected to be one of the nation's best, considering the returning production. Black is planning on being heavily involved in the rotation too. He's grateful to not be dealing with a nagging injury, and that has him more motivated than ever before.
"It's hard not to get frustrated over injuries, but it's the game, you're going to get injured," Black said. "You just keep pushing forward, and find other things to be productive in."
Black loves the vibe in the defensive line room, and feels the group has great chemistry on and off the field. The Minnesota native strongly believes that's going to strengthen the trust, which will get tested in the clutch. Black is proud to have the confidence of his coaches and teammates, so he doesn't want to disappoint.
That's why he's working daily on improving all areas of his game. Black takes pride in bull rushing, but he also wants to be dominant against the run. He's never one to shy away from contact, and enjoys hard collisions.
"I like to run through people, it's what I did in high school," he said. "I try to go through somebody, even if it doesn't work, you try."
Black knows what he's capable of, and trusts that Defensive Coordinator Phil Parker is going to put him in the best position to be successful. Over the past two seasons he has generated 29 tackles and a sack. What defensive tackles do usually don't show up on stat sheets. They're more of the unsung heroes on defense, but are needed to plug holes, bat down passes and disrupt a timing of an offense.
The former four-star prospect feels he has all of those skills in his game, plus he has that non-stop motor that coaches love. Most importantly, Black is high on this year's defensive line. In his eyes, the unit could potentially be the best since he's been a Hawkeye. Still, they're all about keeping the outside noise to themselves. Black knows he's just cracking the surface, and can't wait to show the fans how far he's come as a defender.
"The potential is immense for everybody, this is a developing program, you come here to develop and that just shows what we do."