Buddy Wyatt excited about talent among Wildcats' edge rushers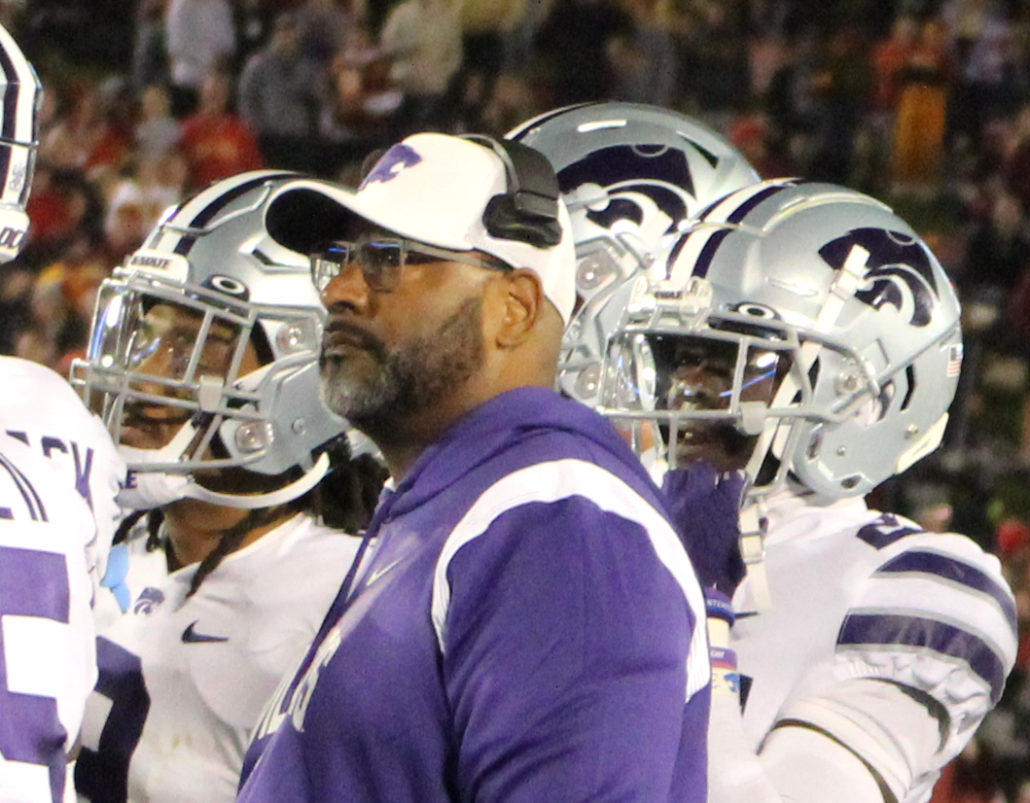 MANHATTAN, Kan. — The former TCU Horned Frog is approaching his fifth season of orchestrating Kansas State's defensive ends, and feels the unit will be a strength for the reigning Big 12 Champs.
After all, the Wildcats return some firepower off the edge, despite losing NFL first round pick Felix Anudike-Uzomah. Buddy Wyatt knows what it takes to be successful in the trenches, considering he's a former defensive lineman, and he's confident he'll be fielding his best group yet.
However, replacing Anudike-Uzoma's experience, production and leadership won't be an easy task. The Wildcats' two-deep at defensive end consist of Khalid Duke, Brendan Mott, Nate Matlack and Cody Stufflebean. Duke is the headliner, who racked up 44 tackles, including five for loss and three sacks in 2022. He has played a lot of linebacker too, which Wyatt thinks will be beneficial up front.
"When you play linebacker there's a lot more you need to know as in formations, motions and shifts," Wyatt said. "So I think it helped him (Duke) become a better football player, and it didn't take him long to get back into pass rush mode."
Wyatt expects Duke to set the tone, and anchor the group. He's confident in Duke's abilities because of his raw talent. Wyatt loves his physicality, explosiveness, and flexibility when it comes to maneuvering past athletic offensive tackles.
Brendan Mott is another individual Wyatt is high on this fall. Mott is coming off a productive campaign, in which he tallied 31 tackles, including seven for loss and six sacks. Wyatt expects Mott to amplify his skills on the gridiron, and make others around him better.
"Brendan we knew what he could do, because he's earned everything he's got," he said. "Hes worked, he's gained weight, gotten stronger, and he's a very instinctive football that got his opportunity and took advantage of it."
Matlack also proved his potential when he recorded three stops for loss, and put the quarterback to the turf twice last season. Cody Stufflebean doesn't have the production, but Wyatt can't wait to see what he can accomplish in full time action.
The Wildcats ranked 74th nationally in team sacks, and 97th in tackles for loss last year. Wyatt is determined not let that happen again, so he's trying to improve those numbers by any means. He also wants the defensive line to tighten up against the run after Kansas State finished fifth in the conference in rush defense.
The entire team has embraced the underdog role, despite winning the hardware last year. Wyatt is loving the vibe in fall camp, and encouraged by the energy of his players. Everyone feels they have something to prove, and that's creating great competition. The youngsters are also grinding hard to make their mark and have an impact.
In Wyatt's eyes, his boys are playing with more explosiveness, and have major pass-rushing ability. Which is why he believes the sky's the limit for the defensive ends this fall.
"Having a healthy Nate, with the progression that Mott made, and then you have Khalid in there, plus some youth, it's a really good room, with a lot of experience and athletic ability."