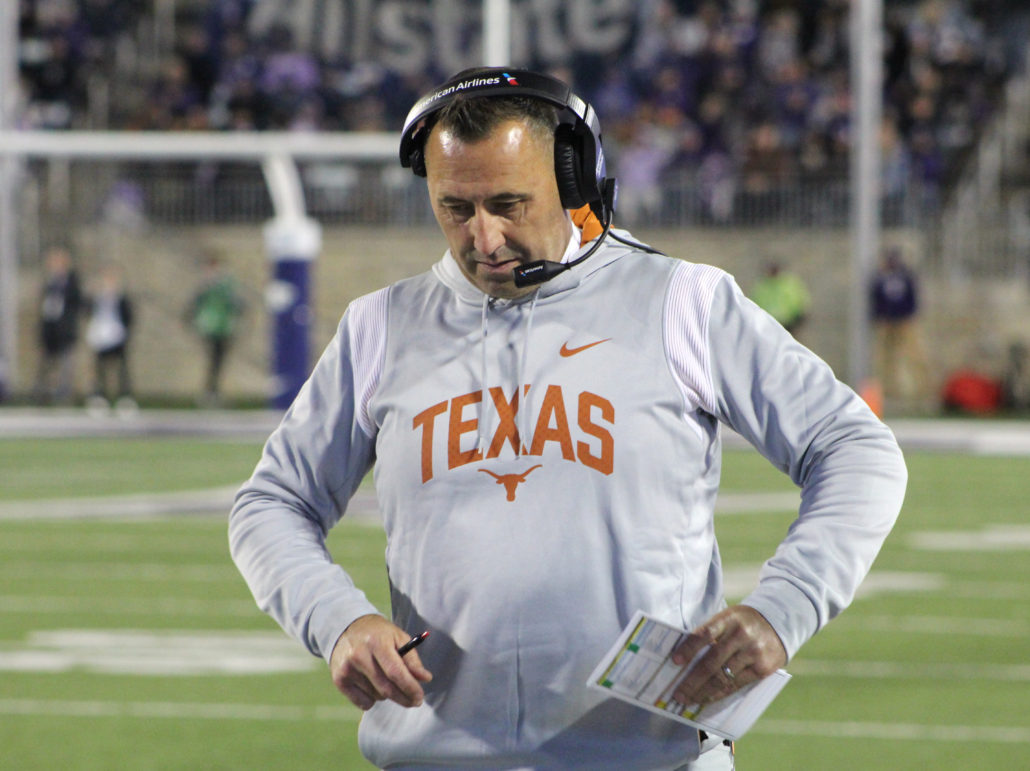 The first AP Poll of the season was released Monday afternoon, and contained four teams from the Big 12.
It's the most teams from the conference to start the season since 2020. However, the league's biggest brand is leading the way. Although this will be Texas' final year in the Big 12, it's crystal clear the nation is expecting it to go out on top.
The Longhorns landed at No. 11 in the top-25, which is their highest-ranking since 2019. Not to mention it's Texas' highest mark for the preseason under third-year coach Steve Sarkisian. Despite losing Doak Walker Award Winner Bijan Robinson, Sarkisian will be fielding his best squad yet.
Everything appears to be trending up, and the College football world is starting to believe Texas might be truly back. After all, quarterback Quinn Ewers is in his second year leading the offense. Not only is Sarkisian high on Ewers' maturation process, but he also has weapons around him.
Wide receiver Xavier Worthy is a two-time, All-Big 12 performer, with 21 touchdown catches over the past two seasons. Tight end Ja'Tavion Sanders hauled in 54 passes for 613 yards and five scores last year. The offensive line basically returns intact, after allowing 19 sacks in 2022, which was the best mark in the Big 12.
On the defensive side of the ball the Longhorns have a playmaker at every level, including the preseason Big 12 Defensive Player of the Year in linebacker Jaylan Ford. He averaged 9.2 tackles per game, which was the best in the conference, and earned first-team, All-Big 12 honors.
The big boys anchoring the defensive line are no slouch either. Edge rusher Barryn Sorrell racked up nine tackles for loss and 5.5 sacks. Nose tackle T'Vondre Sweat generated 30 stops from the interior. The Longhorns are full of veterans and ballhawks in the secondary. Seniors Jerrin Thompson, Jahdae Barron and Ryan Watts combined for 212 tackles, including 16 for loss and four interceptions.
With that much firepower on both sides of the ball, it shouldn't come as a surprise that the Longhorns are ranked this high in the preseason. Besides a road clash at Alabama, the schedule is very manageable, Texas only has to leave the state twice for the entire year.
The Longhorns were even picked atop the preseason Big 12 poll that was released in July. So there's no denying Sarkisian's boys will have a target on their backs this fall. With expectations through the roof, there'll be more pressure than ever before for Sarkisian to get the program to the promised land.
The last time Texas was ranked this high in the AP preseason poll was 10th in 2019. The Longhorns finished that campaign unranked though. So the last thing Sarkisian wants to do is disappoint when all eyes are clearly going to be on him.