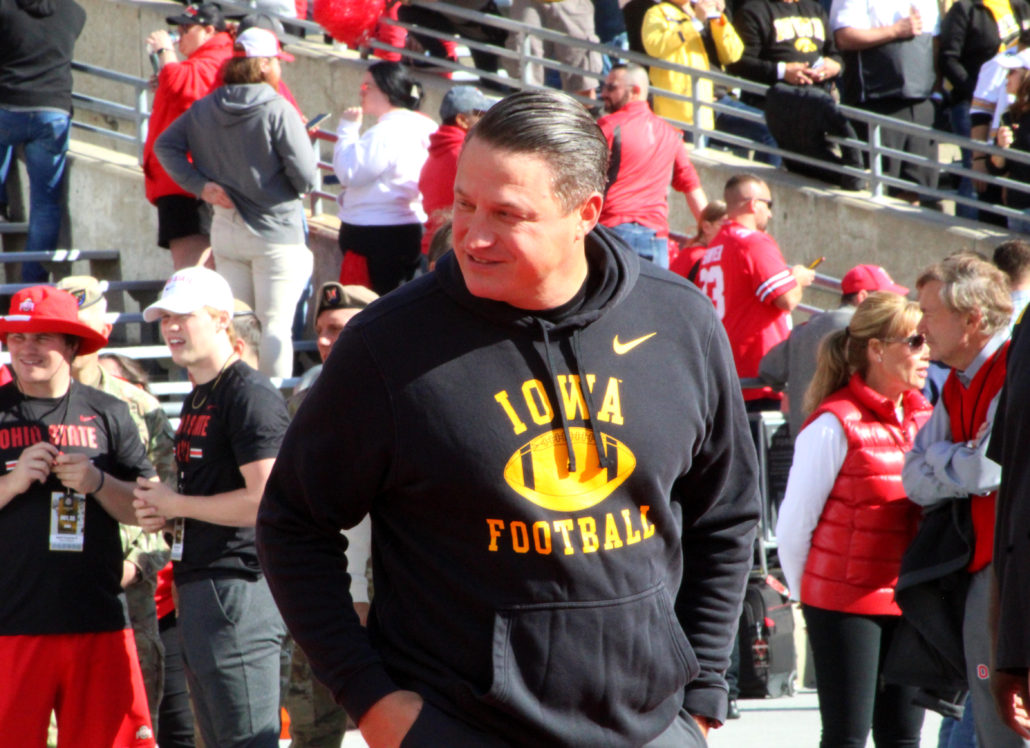 IOWA CITY, Ia. — He's arguably the most scrutinized Offensive Coordinator in the country, and all eyes will be on his play-calling this fall.
After all, Brian Ferentz is approaching his seventh season of orchestrating Iowa's offense. However, this time around his unit has to score more touchdowns. It's no mystery the Hawkeyes must average 25 or more points per game, and generate at least seven victories this year, in order for Ferentz to retain his job in 2024.
Those were stipulations that were placed on his contract after Iowa finished dead last in the Big Ten, and 130th nationally in total offense. Regardless, Ferentz is looking at the situation like a breath of fresh air with his alma mater. He's ready to prove to everyone that he knows how to put the pieces in the right place. Now it's all about executing the X's and O's.
"It's a new team, a new year, and the reality in our line of work is the past really has no bearing on the present and the future," Ferentz said. "We're focused on what we've been doing, going back to the spring, and going back to January, so we're excited with where we're at, and where we're headed."
The new additions to the offense is what has Iowa fans excited for the 2023 campaign. Former Michigan quarterback Cade McNamara is expected to take reign of the offense. Tight end Erick All should also help elevate the aerial attack. Running back Kaleb Johnson is poised for a 1,000-yard campaign after a promising freshman season. Not to mention the offensive line has depth, and is more experienced.
Now Ferentz is ready for leaders to emerge in his offense. He also understands that it's going to take more from his players than just being vocal.
"Leadership is earned, and it's usually earned through respect," he said. "I think there's a misconception about leadership, so if you want to gain respect you have to show up on a daily basis, and be a consistent person and worker, plus you have to demonstrate reliability before you can even vocalize leadership."
Ferentz has witnessed McNamara and All establish those qualities early in fall camp. He knows it's going to be all about accountability when the offense faces adversity. At the end of the day the offensive production is going to reflect on him. Which is why some fans are expecting to see the best offense in Iowa City in years.
There's no denying that pressure creates diamonds, and Ferentz is facing a lot. Still, it's going to take a complete effort from all parties involved to get the Hawkeyes to the promised land.
"Our goal is really simple, we want to possess the football, we want to advance it, and we want to score it," the 40-year old coach said. "No one is going to reinvent the wheel."
Ferentz tries his best to block out the outside noise regarding his job security. Social media is the worst, and the blogs can get downright ugly. The hometown kid still carries himself with pride, knowing a lot of fans will be watching with their arms crossed. Ferentz is confident the Hawkeyes' offensive woes are in the rearview mirror though.
The schedule is manageable, the defense is always tenacious and special teams should be a strength, so the sky's the limit to what Iowa can accomplish in 2023. No one understands that more than Ferentz. Above all, he's encouraged with the direction of the offense, and is preparing to prove his doubters wrong.
"That's what practice and the offseason is for,  we're working really hard, and I'm excited to see where it goes."